Tifa to deepen trade ties with US
Says American ambassador at MCCI discussion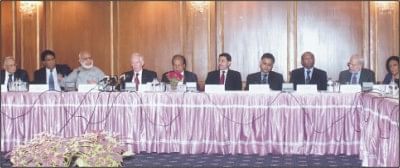 US Ambassador James F Moriarty said yesterday the Trade and Investment Framework Agreement (Tifa) is crucial for Bangladesh to win greater access to the US market.
Tifa became a topic of debate after Assistant US Trade Representative (USTR) for Central and South Asia Michael J Delaney visited Bangladesh last month.
The US has been saying Tifa is a non-binding agreement that only commits parties to hold regular annual meetings, although many Bangladeshi stakeholders are still unaware of the matter.
At a discussion at the Metropolitan Chamber of Commerce and Industry (MCCI), Moriarty said both countries could sign Tifa to foster greater dialogue on entrepreneurship, market access and labour issues.
"I want to be very clear that the proposed Tifa will not affect existing international commitments relating to intellectual property rights (IPR) or other areas," he said.
"Our past experiences clearly show these meetings can produce tangible benefits for both sides -- particularly for members of the business community," he said as the chief guest at the MCCI discussion.
Moriarty also said all of the issues -- entrepreneurship, market access, labour rights and Tifa -- are essentially aimed at promoting economic development and spreading greater prosperity to the people of Bangladesh.
"By fostering entrepreneurship, enhancing market access and improving worker rights, we will ultimately help create jobs and reduce poverty. As experienced entrepreneurs, exporters and employers, you have a vital role to play in this process. Through your active engagement, you will help Bangladesh build a brighter future," Moriarty said.
In response to a query, he said if Bangladesh does not want to sign Tifa with the US, Washington will not push it. He said the US has no Tifa deal with India and China, but holds a lot of dialogues and talks with both all the year round.
At the discussion, President of International Chamber of Commerce and Industry--Bangladesh (ICC-B) Mahbubur Rahman urged both the US and Bangladesh governments to reveal the contents of the proposed Tifa to the public, as many people are still unaware about such agreement despite being a heated debate in the last couple of years.
"If Tifa is open, transparent and mutually beneficial, you can come with it anytime. But we are always debating without knowing the contents of the issue," Rahman said.
MCCI President Abdul Hafiz Choudhury also agreed that the provisions in Tifa have unfortunately not been made public by the governments and therefore, the stakeholders are unaware of the provisions in the agreements.
"We urge the governments of both the countries to make the terms of the draft agreement public so that the stakeholders can take informed and effective discussions to resolve the differences," Choudhury said.
He said they are not against signing Tifa, but it needs to be assured that the benefits granted by WTO being a least developed country must not be affected.
Asking for continuing of renewal or extending of the current generalised system of preferences (GSP), Choudhury said such benefits will expire on December 31.
"We will like to bring to your notice that the top 30 Bangladeshi export items are not included on the list of GSP, which accounts for 70 percent of the value of exports to the US. We request that while renewing the US GSP, it should make an inclusive list with wider coverage to help the LDCs to increase trade dependency with USA," Choudhury said.
Meanwhile, the US has already signed Tifa with more than 30 trading partners, including Pakistan, Sri Lanka, Afghanistan, a group of Central Asian nations and Asean.
Former MCCI President Latifur Rahman and Vice-President Syed Nasim Manzur were also present at the discussion.