"In The Sky" a film on Dr F R Khan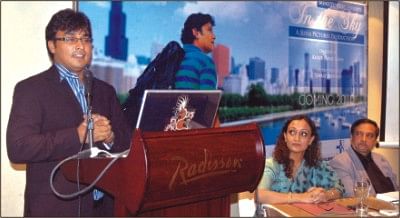 A preview of and discussion on the proposed film, titled "In The Sky", on renowned structural engineer Dr. Fazlur Rahman Khan was held at the Radisson Water Garden Hotel on November 13.
Mind Venture Management Consultancy has taken the initiative to produce the 110-minute film. The preview session was attended by Dr. F.R. Khan's nephew Faizur Rahman Khan (MD, Asset Development & Holdings Ltd); Ishrat Akhond, executive producer of the film and CEO of Mind Venture Management Consultancy; Khijir Hayat Khan, director of the film; Mahfuz Anam, editor of The Daily Star; family members of Dr. F.R. Khan and dignitaries from several fields.
The programme included screening a teaser of the film, discussion and an audio-visual presentation to disseminate a clear idea of the concept of the film.
"This initiative of Mind Venture is part of a bigger project to inspire talented young individuals," said Ishrat Akhond. "The idea is to highlight the exemplary lives of remarkable individuals, who have offered much to society. Generations can draw inspiration from their examples and achievements," she added.
In a pre-recorded message, noted engineer and educationist Professor Jamilur Reza Chowdhury said, "I had the opportunity to know F.R. Khan during the last 16 years of his life. He changed the whole concept of designing high-rises in the '60s. Between 1960 and 1982, he designed several landmarks all over the world.
"Though the engineering fraternity is well aware of Khan's achievements, the masses in Bangladesh are not fully familiar with his contributions. A film would be the perfect tool to generate interest in him, especially among the young."
Director Khijir Hayat Khan described how the idea came about. "I had directed two films prior to this ('Astwitey Amar Desh' and 'Jaago'). Both are inspiring films focusing on patriotism. I was contemplating a film in that vein. That's when I met Ishrat Akhond. She suggested that we could make a film on Dr. F.R. Khan. I thought it's a wonderful idea. We then met Faizur Rahman Khan and the idea snowballed."
A teaser of the film was then screened. The story follows a young individual who considers F.R. Khan his idol. The protagonist decides to go to Chicago to follow Khan's footsteps and study his achievements.
Faizur Rahman Khan spoke on his illustrious uncle: "What many Bangladeshis don't know is that F.R. Khan was the first Bengali to go to the US Senate to generate awareness on what was happening in East Pakistan during the Liberation War.
"Though a book (written by F.R. Khan's daughter) on him was published it failed to make an impact on the masses. We strongly believe that a film can do in this regard what no other medium can.
"We have gathered here to discuss this film and we're also looking for investors. The proposed budget for the film is around four crore. About 80 percent of the film will be shot in the US."
Editor of The Daily Star Mahfuz Anam said, "Usually, a developing country is not associated with excellence in the technological field. So, when you have someone like F.R. Khan who revolutionised the concept of designing high-rises, you do feel proud as a Bangladeshi. We need more icons like that."
Calling cinema an "intellectual investment," he said, "Film is a powerful medium. This is the most efficient way to highlight an issue or an individual. We should all support this endeavour."