Taliban kill 17 Pak troops in S Waziristan battles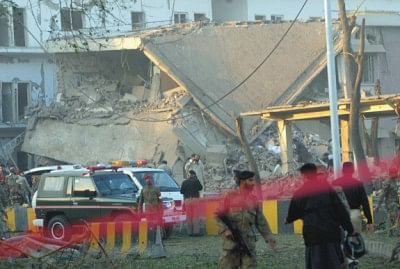 Stiff Taliban resistance killed at least 17 Pakistani soldiers Thursday in the military's deadliest day since launching a major offensive in South Waziristan, security officials said.
Pakistan has pressed around 30,000 forces, backed by war planes and attack helicopters, into battle in a US-endorsed mission to wipe out the chief strongholds of Tehreek-e-Taliban in the tribal district of South Waziristan.
But troops were dragged into fighting when trying to clear rebels from areas adjoining Taliban stronghold Kanigurram in part of Pakistan's border area with Afghanistan where US officials say al-Qaeda are plotting attacks on the West.
At least 15 soldiers were killed in the clashes, while a roadside bomb killed two soldiers in Sararogha area further east, officials said.
The military press office said earlier that five soldiers and 22 militants were killed in the last 24 hours of the now four-week offensive.
But army and security officials in the area told AFP that the military death toll was 17 in what would be the deadliest single day for troops operating on three fronts in South Waziristan since going into battle on October 17.
"Fifteen soldiers were killed in the clashes," an army officer told AFP on condition of anonymity, releasing 15 names.
"It is the first time we have seen such stiff resistance," he said.
Another official, also requesting anonymity, said the clashes included "face-to-face fighting".
Security officials speaking to AFP on condition of anonymity have frequently released information from the South Waziristan battle field that was later corroborated by head office in the garrison city of Rawalpindi.
Thursday's losses come just one day after a landmine and separate ambush killed 10 Pakistani troops in the tribal district of Mohmand, further north along the Afghan border, in a sign that a guerrilla campaign is spreading.
On Friday, suspected Taliban militants torched five trucks carrying fuel from Pakistan to Nato forces in neighbouring Afghanistan, killing a driver, police said.
The attack took place at Bolan pass, some 70km south of Quetta, the capital of oil and gas-rich Baluchistan province bordering Iran and Afghanistan, where both separatist rebels and Taliban militants are active.
"A truck driver was killed and two others were wounded in the pre-dawn attack by around two dozen gunmen," Bolan district police chief Junaid Arshad told AFP.
"There were about 13 tankers parked at a trucking station. Gunmen set five tankers on fire before fleeing," he added.
The United States has put Pakistan on the frontline of its war against al-Qaeda and has been increasingly disturbed by deteriorating security in the country where attacks and bombings have killed about 2,500 people in 28 months.
Pakistan launched the Waziristan offensive against an estimated 10,000 Tehreek-e-Taliban footsoldiers, vowing to crush their strongholds and blaming the faction for some of the deadliest suicide attacks in the country.