Orphaned child of an Irishman
Mohsena Reza Shopna admires an old Bengali tale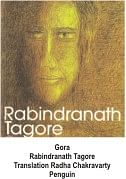 Born in 1861, Rabindranath Tagore was one of the key figures of the Bengali Renaissance and translating a book of this great man is a feat undoubtedly praiseworthy. Half-willing at first, but then seeing Radha Chakravarty's name I happily decided to go for the review. An English teacher in Gargi College, University of Delhi, she is known for her translation of several of Tagore's works, including Boyhood Days, Chokher Bali and Farewell Song: Shesher Kobita. Gora appeared as a book in the Bangla year 1316 (1910). The present translation is based on the Rabindra Rachanabali, now regarded as the standard edition. This impressive book full of energy, alive and pulsating with ideas, passion and conflicts is popular till today. The present translation attempts to redress some of the lapses and omissions in earlier translations seeking to offer a lucid, readable version of this massive, complex novel to 21st century readers who do not read Bangla --- an immense challenge for the translator! Henceforth many translations have been published, but it is Chakravarty's singular skilful demonstration of parlance which has energised this translation par excellence.
Binoybhushan, a journalist, comes across Poreshbabu, a Brahmo, his daughter Shucharita and son Satish who later acts as a bond between his family and Binoy. He secretly falls in love with Lalita, Paresh's daughter. Lalita plays a vital role symbolizing revolt and the social changes taking place at that time.
Gora's unfair imprisonment and the magistrate's non-cooperation make Lalita revolt. She breaks away from the straitjacket when she joins Binoy alone on the steamer way back home. Her faux pas is the turning point in the story as it is a blow to the esprit de corps of the Brahmo Samaj affecting her entire family. But Poresh had always encouraged them to think and understand things for themselves instead of making a habit of parroting his opinion or someone else's. Her sensational marriage to Binoy is a concern for Harimohini, Shucharita's aunt, who tries hard to keep her away from this exposure. But it is Gora's boldness and his dedication to his vision of a 'real' Bharatvarsha to which Sucharita succumbs.
Binoy's childhood friend Gourmohan is a pure nationalist named 'Silver Mountain' for his rather blatantly fair complexion. Gora, a cognoscenti 'titular' Hindu, opines that those who claim proudly to be a Brahmo must bear the pain of being denounced by non-Brahmos and predicts if Binoy, a Brahman was to mix with them, he would not hesitate becoming one of that 'Samaj.'
Our memories travel back to Jane Austen's Pride and Prejudice when we observe Boroda shundari, Poresh's ambitious wife, hustling and bustling to get hold of eligible bachelors for her marriageable daughters. An acclaimed Brahmo, Haranbabu is also greeted as Panubabu does not have the wit to realize that he is persona non grata in the Poresh household and is insistent on his marriage to Shucharita, constantly trying for a tete-a-tete with her. Shucharita, who is at first averse to Hindu fanaticism, is glad to encourage him. It is only towards the end when she gets enlightened that she keeps him at arm's length for his "communitarian zeal and narrow minded dullness."
At the outset, class distinction is depicted through conversations. Gora's ma Anandamoyi has a Christian maid and because of her, Gora does not dine with ma nor does he allow Binoy to, being a staunch follower of traditional custom and restrictions. His father Krishnadayal had compelled Anandamoyi to renounce orthodoxy to please his "Shahebs". His sudden about-face cannot make her retract which equips her with the strength to combat the world in bringing Gora up.
Gora, who is bent on shaping a real Bharatvarsha, immerses himself completely in philosophical discussions, harassing his opponents in every possible way! It is towards the end that he discovers he is not a Hindu but the orphaned child of an Irishman killed during the 1857 uprising. Gora, who has contempt for Brahmos, realizes Shucharita's need in reshaping Bharatvarsha and feels that he has now become a true Indian. He goes to Poreshbabu… "Make me your disciple, initiate me today into the mantra of that who belongs to Hindu, Muslim, Christian and Brahmo and whose temple doors are never closed to any community who is the deity of Bharatvarsha." The eminence grise who had hold over the entire countryside today sat at a Brahmo's feet offering pranam!!
Back home Gora kneels at Anandamoyi's feet, bowing his head, "Ma, you are the mother I sought everywhere, the ma, who was waiting in my own home. You have no caste, no discrimination, and no contempt for anyone. It is you who is my Bharatvarsha."
Radha's technique of translated imagery is pure professionalism----"the morning light had dawned, pure as the smile of a suckling infant."
Whenever Haranbabu tried to hurt Poresh, Shucharita would react instantly "with the ferocious intolerance of a wounded female serpent." Radha's accounts of various situations are simply exotic and only a scholar like her is capable of such unmatched rendition from Bangla. "Her feet with their lovely flower like soles rested on the bed, stilling all the restlessness like music at the end of a festival, her breath, rising and falling very gently as if in rhythm with the poem that was her slumber." This captivating English conversion of the imagery to describe Lalita's tranquility is a brilliant piece of effort.
Binoy's "ever cheerful countenance now resembled a lush green field suddenly devastated by a plague of locusts." Discern her awesome play with words! Not only that, because of her flowery language, boredom is distant. There we go again. "Listening to Gora, Shucharita felt flashes of lightening dance through her blood." Breathtaking, isn't it? The dramatis personae are figures of flesh and blood in this work of art and many a time there are words of wisdom between the lines. Notice when Anandamoyi remarks, "If we bear the problems quietly in time they too disappear."
That the original is in Bangla is obvious from the title 'Gora', which has been left untranslated. Besides, Bangla kinship terms 'Thakurpa', behai, mashi, bhai, bapu, names of months, days and seasons have also been retained. Some displacements of meaning are of course inevitable, for a translation is not just a linguistic but also a cultural transfer. It is only to keep the original alive, seeking to bridge linguistic and cultural divides.
Some of Radha's other works in translation includes Bankimchandra Chatterjees Kapalkundala, and stories from Bangladesh and India. Her latest book is Feminism and contemporary women writers. She is currently translating a collection of Tagore's writing for children and co-editing The New Tagore Reader for Visva Bharati. We wish her all the luck! This mouthpiece of Gora's translation will endlessly remain magnum opus and belles-letters for ages to come. We cannot but congratulate her on this account.
Mohsena Reza Shopna studied English literature at Dhaka University and is Past President, Inner Wheel Club of Dhaka North.