Kewra forest in death throes
Fish traders felling thousands of trees in Barguna while authorities remain silent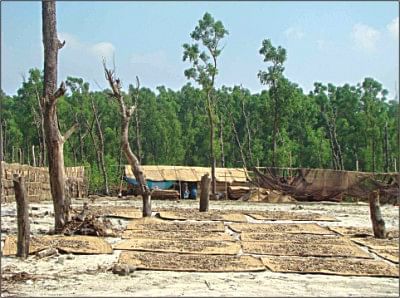 A large reserved Kewra forest is in its death throes in Taltali coastal area under Amtali upazila of Barguna because of the greed of fish merchants and dry fish (shutki) producers.
The forest is gradually disappearing as organised gangs are stealing timber allegedly in connivance with a section of forest department staff and law enforcers, local sources said.
Local people said at least 10,000 Kewra trees have been felled by fish merchants in Ashar Char area of Taltali in last 15 days while the forest department remained a silent spectator of the mindless tree felling.
As a result of felling Kewra trees, a total of two kilometres Ashar Char area has become denuded land, increasing the risk during the time of any natural disaster like cyclone and tidal surge in the areas.
Besides, a large number of trees are dying due to unknown diseases caused by deposition of sand, forest officials say.
After cutting trees, platforms are being constructed to dry fish in the forest, which is around two kilometres long and 200 feet wide.
When this correspondent visited the area on November 6, a huge number of fishermen were seen engaged in chopping down the reserved forest, moving the timber somewhere else and building fish drying platforms. But no one was obstructing them.
Ranjit Mandol, leader of a fishermen group, told The Daily Star that he had been leading a group of 19 fishermen. Around 29 groups came from Satkhira, the locality of Ranjit.
Over 100 groups with 15/20 fishermen in each group were engaged in chopping down the trees and building platforms to dry fish, he informed.
He further said that they have to pay Tk 2,000 as lease money to the forest staff for using a plot of 3,000 square feet area.
The bigger part of the money goes to the higher authorities through Taltali range officer, fishermen and local people alleged.
Dulal Farazi, local Baro Bogi UP chairman and former senior member of Taltali thana BNP, confirmed the incident of deforestation in the char land.
But he denied his involvement with the ongoing deforestation and blamed his hired fishermen. He hired a group of fishermen only for collecting shrimp and not for cutting trees, he claimed.
Taltali Coastal Forest Range Officer Balaram Saha denied the allegation of taking bribe.
"We cannot protect the Kewra forest due to lack of manpower. If a case is filed, the police don't catch tree thieves. Now it has become risky for us to keep guard on the forest," he said.
"After an investigation, necessary steps will be taken against those who are responsible for this," the officer added without giving any timeframe.
Kabir Hossain, local forest beat officer, claimed that the land has been leased out to fishermen and fish merchants for their business.
Abdul Khalek Howladar, officer-in-charge (OC) of Taltali police station, denied the allegation against police.
"Whenever the forest department wants our cooperation, we extend our hands. When the Kewra forest is destroyed, the forest department remains silent," the OC added.
The OC alleged that eviction drive against the fishermen could not be conducted due to non-cooperation of the forest department.
He said it is the responsibility of the forest department to file case against the persons responsible for destroying forest.