Raise voice against home violence on women: CA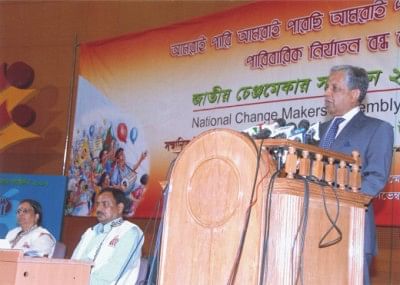 Chief Adviser Fakhruddin Ahmed yesterday called for ending domestic violence against women through properly following social, state and religious rules, regulations, instructions and values.
"To prevent repression of women they have to be given equal rights considering them equivalent to man in family, social and state systems. If inequality and injustice persist within the family, all our achievements at national level would go in vain," he observed.
The chief adviser urged all citizens to raise their voice against domestic violence on women.
He was addressing the inaugural function of a two-day 'National Change Makers Convention 2007' organised by Paribarik Nirjaton Protirodh Jote (Alliance to End Domestic Violence against Women) at Bangladesh-China Friendship Conference Centre.
Paribarik Nirjaton Protorodh Jote is an alliance comprising 236 social, cultural, volunteer, labour and professional organisations launched in September 2004. It is spearheading a campaign for ending domestic violence against women.
The campaign is being carried out simultaneously in other South Asian countries like India, Nepal, Sri Lanka, Afghanistan and Pakistan.
In Bangladesh there are 2 lakh male and female 'Change Makers' in the alliance who are carrying out the campaign to rectify people's discriminatory mindset towards women. The target of the organisation is to increase the number of Change Makers to 10 lakh by 2010.
In the last three years the Change Makers have reached the message of the campaign to about one crore people of 44 districts in Bangladesh, the function was told.
Expressing solidarity with the assembly to establish a Bangladesh free of domestic violence, Fakhruddin urged the sensible persons of the society to create an environment of protest against violence on women.
He called for building up a Bangladesh where women would attain new and higher seat of honour and dignity in the society.
Referring to progress in women empowerment, the CA said it is undeniable that position of women in family and society has improved in recent times. Today, women are taking active role to establish their own rights and prevent repression and sufferings.
He said women's proportional contribution in both formal and informal sectors of the national economy is increasing gradually.
"We'll have to keep up the efforts to establish equal rights and equal dignity for women in all spheres of the society," Fakhruddin said.
Responding to a demand from Paribarik Nirjaton Protirodh Jote to enact laws against domestic violence, the chief adviser said the matter has been under consideration of the government.
Speaking at the function, Change Maker Moneja Begum narrated her painful life due to repression by her husband since her early marriage and how she changed the attitude and behaviour of her husband after becoming a Change Maker of the alliance.
About 2,500 Change Makers from various districts are attending the conference.
Women and Children Affairs Adviser Geeteara Safiya Chowdhury, Chairperson of Manusher Jonnya Shaheen Anam, ActionAid Country Director Farah Kabir and OXFAM representative Heather Blackwell also spoke on the occasion.
Chairperson of Paribarik Nirjaton Protirodh Jote and former adviser of the caretaker government Sultana Kamal presided over the inaugural function.