Murder allegedly for dowry sparks protest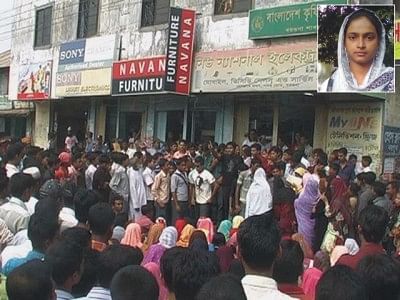 A college girl was killed allegedly for dowry in Barguna district town yesterday morning.
The victim, Afroza Akhter Munmun, 21, was a third year honours student of management department of Barguna Government College. Her husband Kazi Mehedi Hasan Miraj has gone into hiding.
On information, police went to Mehedi's house at College Road in the town at around 8:00am and found the body hanging from a ceiling fan. They recovered the body and sent it to Barguna General Hospital for autopsy.
Protesting the murder, several hundred people, including teachers and students of the college, brought out a procession in the town at around 2:00pm and then held a rally in front of Barguna Press Club demanding immediate arrest of the killers.
They also threatened to go for a strike and lay siege to the police station concerned if the culprit was not arrested within the next 24 hours.
Principal of Barguna Government College told local newsmen that the college would hold a condolence meeting on Tuesday. He demanded immediate investigation into the murder and arrest of the killers.
Victim's family said Mehedi married Munmun three years ago and they gave him Tk 50,000 as dowry at the time of wedding.
After one month's of the marriage, Mehedi started demanding more Tk 50, 000 and stopped visiting Munmun's parents' house, a family member said.
Mehedi's family said they took dinner together at around 10:00pm and went to sleep. They said they found Munmun hanging from the ceiling fan of her room in the morning and informed the police.
An UD case was filed with Barguna Police Station.