India to help build chariot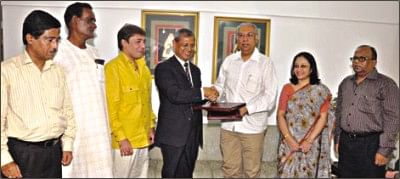 To strengthen the existing bonds of friendship between the peoples of India and Bangladesh, the government of India has agreed to extend support for construction of a new Rath (chariot) for Sree Sree Jashomadav Mandir at Dhamrai in Dhaka.
Indian High Commissioner Pinak Ranjan Chakravarty and President of Jashomadhav Mandir Management Commi-ttee Maj Gen (retd) Jibon Kanai Das signed a Memorandum of Understanding (MoU) in this regard on Thursday, says a press release of the Indian High Commission in Dhaka.
The annual Rath Jatra at Dhamrai Temple is an important festival in Bangladesh. The new Rath is to be patterned on the original Rath that was destroyed during the Liberation War. It will have a height of about 39 feet and is to be made of steel and timber. The Rath will have nine domes on the top and will be covered with intricate artwork.
The project is a part of the continuing cooperation and ongoing support extended by the government of India through the High Commission to various agencies and Institutions in Bangladesh.