Earthquake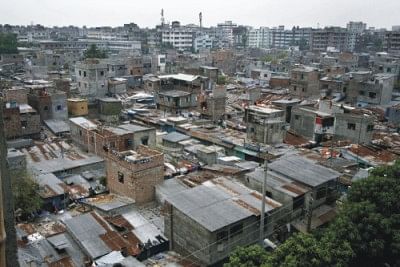 Recently we had a 6.0 magnitude earthquake that was not felt severely. Earthquake researchers have predicted a massive earthquake, which may cause devastations, especially in the capital city of Dhaka. According to a study conducted by Bangladesh University of Engineering & Technology (BUET) in 2003, about 60 percent structures in old Dhaka are non engineered, of those 50 percent are made of flammable materials. We have the Building Code 1993 and building construction rules of 2006. But truly few constructions are being made under those regulations.
Experts say all the non-engineered structures of Dhaka city will collapse even in a moderate intensity earthquake. In my view citizens should abide by following precautions during earthquake:
Indoors:
1) Take cover under and hold on to a piece of heavy furniture or stand against inside wall.
2) Stay indoors until the shaking stops.
3) Stay away from windows and doors.
4) Never take the elevator.
5) If you are in bed hold on, stay there protect your head with a pillow.
Outdoors:
1) Find a clear spot away from buildings and trees and power lines
2) Drop to the ground until the shaking stops.
In a car:
1) Slow down and drive to a clear place.
2) Turn on emergency flashers and slow to a stop. Do not stop on overpasses or bridges.
3) Be careful about overhead hazards such as power lines or falling building debris.