<i>Tigers to become extinct in 15 years</i>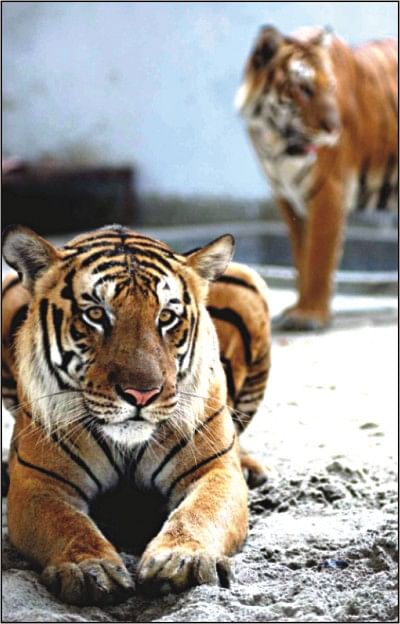 An animal that is more valuable dead than alive; an animal that is projected by doomsayers to be totally extinct within the next 15 years -- experts and policymakers got together in Kathmandu yesterday (Tuesday) to find a way of saving it -- the tiger.
Challenges are quite enormous, figures quoted in the Kathmandu Global Tiger Workshop revealed. There are now about only 3,200 tigers in the wild compared to some 1,00,000 a century ago, and every year fresh news of bereavement are coming -- only a few months ago it was reported that Panna reserve of Madhya Pradesh lost all its 38 tigers to poachers.
Tigers are also finding their ranges squeezed from every corner. Today they occupy only 7 percent of their historic range and use 40 percent less area than in 1997.
Worst of all, trade in tiger parts is booming, now accounting for about $10 billion --second only to drugs and weapons trade in Asia.
With such horrifying figures in the background, World Bank President Robert Zoellick lent his support to the cause of the conference yesterday through a video feed, "We have to stop it. We have to find out serious solutions to save tigers before time runs out. This is not a time for business as usual."
He made it clear that the bank will support saving wild tigers from extinction and that protection and sustainable solutions have to be found.
In fact, the World Bank's support came as a big push for the endeavour that has been joined in the conference by Global Tiger Initiative, Global Tiger Forum, Save the Tiger Fund, World Wildlife Fund (WWF), and the Convention on International Trade in Endangered Species of Wild Fauna and Flora (CITES). Nepali Prime Minister Madhav Kumar Nepal inaugurated the workshop. On the stage were also Thai Vice-minister for Environment Pimuk Simaroj, Russian Head of Federal Service for Natural Resource Management Oversight Vladimir Kirillov, and Indian experts.
Bangladeshi policymakers were badly missing though.
The organisers of the workshop hope to pool a fund of at least $200 million, and launch a platform to start taking actions to save wild tigers.
"We aim to stabilise tiger population in two years, and then double the number in 10 years," said Eric Dinerstein, chief scientist and vice-president of WWF. "We need to intensify protection in 60 key reserves. The good news is tigers breed quickly and more than 1.1 million square kilometres of habitat remains."
The WWF official pinpointed poaching as the major threat to tigers and said new technologies like GPS [global positioning system] should be used for close observation of tigers to ward off poachers.
He said infrastructure development is putting more and more tigers in danger.
"Every year, about $500 billion are invested in infrastructure and only $30 million in tiger conservation," Eric said. "Tiger range countries should allocate at least 1 percent of their infrastructure investments for conservation," he added.
Prime Minister Madhav Kumar Nepal told the conference that a global and regional approach is needed to save tigers from extinction. He stressed workable solutions that benefit both nature and people.
He said Nepal is about to put in place a high level national tiger conservation authority, and a wildlife crime control coordination committee. These legal bodies will be instrumental to halt trafficking of wild animals and their body parts.