Citycell Federation Cup'09
Mohammedan keep the Cup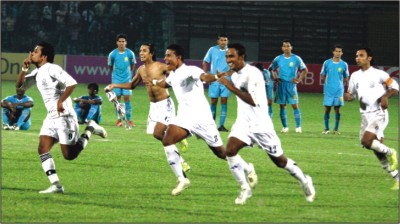 Mohammedan Sporting Club retained the Federation Cup title after defeating bitter rivals Abahani 4-1 in tiebreaker in a pulsating final at the near-packed Bangabandhu National Stadium yesterday.
The Dhaka derby rolled into shootout after the regulation 90 minutes and an additional 30-minute extra-time failed to produce a goal.
Although it was cruel that the game was eventually decided on penalties, Mohammedan could claim that they were the deserving victors over their perennial foes in a match where they created more chances.
The clash of two worthy opponents always evokes unbridled emotions. And it was no exception at the Big Bowl yesterday; a full house, deafening roar that could be heard from anywhere within half-kilometre radius, attacks and counter attacks, sudden burst of emotion among the players of the rival teams following a foul and an overpowering reaction from the always dancing stands. But the good thing of yesterday's game was that it never turned ugly, which has frequently been the case over the years.
Abahani did well to defend their fort during a packed 120-minute action. But when it came down to beat the opponent goalkeeper in a one-to-one situation they suffered from nervous breakdown.
Samad Yousuf saw his low shot parried by Mohammedan custodian James Paul. Sheriff Deen Mohammed, who had a wonderful match and had struck the cross bar in the first half, drove his spot kick miles over the bar. Striker Enamul however converted his spot kick but by the time Mohammedan had taken a 3-1 lead with Ariful, Emeka and Wali Faisal making no mistakes to find the back of the net.
The Mohammedan tent erupted into celebration when veteran defender Hasan Al Mamun made it four out of four, sending Abahani goalkeeper Biplob Bhattcharya to the wrong end.
The victory meant Mohammedan lift the season's curtain-raiser for a record tenth time, three more than their rivals. Mohammedan won the Federation Cup last year also in tiebreaker against Abahani.
For records sake, it was the eighth head-to-head clash between the two popular teams in a Federation Cup final with Mohammedan taking a massive 6-2 lead.
It was also the first meeting of the two teams this season after Mohammedan's 1-0 win against Abahani in the one crore taka Super Cup final in March.
Mohammedan spent a lot this year in their quest to win the prestigious B. League (now Bangladesh League) that has remained the sole property of Abahani since its inception in 2006.
Although their super striker Emily was not up to his best against his former club in the final, Mohammedan still enjoyed the better share of the match with their Nigerian striker Alamu Bukola producing a scintillating performance.
The tall attacker was certainly a class apart with his wonderful sway, imaginative passes and with uncanny ability to outfox the opponent defence. He almost scored in the fourth minute when he headed a Zahid right-side cross past a shaky Biplob but only to be cleared by Mishu on the goalline. Zahid then suddenly let loose a 35-yarder that just sailed over the bar much to the relief of Abahani fans.
Sheriff however did even better with his beefy effort in the 39th minute for Abahani. His right-footer from the edge of the box came off the post. A quick clearance caught Abahani defence off guard as a sprinting Bukola found enough space to gallop down the left-hand side.
Biplob came out of his post to clear the ball but Bukola won the race. He indeed beat Biplob but instead of taking a shy at an empty net from a difficult angle the Mohammedan striker chose to go for a minus and it did not work as the back paddling Abahani defence cleared the ball off the line.
The second half was more physical that saw referee Tayeb Hasan brandishing seven yellow cards including five against Abahani. In the extra-time Abahani wasted a golden opportunity when substitute striker Enamul headed the ball wide off the mark from a hand shaking distance.
Mohammedan won a cash prize of five lakh taka with the glittering trophy while their defender Ariful Islam was named the most valuable player of the tournament.
State Minister for Youth and Sports Ahad Ali Sarker witnessed the final and gave away prizes.
TEAMS
MOHAMMEDAN: James Paul, Wali Faisal, Ariful Islam, Mamun Mia (Hasan Al Mamun), Nasir, Arman Aziz (Enamul Haq Sharif), Mamunul Islam, Zahid Hossain (Abdul Baten Komol), Christina Emeka, Zahid Hasan Emily and Alamu Bukola.
ABAHANI: Biplob Bhatta-charya, Ibnul Siraji, Samad Yousuf, Rajani Kanta Barman, Atiqur Rahman Mishu, Mehdi Hasan Ujjal (Matiur Munna), Pranotosh Kumar Das, Shahedul Alam, Zahed Parvez Chowdhy, Sheriff Deen Mohammed and Awudu Ibrahim (Enamul Haq).
Yellow cards: Mamun Mia, Mamunul Islam (Mohammedan) and Rajani, Mishu, Ujjal, Awudu Ibrahim and Enamul Haq (Abahani)
Referee: Tayeb Hasan.