Tit Bits
The celebrity name game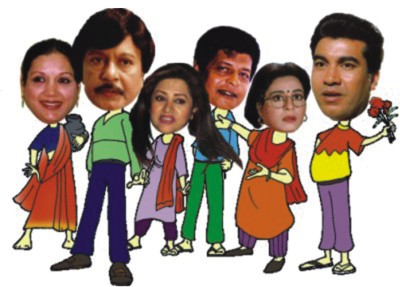 How important is one's name? In fact, William Shakespeare in his timeless love tragedy Romeo and Juliet questioned, "What's in a name?" None in Tinseltown, however, believes in that notion. For them, it is a name that creates as well as tarnishes one's image.
In the early days of Hollywood or Bollywood, it was common for actors and singers to change their names to boost the image, often to avoid social issues, or just because the name was a 'tongue-twister'.
The tradition of aspiring actors and actresses taking on new names is evident in our cinema as well. For instance, does anyone recognise Ratna or Idris? One is sure to be taken by surprise to learn these are the real names of their favourite heroine and hero Shabana and Illias Kanchan.
This tradition of changing names kicked off with the first feature film of the Film Development Corporation (FDC), Aasia by Fateh Lohani, which introduced a powerful actress Sumita Devi. Her real name--Hena Bhattacharya--however remained insignificant even beyond the illusory boundary of the filmdom.
Aasia also introduced Nandita Basak Jharna, who in her next film--famous filmmaker Ehtesham's movie Chanda, appeared as Shabnam and regaled cine goers with her unique charm.
Shabana's career began at the age of nine as a child artiste with the film Notun Sur, credited with her real name Afroza Sultana Ratna. Later, it was Ehtesham again, who gave the young girl a completely romantic and glamorous image in his blockbuster Chakori with the name Shabana. Apparently Ehtesham's magical spell of names beginning with "Shab" was also becoming a trend.
When one talks about Dhaka's successful film actresses, another name springs to mind -- Kabori. She also metamorphosed from Meena Pal at the age of 13 in her first movie Shutorang by Soovas Dutt.
Kohinoor Akhter, a girl from Jessore, entered the showbiz through a documentary film by Kazi Khaleque. The name changed when she was cast in Soovas Dutt's feature film Kagojer Nouka in 1966 and turned out into the soon-to-be-famous Suchanda.
Suchanda's younger sister, Farida Akhter Poppy also discarded her parental name after acting in Ehtesham's movie Peech Dhala Path. She became Babita.
Azim-Sujata is well known as one of the legendary pairs of Dhakai films. What very few know is that a small town girl from Kushtia, Tandra Majumder, stepped into the FDC as Sujata.
A child artiste--a girl, who played the role of a boy in the film Bablu, under the name Baby Helen, later became popular as Sucharita.
Farhana Amin Ratna, a dancer from Kishoreganj, took the name Nutan in the film Nutan Prabhat, while Ifte Ara Dalia of Bikrampur became famous as Doel in Chashi Nazrul Islam's film Chandranath. Another popular artiste of the small and big screen, Sharmilee Ahmed's original name is Majeda Mullick.
Not actresses alone, actors are also well into this phenomenon. Through H Akbar's movie Jalchhobi, Farooq stepped into the Dhakai filmdom in 1971. And thus Akbar Hossain Pathan, a young man from Gazipur, metamorphosed into today's Farooq.
Soovas Dutt's famous film Binimoy introduced a new hero Ujjal in 1970, whose original name is Ashraf Uddin Ahmed. Mesbah Uddin Ahmed from Comilla came into film as an assistant director of the film Chhando Hariye Gelo and later turned into an actor himself in the movie Rater Por Din eventually changing the name to Wasim.
Producer-director Masud Parvez took the name Sohel Rana while doing the movie on the famous secret agent Masud Rana. Tabarruk Ahmed from Dhaka became famous as Bulbul Ahmed.
A famous comedian Tele Samad's original name was Abdus Samad, while silverscreen villain Jumbo's real name was Babul Gomes.
Among the new age actresses, Shabnaz stepped from her actual name Sabrina Tania into the celluloid name with the film Chandni by Ehtesham. Arifa Zaman from Khulna is the artiste with immense screen appeal, Moushumi.
The FDC's search for new faces in 1984 brought Aslam Talukder into the film arena with a brand new name, Manna. With the Bangla remake of a Hindi blockbuster -- Keyamat Thekey Keyamat in 1993, the film industry welcomed another popular actor Salman Shah. However, his original name was Chowdhury Mohammad Shahriar Imon.
The top-notch actress of Bangladeshi filmdom Shabnoor's original name was Nupur. She was also christened by Ehtesham.
In 1997, through the film Coolie, Sadika Parveen started her film career with the name Poppy. Another popular actress of today Purnima, who was introduced in the movie Ei Jibon Tomar Amar in 1997, bears the parental name Rita Hanif.
These name changers have achieved considerable success. So, if you want to follow suit, make sure you have the talent to back it up with, of course, a catchy name.
The article is a reprint of an earlier version.