Chittagong General Hospital needs care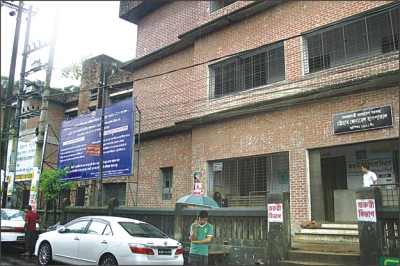 Lack of manpower and proper attention from the government hold back Chittagong General Hospital from turning it into a 250-bed one although it has requisite infrastructure.
It is now running as a 150-bed hospital with the organogram of an 80-bed one while two new buildings constructed with facilities of 100 more beds over a decade ago are lying underutilised, sources said.
A little care of the government to ensure proper manpower and other logistics can easily turn the hospital into a 250-bed one and ease the pressure on Chittagong Medical College Hospital (CMCH) as well, they said.
The hospital was established with a huge compound on 8.5 acres of land amid a scenic beauty of hills and vales of Anderkilla back in 1901.
It was upgraded to a 200-bed hospital and a medical college in 1927.
But, the first public hospital of this region started loosing its glory and tradition after Chittagong Medical College Hospital (CMCH) was established in 1959.
All the manpower and students were shifted to CMCH leaving Chittagong General Hospital to run as a 50-bed one.
The hospital was raised to 80-bed hospital after the War of Liberation war and is still running as the same with a project to upgrade it remaining yet to be materialised, sources said.
Proposal was made to upgrade the hospital as a 250-bed one after it was put under the control of district civil surgeon on March 22, 1987.
Responding to the proposal an initiative was taken afresh in 1994 to upgrade it as a 250-bed hospital under a Renovation and Rehabilitation Project of Department of Health.
A project of Tk 4.07 crore was also approved to be implemented in three phases on December 12 the same year.
Under the project two new buildings each with 50-bed capacity were constructed to house a 50-bed children ward and a 50-bed ENT ward.
But, both the buildings have been lying unutilised since their construction in 1998 and the hospital is now running as a 150-bed one.
Of 150 beds, there are 10 cabins, 15 paying beds and 125 general beds.
At present 88 posts of first class medical officers, five second class, 121 third class and 74 fourth class posts are lying vacant.
When contacted Civil Surgeon Dr Md Abu Tayab said, "We are now running the hospital with the logistics sufficient for a 150-bed hospital and manpower provided under an organogram of an 80-bed one."
"We have written to the ministry several times for a new organogram and creation of new posts," he said. "We have also informed Health Minister Dr SM Ruhal Haq when he visited Chittagong on August 13 of the manpower shortage," he said this while talking to this correspondent on Sunday.
"Departments like radiology, cardiology and skin disease have modern machines and other equipment. But, they lack in both the technicians and doctors whom we have to bring on deputation or hire from elsewhere," he said.
Alongside appointment of doctors and some teachers, construction of an academic building and staff quarter on the vast unused land can help build a second medical college hospital in Chittagong , Dr Tayab said.
Sources said power crisis is another major problem for the hospital as the authority is yet to succeed in setting up double line or express line for uninterrupted power supply.