Navas ready to fight for starting berth
Navas ready to fight for starting berth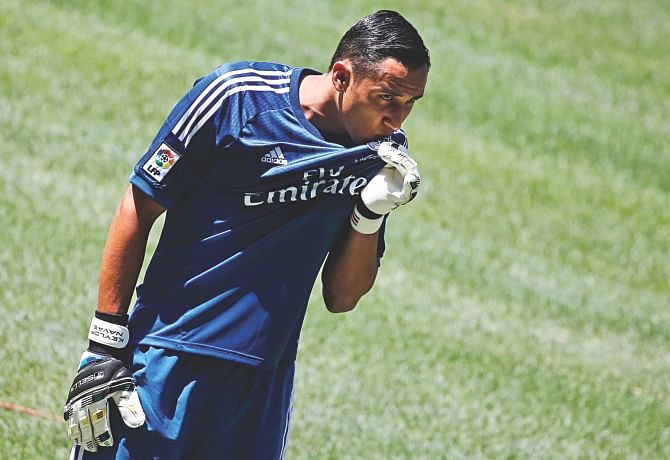 Costa Rica goalkeeper Keylor Navas is ready to fight with Iker Casillas and Diego Lopez for a place in the Real Madrid starting lineup after sealing what he called his "dream" move from Levante.
"If I am here it's not because I bought a lottery ticket," Navas told a news conference on Tuesday after passing his medical, signing a six-year contract and being presented to fans at the Bernabeu stadium.
"I feel capable of taking on these challenges," added the 27-year-old, whose performances at the World Cup prompted the world's richest club by income to lure him to the Spanish capital for a reported fee of 10 million euros ($13.4 million).
"My work is my foundation and when you work hard you feel ready to take on any kind of challenge.
"I am very calm. What I have to do is train hard and be available to the technical staff and when I get my chance be ready for it."
The arrival of Navas has created something of a headache for Real coach Carlo Ancelotti, who is now spoilt for choice for keepers with three top-class performers vying for a place.
Casillas was first choice in the Champions League and the King's Cup last season, while Lopez, whom Spanish media have said may de discarded, played in La Liga, continuing an awkward rotation policy begun under Ancelotti's predecessor Jose Mourinho.
Navas said Casillas, 33, and the 32-year-old Lopez had been an inspiration to him during his career.
Known as the "Falcon of Costa Rica" for his agility, Navas spent his first year in Spain playing for second-division Albacete before Valencia-based Levante came calling in 2011.
"I think they (Real) will have more choice now," Navas told reporters.