Ikebana Experience Center: Bringing respite to Dhaka's busy life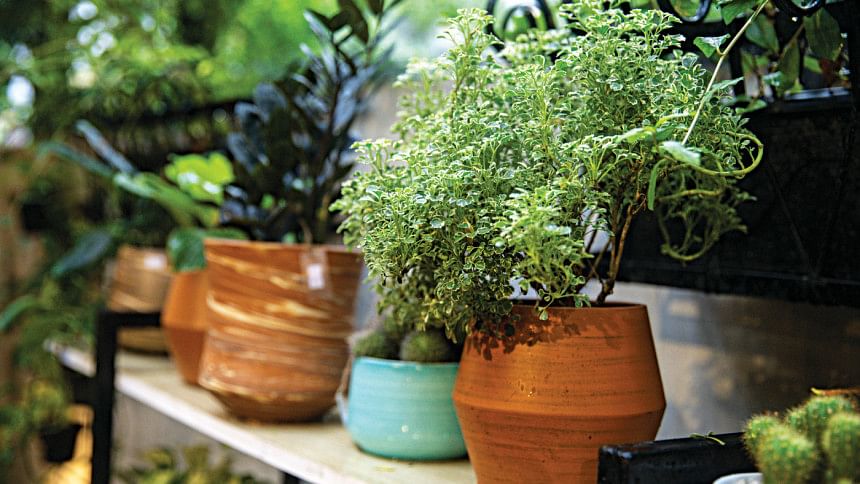 Ikebana started its journey in 1992 and the boutique has evolved through the years -- from a small shop in Dhanmondi to doing prestigious government events, award-winning landscaping projects, and the recently opened plant sales centre, where taking in the green experience is of paramount interest rather than purchases.
The Ikebana Experience Center is the brainchild of Nilufer Farook. A sophisticated lady in her early seventies, she is an inspiration to today's women who have to fight to express their individuality -- creative or otherwise.
Married off at the young age of 19, her in-laws were not very supportive of her free spirit, neither did she get encouragement from her husband.
"I decided early on that my life is not for my husband but for me. I have been a good wife and a responsible mother but I needed to create a niche for myself, I did not allow my family interference to pull me back.
"With my positive outlook and fighting spirit I won against my bad life. This new Ikebana Experience Center is my testament to all that I have been through and I want our women to take inspiration and gamble with luck. Women's emancipation is not to destroy but to build," she says strongly.
In this metropolis full of posh cafes and tea houses, a serene garden exuding a zen-like calm was maybe one thing missing. Aesthetically pleasing, the Ikebana Experience Center houses big trees on which hang decorative plants, garden ornaments, etc.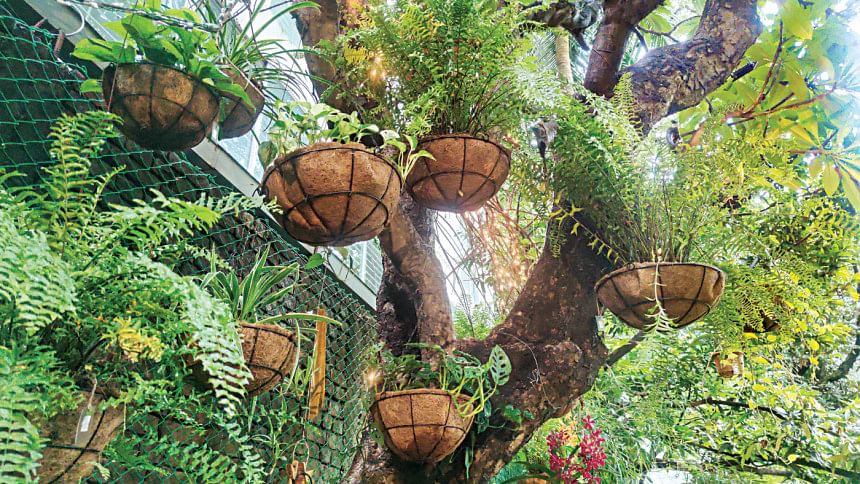 The plants are neatly lined, the lush green foliage of the ferns growing in hollowed tree trunk pots, big earthen pots with blushing pink bougainvillaea, and the rolling carpet of green grass -- all lend the ambience a tranquil feel.
As you enter the snug garden you break into a smile; it lifts your mood instantly. Chirping birds and colourful butterflies among the inviting green, you know that you can find peace here for a few moments. Succulents and creepers that can adapt to a vertical growing space add to the fineness of the place.
Cacti and tall and short plants bundled together on the window sill in lovely pots catch your attention. All these are for sale, it is a nursery like no other. You can make your purchase while having a cup of tea or sitting on the green grass. 
The Ikebana Experience Center has a sun-baked look, the green foliage and colourful flowers glisten at sunset allowing you to take a lungful of fresh air and relax your stiff senses.
A beautiful path leads to the earthly-looking pleasing Ajo Idea Space Café. The place also houses a shopping outlet, MIB Spirit -- Made in Bangladesh products promoting a feeling of patriotism by supporting local wisdom and environment; the place also has an art gallery on the same premises. Truly a serene place to escape for people who are imaginatively motivated.
Life, beauty, death, decay, and renewal are part of our life cycle and a garden is no different. While flowers are the heart of this splendid experience endeavour, the true soul of it is the variations in foliage. Whenever you need to lift yourself from the chaos of your reality, this soothing garden is a must-go-to place for that restfulness you crave.
The Ikebana Experience Center is located at House 12, Road 101, Gulshan 2.