MINESWEEPER: AN EDUCATION
MINESWEEPER: AN EDUCATION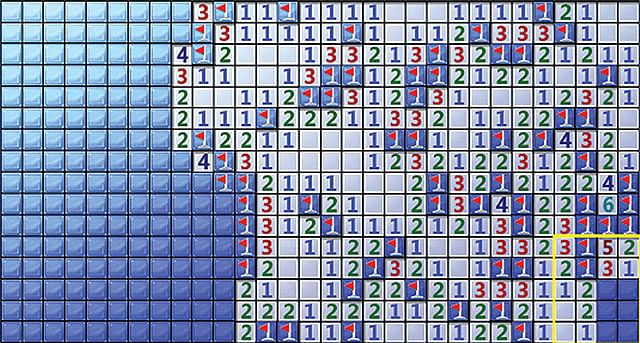 Like everyone else, I started with this game by just clicking on tiles and wondering how it worked. It wasn't until I was in my pre-teens that I realised that the right mouse button had a different use. After that, I slowly learned how to play the game, though I still didn't like it. Then in my early teens, I saw a girl who was sitting beside me in ICT class playing the game. She looked at me and flashed a smile. I experienced mixed feelings. Firstly, I felt stupid. How could she be exercising her mind while I was making selection boxes on the desktop background like a simpleton? Secondly, I felt attraction. Not only was she every synonym of beautiful, but now it looked like she was also endowed in the brain department.
Alright, time to impress her. So I open up minesweeper on my computer and start playing at beginner difficulty. I know that isn't impressive, but I tried. Yes! I managed to complete a board after (at least) four tries. Proud of my 'achievement', I turned to her to gloat about my victory. She was impressed. I wasn't. She was impressed for entirely wrong reasons. "Wow, you can play that? I was just messing about clicking stuff; he's (the teacher) so boring!" I laughed.
I got serious about the game in my late teens. I learnt that it is much harder on Windows XP than on Windows 7. On Windows 7, you will 'step' on a blank spot on your first click, whereas on XP it is possible that you will either step on a mine or a standalone number panel. After finishing beginner enough times, I moved on to intermediate difficulty while still using Windows XP. It was then that I learnt that the middle mouse button also had a use! Minesweeper has never been easier or more addictive. Now I play at an 'Advanced' level where there are 99 mines on a 480-tile board. I've finished it twice. A dozen times I've failed because I was careless. I would play minesweeper on my school computers to get the high score and insert offensive words when they asked for the player's name. When I look back to myself a year ago, I realise I was significantly worse at this. I used to think this was unsolvable and required two gambits where I only had 25 percent of success.
Boy was I stupid. I see it clearly now. That didn't require a gambit, this does:
I've been asked to educate the readers on how to play this game in non-Microsoft terms.
The objective of the game is to flip over every non-mine panel. After your first click, you'll reveal multiple tiles. The numbers on the tiles show how many mines there are next to them. With these numbers, you'll know which panel has a mine under it and which doesn't. It is quite easy. If a '1'-panel only has one unturned panel next to it, then that has to be the mine! However, if a '1'-panel has two unturned panels next to it, either of those could be the mine.
Here's what the buttons do:
LMB: reveals what a panel is; if it is a mine, you lose.
RMB: flags a panel under which you think there is a mine. That way you won't accidentally click it.
MMB: if a number panel has the right number of flags next to it (one flag for '
1', etc) then it will automatically reveal all the safe panels surrounding the one you clicked (this is a good thing).
If it is still unclear how you play this, then here's how:
1.Left click any tile, this will reveal a bunch of number tiles.
2.Mark all the tiles you think has a mine under it with the RMB. Remember that making no prediction is better than making an incorrect one.
3.Middle click all the number tiles. As you play this game, you'll understand that not all number tiles need to be middle clicked. This should be a safe step so long as you haven't made an incorrect prediction.
4.With more panels now revealed, repeat step two and three over and over again.
5.There may come a time when it becomes impossible to tell where a mine is going to be, that's when you take a gamble and, if you're like me, lose.