Militants planned to use drone: DB
Militants planned to use drone: DB
2 suspects held with drone model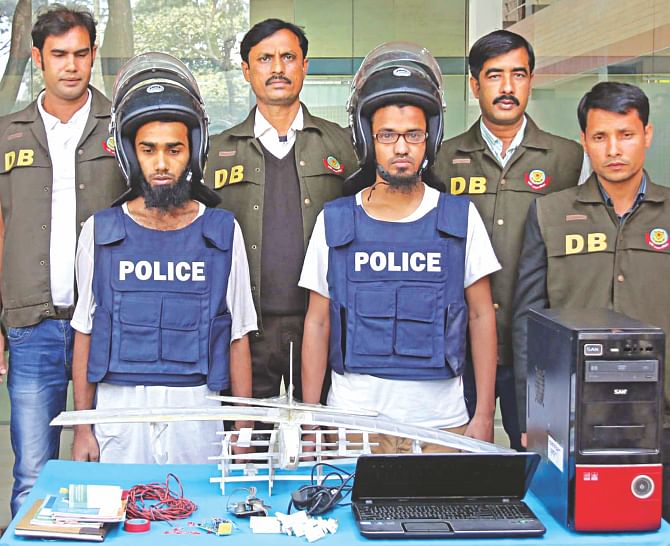 Militant outfit Ansarullah Bangla Team was on the verge of "making a drone" to carry out bomb attacks on secular personalities and key establishments of the country, detectives claimed yesterday.
The outfit's targets included secure government and non-government establishments, secular-minded political and cultural personalities, teachers and journalists, they claimed.
The detectives came up with the observations following the arrest of two alleged operatives of the outfit, the seizure of a plastic frame of a drone, electronic devices, and some books on jihad from the capital's Jatrabari area Tuesday night.
The arrestees were: Tanjil Hossain Babu, 26, who has expertise in technology, and Md Golam Maula Mohan, 25, who graduated in Computer Sciences and Engineering from Green University.
"They reached the final stages of making the drone after a six-month planning and research. Once completed, the drone could be flown up to around 25th floor of a building to launch an attack," claimed Joint Commissioner Monirul Islam of Detective Branch (DB) of Dhaka Metropolitan Police (DMP) yesterday.
At a press briefing at DMP media centre, Monirul claimed that they were using the technology of toy planes to make the drone.
"If they had more technological support, they could have made an operational drone soon," he added.
The DB official said since key establishments had tight security measures, the militant outfit had planned to blow them up with drone attacks.
A DB official seeking anonymity claimed that the designed drone was capable of carrying around 25kgs of explosives.
The DB officials said both the arrestees were followers of Jasimuddin Rahmani, the arrested spiritual leader of the outfit now in jail. They also had links with absconding leaders of the outfit. 
In 2010, law enforcement agencies arrested another Ansarullah Bangla Team operative who had been attempting to build drones.
Replying to a query, Monirul said the law enforcers had the capability to tackle such attacks but their aim was to foil the attempts beforehand.
A Dhaka court yesterday granted a five-day remand for each of the two for interrogation.