FINAL OFFENSIVE ON LAST IS HIDEOUT IN SYRIA
3,000 fighters surrender
SDF thwarts suicide bomb attack as jihadists near defeat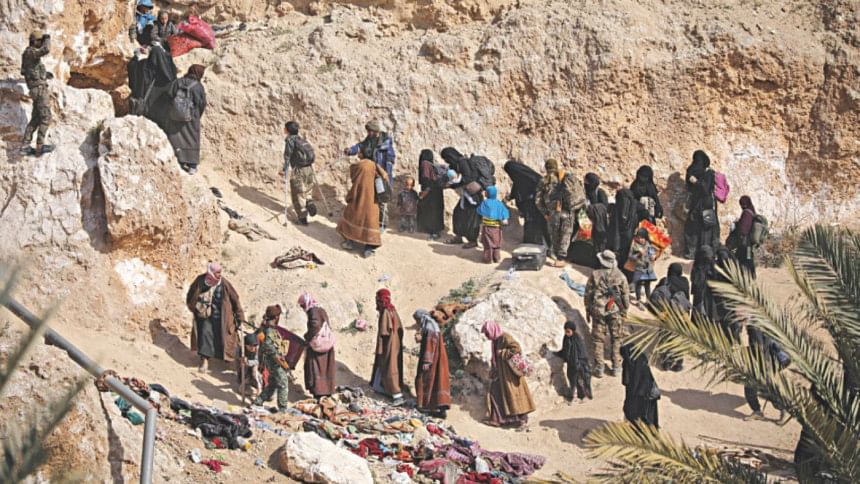 US-backed forces said yesterday the Islamic State group was living its "final moments" after thunderous shelling on its last scrap of land in eastern Syria prompted 3,000 jihadists to surrender.
But the die-hard IS fighters who stayed to defend the remnants of their "caliphate" struck back with a wave of suicide bombings, according to the Kurdish-led Syrian Democratic Forces (SDF).
"There were suicide vest attacks by a group of bombers who tried to blow themselves up amidst our forces. Our forces targeted and killed them before they reached our positions," Mustafa Bali, a spokesman for the SDF media office, said.
IS once ruled over millions in a swathe of Syria and Iraq, but it has since lost all that territory except for a riverside slither in the village of Baghouz near the Iraqi border.
Thousands of men and women have poured out of the pocket in recent weeks, hampering an advance by the US-backed SDF, which has paused its offensive multiple times to allow evacuations.
Supported by air strikes by the US-led coalition against the jihadists, the SDF resumed artillery shelling on Sunday after warning holdout IS fighters their time to surrender was up.
For three nights in a row, the Kurdish-led SDF unleashed a deluge of fire on jihadist outposts, engulfing their makeshift encampment in a ravaging blaze.
"IS's final moments have started," SDF official Jiaker Amed told AFP.
Clashes continued yesterday morning as the SDF worked to thwart an IS counterattack launched in the early hours of the day, he said.
The official said the Kurd-led force was pounding jihadists with heavy artillery to hamper the offensive, which IS launched from several fronts following fierce clashes on Tuesday night.
"We are still countering the assault until this very moment," he said.
"This could be their final attack."
An SDF fighter in Baghouz said IS was using "many suicide bombers" in its counterattack, which it launched after daybreak under cover of a sandstorm.
Inside Baghouz, the crackle and thud of gunfire and shelling rang out from the encampment as plumes of thick black smoke rose over the bombed-out IS bastion.
Amid the rubble, three SDF fighters lobbed a salvo of mortar shells towards the IS pocket. On a rooftop near the front line, an AFP correspondent saw a warplane fire two missiles at IS positions.
The SDF have said that fierce bombardment on the last IS pocket aims to "terrorise" jihadists and their relatives into surrendering.
"The battle is ongoing and the final hour is now closer than ever," Bali said on Twitter.