Mark! Set! Go! JZX-100 Toyota Mark II
Mark! Set! Go! JZX-100 Toyota Mark II
It was 7 am and I needed to be there. I needed to see this one for myself, and I knew it was going to be special. An inner child surfaces every time I think about large luxury sedans, and Toyota sure made their mark with this one.
The Mark II you see here today is an eighth generation JZX-100. It's a car that has a long lineage of reliability and comfort. It followed after the X-90 retained its throne for a good four years. By the time Toyota was looking to make a newer model, they had very little to work on because the car was just that good. Sure, they changed the design later on and made the X-110s larger and more comfortable but they weren't as impressive as the X-100s.
Let's focus on my little ordeal. So it was 7 am in the morning and I made it a point to be at the rendezvous point precisely on time. I heard about it and saw photos, but I have to admit that nothing prepared me for what was to come. Unfortunately, though, I waited for well over an hour for the man behind the wheel to arrive. In the meantime I managed to lose my way around Hatirjheel three times but that's a whole different story.
The wait was worth it. Oh my god was it beautiful. In front of me stood a 13 foot long JDM legend. The unforgiving sun made it gleam like a new penny. Pearl white looked good on it. It wore black shoes with yellow socks. It demanded attention, and I couldn't help but stare.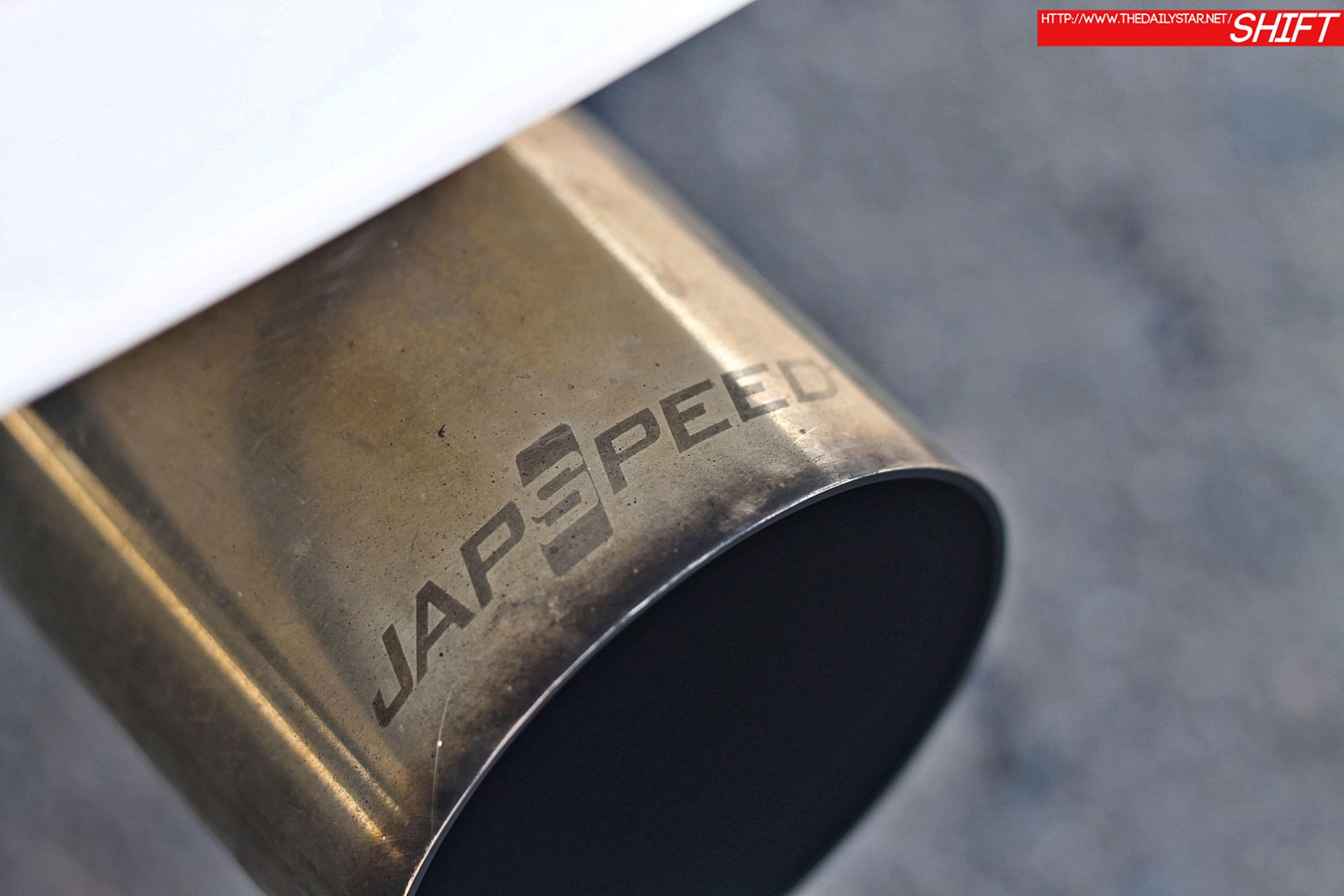 This particular unit wasn't just any regular family luxury sedan. In fact, a 2.5 liter 1JZ-GTE twin-turbo motor currently powers this neighbourhood bully. This means that the car comes with a temper; a short one at that. Searing rage can easily course through its drive-train and pump out over 300 brake horses of brute force. The engine, bone stock, would pack around 280 bhp, but no proper enthusiast would stop there, would they?
Let's talk about the vocals. The car has a loud and aggressive Japspeed Exhaust, an entire unit from the header, the pipe diameter being well over 2" inches fat. When I first heard the car pull up in front of mine, I let off the gas pedal, turned off the music, and wound down the windows. The rest was eargasmic! The turbo blow off valve made the perfect whistle every time the pedal was released. It wasn't annoyingly loud, but hummed just enough to make its approach lively.
To make sure all that power doesn't kill the driver, the car is outfitted with aftermarket disc brakes. The front discs were swapped with K-Sport 8 piston330mm ones. Delicately hidden behind the matte black 18" rims, the brakes stole the show. It makes sense to include rear discs as well, but the owner didn't swap them yet. Lowering springs were a necessity and K-Sport was the brand of choice once again. The car looked perfect with its tight fitment, and it even had noticeable camber.
The Supra-Mark II love child had other impressive aftermarket parts. It has a Greddy boost controller, Apexi Boost gauges, AEM air/fuel ratio meters, and an HKS turbo timer, just to add that race-car feel to the cockpit. But all the fun was behind the front bumper. If you look closely, you'll see the Greddy intercooler with the fat Autobahn88 hose peeking out. You can tell right then and there that this mother has twins. And the twins were a duo really hard to handle. From Mr Yakub Ali's personal experience I got to learn that every time he drives this, it's like putting his life at risk. The car at times has a mind of its own and amateur drivers wouldn't be able to steer it in a straight line.
To add more stability the owner installed a Cusco front strut bar and did some tweaking with the suspension. The car is reasonably fast. According to the owner the engine was very good value for money, surpassing his expectations. Seeing a majestic luxury sedan go that fast is surprising any day of the week. I stared as the rpm needle lost control every time. I was afraid we'd kill some innocent cyclist during the test-run.
The car is a proper enthusiast's car. It's like owning a raging bull. You'll feed it the greenest grass but it will never play along. It takes real love to tolerate the high repair costs, and bad fuel economy. One would have to forget about the environment once behind the wheel. Who cares if Mother Nature is hurting, right? You're driving a JZ, and very little matters after that. For a true enthusiast it's hard to take one's eyes off the behemoth that is this car.
They don't make them like this anymore. I almost wish Toyota stopped with the hybrid nonsense and went back to making car's for real men.