Mamunul off to Kolkata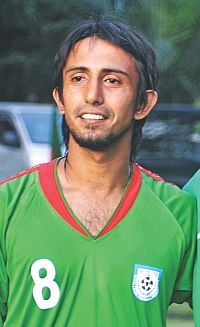 Bangladesh captain Mamunul Islam said he would try to compete against his European teammates to get into the Atletico de Kolkata playing eleven, on the eve of leaving for Kolkata yesterday evening.
The 28-year-old midfielder is one of 12 overseas players of the 26-man squad of Atletico de Kolkata with former Spanish International Luis Garcia as the team's marquee player. According to the league regulations, a maximum of six foreign players will be allowed to play in a match, which makes it a challenge for Mamunul to get into the playing eleven.
"This is a very challenging assignment for me. My case is completely different from the ones of Munna bhai, Aslam bhai and others, who played in the Kolkata League. I'm going to play in a league where there will be many European footballers and I'll have to compete with them to get into the team," said Mamunul over phone yesterday.
The Kolkata franchise will kick off the tournament on October 12 with the game against Mumbai City FC on October 12. The team, , co-owned by Spanish League champions Atletico Madrid, have already had a month-long camp in Madrid before returning to Kolkata on September 27 to start the residential camp. Though he is joining his teammates late with only ten days before the kick-off, Mamunul feels he can make up for the lost time.
"I don't think it's a big deal not being able to be part of the main camp because there is still time to get adjusted. I'm going there to represent my country and my target will be to get into the playing XI. If I can do that I will try to give my best to make my country proud," said Mamunul.
Mamunul, who scored the winning goal against Afghanistan during Bangladesh's commendable Asian Games campaign recently, is eager to lead the national team in the two FIFA friendly matches against Sri Lanka slated for October 24 and 27 at home, but admits it all depends of the team management.
"I will certainly try to play the two matches against Sri Lanka, because country is above everything. But I don't know whether my team management will allow that," said Mamunul.