Losses immeasurable for victims, not for owner
Losses immeasurable for victims, not for owner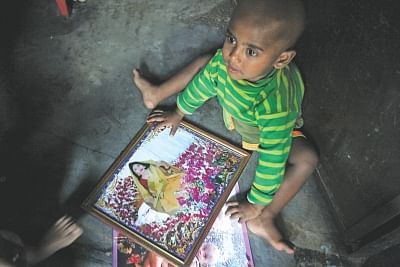 How should the losses caused by last year's November 24 fire at Ashulia's Tazreen Fashions be accounted for?
To Delwar Hossain, the owner of the factory and director of Tuba Group that has six other garment factories, the losses mean burnt stocks, cancelled orders and missed opportunities of making profit. All of these can be measured in monetary terms.
"I reported losses of Tk 63 crore to the five-member committee that was formed by the home ministry to probe the incident," he told The Daily Star.
"But my actual losses consist in lost business opportunities since many buyers are not comfortable placing orders with the Tuba group after the Tazreen fire."
He said he had exported worth only $31 lakh (more than Tk 23 crore) in the last 11 eleven months, claiming that he would have exported about $40-50 lakh worth of merchandise a month had the fire incident not taken place.
These numbers, however, mean nothing to two-year-old Masum Rana and 18-month-old Mizanur Rahman, two cousins who lost their mothers in the fire.
All that is left for Masum of his mother are her photographs, in which he can recognise her.
"His mother Mahfuza Begum used to wave at him from the third floor of the building during her breaks," said his grandmother Zobeda Khatun, showing the workers' rented quarters right behind the factory building, where Masum lived with her mother.
Unlike the owner, she could not quantify her losses, which meant losing her two daughters-in-law.
"The next day we found the body of Mitu, Mizanur's mother, in the school field where all the bodies were kept. My son identified her from her sandals and locket," she said.
Mitu's husband Saddam Hossain said his family had received Tk 1 lakh from the BGMEA, Tk 6 lakh from the Prime Minister's Office and some amounts from a non-governmental organisation.
While Mizanur received at least Tk 7 lakh for losing the most beloved person in his life, Masum did not receive a penny. His family did not even get to know of a grave where he can go to shed a tear when he grows up.
"We did not find her body. We gave samples of Masum and his grandfather's blood at the DNA lab but the samples did not match the DNA of any of the unidentified bodies," said Saddam.
Documentary proof of her employment at Tazreen in Nishchintapur was burnt in the fire, which is why the authorities refused to compensate for her death, he added.
As for Sumaiya, another victim of the fire, no compensation can restore her eyesight or face. While fleeing the fire, she severely hurt her right eye on an object.
A cancerous tumour was detected in her head eight months later. The treatment, primarily funded by individual donors, left her skin and bones and in pain.
There are many more victims who could not measure their losses in terms of money. Among them are Mirazul Islam, who jumped from the fourth floor and broke his left hand, Reba Khatun, who still walks with a limp, and Anisa Begum, who received spinal injuries and received nothing more than her wage arrears.
They do not even hope that those responsible for the fire, which killed 112 of their colleagues, will be punished.
Two cases have been filed in connection with the fire so far.
One was filed by police with the Ashulia Police Station against 15 office staff of Tazreen, but not Delwar, for murder by negligence. Seven of them have been arrested so far, said a Criminal Investigation Department official involved in the case.
The other case, filed against Delwar and 30 others on May 29 by the brother of a missing victim, is yet to see any arrests.
In its probe report submitted to the home ministry in December last year, the five-member committee said it had found "unpardonable neglect" on the part of the owner in the devastating fire. It recommended that Delwar be tried under Section 304 (A) of the Penal Code, which hands down only five years in prison as the maximum punishment.
Delwar and his wife had constructed the building like a brick kiln on a faulty plan and illegally used the walkway on the ground floor as a godown, the report said.
Yet Delwar continues to escape justice. Mitu's husband Saddam said, "There is no justice for the poor. He [Delwar] will not be tried no matter who comes to power."
Additional reporting from Rashad Ahamad, Savar correspondent.