Where to?
A Translation of Bhashkar Chowdhury's "Gantabya Kothaye"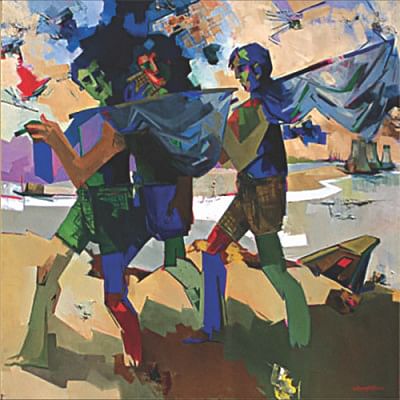 Some weird things happen sometimes. It was just midday when his mother was done with her cooking. She got up from sitting position with her two hands on her knees and went to sit in the yard to relieve rheumatism in the sunlight. On her way, she called out to her second daughter, "Mitu, serve Milu his lunch. I'll rest awhile."
Mitu was tired too, just returned from her teaching at the school. She would have to leave soon after the tiffin break and hence did not have much leisure either. Nevertheless, she brought the bowl of rice to the table. Milu pulled his two legs together and gathered himself up. He had his lunch on a wintry noon of December sitting on his bed. He enjoyed rice with bhorta. On top of that, the lentil curry was spiced with panchphoron. He gobbled up quite an amount of rice with bhorta and daal and burped in contentment. Mitu picked up the plates and glass—the least she could do for him, when Milu called out, "Mitu, give me a bachelor paan, please." Mitu was taken aback when Milu laughed out loud. "Oh, you don't know what bachelor paan means? It's betel leaf without any kind of masala inside."
Mitu smiled at his sense of humour and brought one for him. Putting the paan in him mouth, he was about to dive inside the blanket when the throbbing started. At first, it was slight, but then the pain started picking up like the rhythm of tabla. His mother was still lying in the easy chair of the yard. Mitu was at the dining table by the kitchen, having lunch with her other siblings. They were talking about the Victory Day celebration at the school the next day. First, they would hoist the national flag and sing the national anthem. After the second song there would be games of different types. Mitu herself would sing a song and Ritu, her younger sister would dance. That is when Milu groaned, "O Mother!" Mitu turned to look at his room. The pain was right on the spot where the Pakistani grenade had hit him. Milu called out, "This pain of mine wants to celebrate too, Mitu. Pay it some respect—it demands singing and dancing, I believe. Wants someone's fingers to dance around the wound."
Those were the only words he said, but Mitu sat erect as if she was struck. His mother wept loudly. Milu turned over in his bed and started weaving his stories. "You know, Mitu, that was the last day of the battle. I never counted how many enemies I had killed. Never thought if it was my bullet that killed. We only fought. And we saw our nation that was burning. Captain Jahangir had escaped from Pakistan and launched into the war. It was on this very day, the 15th December. He was our commander. We had crossed Islampur, Mohonpur and Mahananda and were heading toward Nababganj, when we heard that Captain Jahangir was gone. He had entered the door of martyrdom. I felt my blood boiling and could sense that victory was very near. It was at that point, when we were about to enter the town, when a last piece of shell burst before me and I fell. I fell and toppled like a turtle."
The sadness in the faces of Mitu and Ritu and the tears in their mother's eyes increased his aching all the more.
"Can't anything else be done?" His mother whispered.
"Like what, ma?"
"Like taking you to some foreign country for treatment."
"The spinal cord is gone. That's another heart for the body. If it's gone, it's gone forever."
"But didn't you mention something called acupuncture? Weren't they supposed to take you to China?"
Yes, there were some talk on that line. Someone had promised him—someone who went high up the ladder had proposed, "Will take you to China. It's no big deal. Get all the papers ready. Which doctor told you that you won't get cured? We'll send you to China. All it requires is some needles and you'll be in good health again. It's easy." And Milu had imagined how easy life would become for all of them. A heavy sigh emitted from his wide chest.
"I did try, mother."
"Why isn't it working then?"
"I'm not alone, ma. There're so many like me. How many like me would the nation take care of?"
"What do I care about that? You're the only one who matters to me. What did you fight for? Nobody ever comes to see you, or to ask for you. Wouldn't the country be free if you had not gone?"
Milu was pained. War was not something to go to. War claimed them those who wanted to breathe, who wanted freedom. They were burdened by the need to fight. But his mother would not understand that, of course.
"I didn't have a choice, ma."
"Ali from the other house didn't fight. Didn't the country gain freedom?"
"That's how it goes, mother. War has to be fought. This war was for all of us. Even if one didn't go to fight, it would have occurred. The accident that happened to me happened because I was present there at that moment. If I wasn't there, somebody else would have been wounded. Another mother would be in tears. Would that mother be any less sorry?"
His mother said no more. She walked toward the well in the yard. The throbbing in his back kept on dancing through the noon and he arrived in the afternoon. He kept on thinking of what his mother had said. He wondered what this freedom seeking nation could provide for a crippled freedom fighter like him. He felt restless and called out to his mother for his socks and shoes.
His mother responded from the yard, "Where would you go at this odd hour?"
True. Where could he go indeed!"
Sohana Manzoor is Associate Professor, Department of English and Humanities at ULAB. She is also the Literary Editor of The Daily Star.