Renowned author Samaresh Majumdar no more
Samaresh was best known for the series of novels Kalbela, Uttaradhikar, and Kalpurush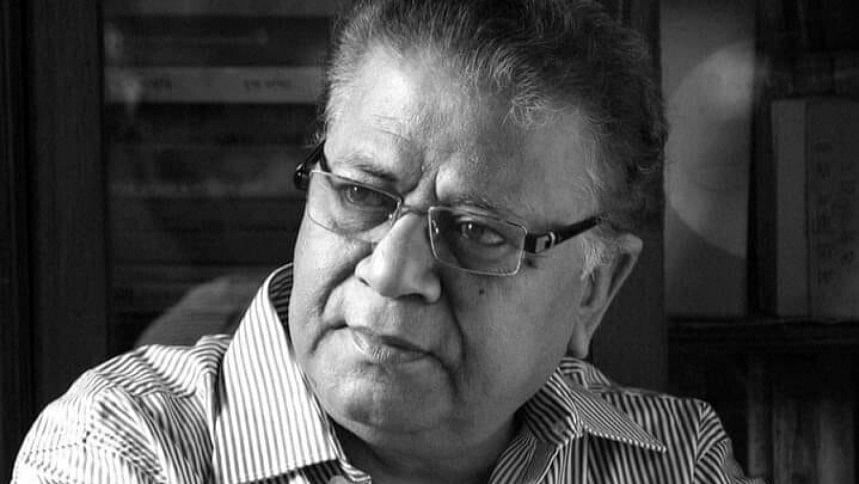 Eminent Bangla litterateur Samaresh Majumdar, whose popularity transcended the borders of Bangladesh and West Bengal, passed away yesterday at a private hospital in Kolkata in the evening, losing a protracted battle to a severe infection in the lungs and respiratory system.
The 79-year-old author, who had a long history of lung problems and breathing difficulties, died at around 6:00pm at the Apollo Hospital on EM Bypass Road in the eastern part of the city. He was admitted to the hospital on April 25 with complaints of brain haemorrhaging and thereafter developed breathing trouble.
The Apollo Hospital spokesperson said, Samaresh Majumdar had long been suffering from chronic obstructive pulmonary disease (COPD) and was recently admitted to the hospital with breathing problems.
West Bengal Chief Minister Mamata Banerjee called the death of Samaresh Majumdar "An irreparable loss to Bengali literature."
A prolific writer, Samaresh was best known for the series of novels featuring Animesh and Madhabilata as the lead characters in novels "Kalbela", "Uttaradhikar", and "Kalpurush" in the backdrop of the Naxalite movement in 1960s and 70s. Kalbela was brought on the big screen by acclaimed director Gautam Ghosh in 2009 with Parambrata Chattopadhyay and Paoli Dam in the lead roles.
Author of novels, short stories, and travelogues, Samaresh received the Indian government's coveted Sahitya Akademi award for the second book of the Animesh series, "Kalbela".
He is also credited with creating the character of detective Arjun. The Bangla film "Buno Haansh" is based on the novel written by Samaresh Majumdar of the same name.
Samaresh took the Bangla literary world by storm with his first novel "Dour" which was serialised in "Desh" magazine of Kolkata. It immediately earned him huge popularity. It was also made into a film in 1979.
Born on March 10, 1944, in Jalpaiguri in the northern part of West Bengal, Samaresh spent the first six years of his life in the terraced lush green tea gardens of the region. North Bengal forms a distinct and large part of his works.
After having primary education in Jalpaiguri high school, Samaresh shifted to Kolkata in the 1960s and obtained his BA honours degree from Scottish Church College and completed his post-graduation from Calcutta University.
Among the other novels by Samaresh are "Saatkahon", "Swapner Bazar", "Ujaan", "Ganga", "Victoriar Bagan", "Aat Kuthuri Noy Dorja", "Anurag", "Tero Parban", and "Garbhadharini". "Saatkahon" was adapted into a Bangla TV show.
In 1982, Samaresh was conferred Ananda Puraskar and declared an outstanding Bangali by ABP Ananda for his contribution to literature.
Samaresh's death plunged the Bangla literary world into the gloom.
Veteran writer Sirshendu Mukhopadhyay recalled his memories with Samaresh saying he had known Samaresh before he became an author. "I used to stay at a boarding house in Kolkata and Samaresh used to come there. He was such a lively youth with diversified interests."
Sirshendu said he had a special affinity with Samaresh because both were from north Bengal -- the former from Siliguri and the latter from Jalpaiguri.