PM opens Ekushey Book Fair 2022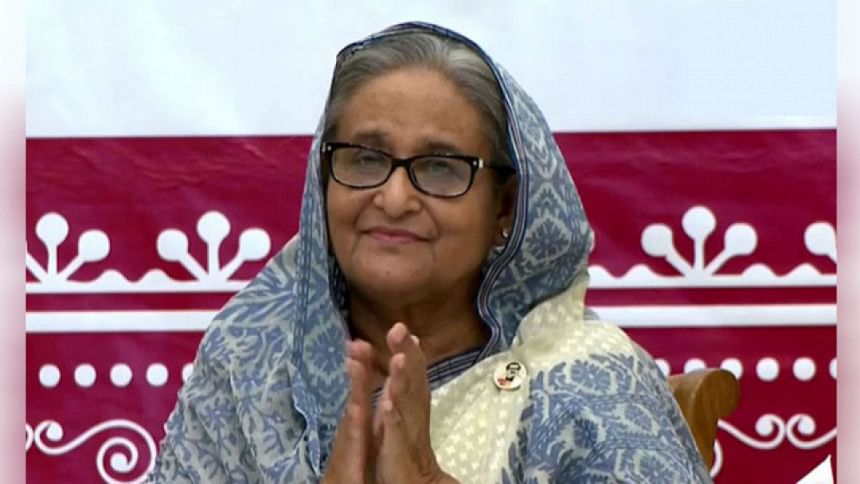 Prime Minister Sheikh Hasina today inaugurated the Amar Ekushey Book Fair 2022, the annual event of booklovers and publishers, in Dhaka.
She opened the country's biggest book fair, joining its inaugural ceremony at the Bangla Academy virtually from her official residence Gono Bhaban in the afternoon.
This year's fair is being held on the Bangla Academy premises and adjoining Suhrawardy Udyan in Dhaka -- from February 15 to February 28. But its duration might be extended if the Covid situation improves.
At the opening ceremony, the Prime Minister conferred the Bangla Academy Sahitya Puroshkar-2021 (Bangla Academy Literary Award 2021).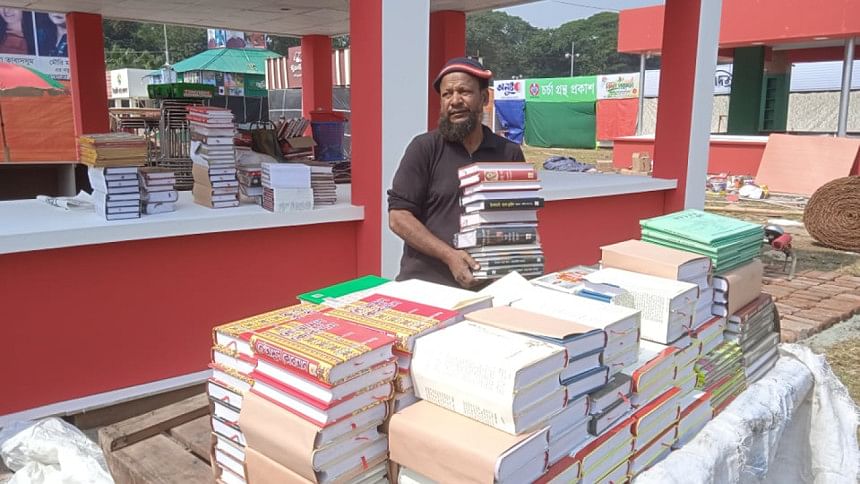 On her behalf, State Minister for Cultural Affairs KM Khalid handed over the award to 15 recipients under 11 categories. Each awardee received a cheque for Tk 3 lakh, a crest and a certificate.
Asad Mannan and Bimal Guha received the award for poetry, while Jharna Rahman and Bishwajit Choudhury for novels, Hossenuddin Hossen for essays/research and Aminur Rahman and Rafique-um-Munir Chowdhury for translation.
The other awardees are Shadhona Ahmed for drama, Rafiqur Rashid for juvenile literature, Panna Kaiser for her work on the Liberation War, Professor Harun-or-Rashid for research on Bangabandhu, Shuvagoto Chowdhury for science/science fiction/environmental science, Sufia Khatun and Haider Akbar Khan Rono for biography and travelogue and Aminur Rahman Sultan for folklore.
The Bangla Academy Sahitya Puroshkar is given in recognition of creativity and talents in advancement and overall contributions to the field of Bengali language and literature.
The book fair will remain open for visitors from 2pm to 9pm every working day, but the visitors will be allowed to enter the venue till 8:30pm.
The fair will be open for the visitors from 11am on the weekends (Fridays and Saturdays) and government holidays and from 8am on February 21 and continue till 9pm.
The visitors, publishers, stall owners and those who engaged in managing the fair need to be vaccinated, and Dhaka Medical College centre will provide all support for vaccination as per the requirement of Bangla Academy.
All the staff involved in the book fair are requested to take Covid-19 vaccines and booster doses as per the requirement.
A taskforce will remain active to check the sale of pirated books in the fair.
The month-long book fair is traditionally starts on February 1 every year, but this time it was shortened due to outbreak of Omicron variant of coronavirus, in the country.
President of the Bangla Academy Selina Hossain chaired the opening event, which was addressed by State Minister for Cultural Affairs KM Khalid, Cultural Affairs Secretary Md Abul Monsur, Director General of Bangla Academy Mohammad Nurul Huda and President of Bangladesh Pustak Prokashak and Bikreta Samity Arif Ahmed Choton.