An essential guide to bridal jewellery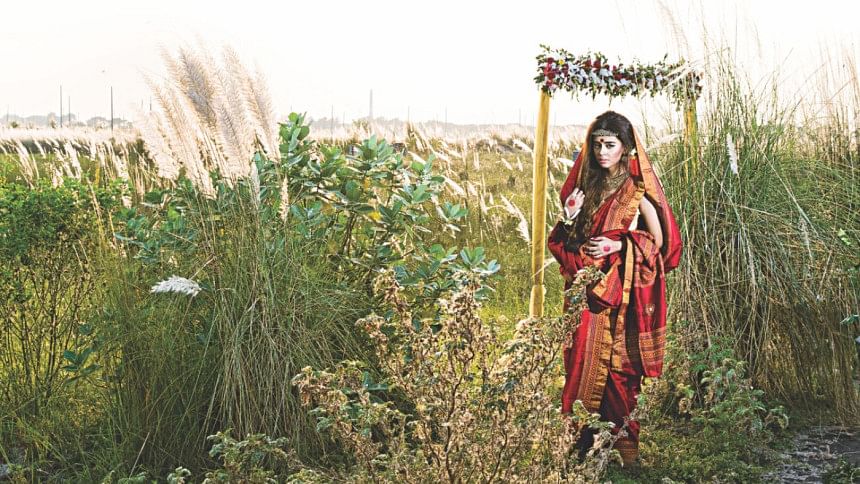 They say diamonds are a girl's best friend, but that is probably as true for any other forms of jewellery. Each and every girl or woman is beautiful in her own special way and jewellery can complement that beauty. 
Jewellery should be taken care of similar to how a girl would pamper herself. And if a girl wants to indulge herself with jewellery that's in style, she deserves it. After all, when jewellery is styled well, it can add oomph to any outfit and make a girl look radiant and full of confidence. 
CARE TIPS 
Safely store your gold jewellery in a velvet box or in satin cloth. Make sure to store pieces separately as this will prevent them from becoming tangled, scratched or damaged. Avoid contact with anything that has chlorine as that can significantly damage your gold.  
Don't worry if your gold jewellery becomes darker or more copper in colour in certain areas. This can happen from moisture. Take it in for professional cleaning as it can be removed. 
Do not keep polki in velvet jeweller boxes if you want the shine to remain intact, instead, store it in-between sheets of butter paper inside a plastic airtight box. This will keep your polki shining bright, and if your polki/kundan set looks worn out, take it in for professional cleaning. 
Take care of your single-piece diamond jewellery at home by washing them gently with a soft brush and toothpaste to remove makeup or dirt. For all other diamond jewellery it is best to have them professionally cleaned once a year. 
Don't wear jewellery while working. Protect it from contact with tough surfaces to prevent physical damage. Harsh temperatures, perfumes, cosmetics and household chemicals are harmful for your jewellery and contact with these substances should be avoided. Ensure your jewellery is the last thing you put on before stepping out of the house. 
If any stones or parts of your jewellery have come loose or become damaged, you can get it replaced or repaired professionally.
COLOUR AND STYLE
Emeralds are very much in vogue right now. They complement warm tones, including yellow, oranges and reds. Alternatively, channel your inner peacock; pair your emeralds with sapphire because blue and green make a fabulous combination.
Gold is timeless, and will always add a touch of pizzazz to your outfit. By mixing rose, yellow or white gold, you can revamp classic gold jewellery and give it a modern twist. These metals work very well together, and wearing two toned jewellery is a big trend right now.  
Keep it stylish and elegant. To make your jewellery stand out opt for two or three pieces, preferably with a simple patterned outfit or monotone top to make it the main focus - if the rest of your outfit is on the simpler side, all you need is a statement necklace or a cocktail ring to complete your look.
Pearl jewellery, like gold, is also a timeless, and can look good when layered with most precious stones. Play with textures by wearing strands of pearls and polki with hints of emeralds or rubies for a delicate look.  
It is recommended not to wear geometric fusion jewellery with traditional pieces.  
Chandbalis and cocktail rings can be worn on their own as statement pieces, and don't always need a necklace to go with it  
For weddings, layered neckpieces and bracelets are in trend right now. For a vintage regal look, wear a single choker with a multi-layered long neckpiece. 
It's always best not to go overboard with layering. If you put emphasis on your layered necklaces, go easy on the earrings to avoid a cluttered look. Similarly, if you're stacking up on bangles and earrings, make sure your necklace and rings are toned down. 
Above all, make sure your jewellery is comfortable to wear and that you aren't allergic to any of the materials.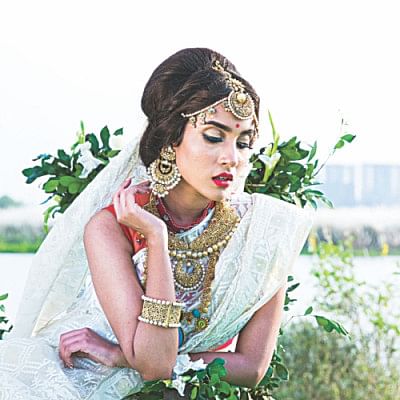 MATCH YOUR JEWELLERY TO YOUR FACIAL FEATURES
Although technically you can wear any piece of jewellery you want, it's worth noting the different styles of jewellery that can enhance the way you look. 
If you have a heart-shaped face, you should go for small-sized earrings, and either chokers or short-length necklaces, as they both soften and widen the angle of your chin.  
For round and square faces, opt for long earrings instead of round-shaped ones. Wear teardrop earrings and long necklaces extending below the neckline to help elongate the face.  
People with oval-shaped faces suit all style of earrings and have considerable freedom in their choice of necklace, since they can choose from both long and short style depending on the length of the neck and their overall build. 
Whether you go for a bold look with tons of contrast, or you settle for subtle elegance, your jewellery should be incorporated effortlessly into your outfit. Whatever you choose will only serve to highlight your beauty on your special day.
By Tanziral Dilshad Ditan
Special thanks to Jarwa House, for providing the information used in this article.