InstaKC 2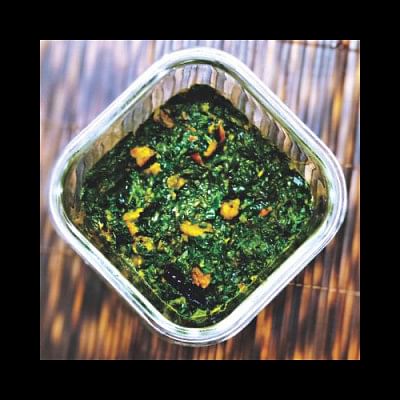 paat shaak
Here is another gem from my in-law's family — succulent jute greens or 'paat shaak.' Very seasonal. Cooked with little prawns in shell and enough garlic to have Dracula skip this city for some time to come.
The textural contrast between prawns in shell and the greens is simply mind-blowing. The crunch cushioned by the silken greens.
In the good old days, this was cooked with so much oil and chillies that I used to need antacids just looking at it. These days, the cooking is far more moderate. No oil slick was left on the plate. No sinuses blown away by the heat. A very comforting dish with some plain rice.
Jute has always been a cash crop. Wonder what prompted someone to try the greens!
Might just be the famines of Bengal which were responsible for folks looking for unusual sources of food. From stark necessity to delicacy, this green has come a long way. Today's creation is courtesy of my super talented sister-in-law, Nibadita. A natural cook, she has truly inherited her mother's genes. #That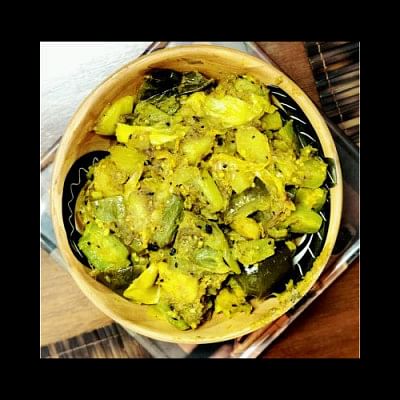 labra
A very simple mixed vegetable. Surprisingly, the first time I had such a kind was in Dhaka, at what became my in-law's home.
They talked a lot about this. Called it 'mishano torkari' or just plain 'shobji.' They also called it 'labra.' Not the labra that I was used to, which, if anything, was a study in austerity. Very little spice. Very little flavour.
Their labra were big on flavours, and high on spice quotient. Apparently, a dish served only in Hindu households where the use of onions and garlic is limited. And a recipe my MIL guarded zealously.
It took me five attempts to wrangle the recipe out of her. Every time, she held back one ingredient. A story that is a source of much laughter in the family, even today. But finally, I conquered it.
All kinds of veggies go in, but a special mention must be done to a couple of stalwarts — radishes, plantain, sweet potato, and carrot. Everything must be cut in the same dimensions. The most unlikely tempering of bay leaf, 'paanch phoron' and grated ginger goes in mustard oil. The veggies are cooked pretty vigorously with turmeric and salt.
The entire pish-pash is finished with a generous sprinkling of roasted cumin powder, garlic masala paste, sugar and ghee. Perfect bedfellow of 'luchi.' These days, we skimp on the oil, and ghee and salt. We omit the sugar altogether and add pumpkin for natural sweetness. This has become a staple at our kitchen. And we have learned to eat it with rice as well. #That
arhar daal
My grandmother became a widow when I was around eighteen. Her entire eating habit changed. She became a vegetarian. In place of fish and eggs, she never really was a meat eater, pulses took centre stage.
One of her favourite was 'arhar daal' or 'tur daal'. She used to cook it with chunks of potatoes and eggplants. She used to dry roast the 'daal' before adding water, which used to give a glorious golden glow to the dish. Bay leaf, cumin seeds, and asafoetida was the tempering of choice. Dash of turmeric powder and dollop of ghee. Salt and a hint of sugar. Couple of green chillies completed the task.
There was talk that Bengalis indulge in red lentil or 'masoor' and 'mung' or and not 'arhar,' as it was the preferred 'daal' in Bihar. Well, my mum's grandmother lived in Bihar for a while, and I'm sure that's how my grandmother developed the taste.
Our cook prepared this particular bowl, albeit in a hurry. The glorious golden hue is missing. The chunks of eggplant collapsed. No potatoes were harmed thanks to my condition. The tempering was off with a little too much asafoetida. After all you can't expect grandmother's magic from the cook. She tried her best. And the rush of memories was truly priceless. #That