Festivals and music
AARONG 40 YEARS FESTIVAL
Date: 25 October – 27 October
Time: 11AM
Venue: Bangladesh Army Stadium, Banani
Aarong is turning 40! Join them in a celebration of 40 years of excellence through a 3-day event, 'Aarong 40 Years Festival.'
Experience a unique exhibition on local crafts, watch artisans give live demonstrations, and be witness to the gala fashion show, which shall feature designs ranging from TAAGA, TAAGA MAN and HERSTORY. And it does not end there — do not miss the musical extravaganza with Nagar Baul — James, Joler Gaan, Nemesis, and Minar. No festivity is complete without food, and the occasion will have a lot to offer to satiate the palate.
Entry is subject to prior registration at any Aarong outlet.
It can also be done online by simply following the link — https://aarongfestival.com/?fbclid=IwAR1Nz_JFWdf-Dyc3t1eSS50j_0Niwn6EMb5Ulb4FcGNVqULGA-qIH0QZ6Xw
MOVIE:  GRAVITY
Date: Thursday, 25 October
Time: 3PM – 5PM
Venue: The American Center,  Plot No -1, Progati Sarani, J-Block, Baridhara
A medical engineer and an astronaut work together to survive after an accident that leave them adrift in space. Starring Sandra Bullock and George Clooney, the multiple award-winning film was released in 2013 and was well received both by critics and the audience.
Entry is free but subject to pre-registration through https://www.surveymonkey.com/r/TGVGJS3 before 12PM, October 23, 2018. The confirmation will be notified via e-mail or text messages.
THE ARMEEN MUSA BAND IN COX'S BAZAR
Date: 25 October – 27 October
Venue: Mermaid Beach Resort, Marine Drive Road, Cox's Bazar
Join the ensemble for alfresco musical events at various locations of Cox's Bazar (25 October at the Mermaid Café, 26 October at the Mermaid Beach Resort;  27 October at the Mermaid Cafe, Chill n' Grill).
That is not all; the event will come with options for good food, and quality poetry. The Mermaid Chain is currently offering a 50 percent discounts, so make reservations for a fun-filled weekend!
WEDDING & WINTER LIFESTYLE SHOW
Date: 26 October – 27 October
Time: 11AM – 9PM
Venue: Gardenia Grand Hall, House No -8, Road 51, Gulshan 2
Koral Klauset and Maaya are once again participating in the exclusive "Lifestyle Wedding & Winter Party's Show" at Gardenia Grand Hall. It would be a one of its kind exhibition featuring ethnic wear for the brides and grooms, and their entourage. This may very well be your one stop solution for the entire wedding. Mark your calendars and do not miss it.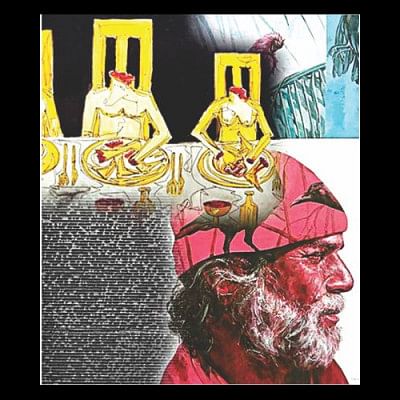 UTTORKOLPO (THE THOUGHT AFTER)
Date: 26 October – 2 November
Venue: La Galerie, Alliance Français, Plot No -26, Road 3, Mirpur Road, Dhaka
This is an art exhibition that is set to feature local artists like Antora Mehrukh Azad, Bipasha Hayat, Farzana Ahmed Urmi, Golam Faruque Swapan, Sahid Kazi; Antonius Kho, Hadi Soesanto, Suharmanto from Indonesia; and Louise Low from Malaysia.
The artists say, "We try to think outside the box and we do not want to unconsciously let the times define our works. The period of time we live in tries to shackle us and our space as well as our thoughts and our works. The artworks can reflect the times we inhabit, but by being conversant with the issues of the times and encouraging the much-needed social development, we go beyond our temporal constraints."
OKOPOT — THOUGHTS, UNLEASHED
Date: 27 October
Time: 5PM
Venue: Spreeha Bangladesh, 52/1, Road 3A, Dhanmondi
Experiences are stories, which need to be told; carried forward and passed on to people, to our community and the coming generations. It harnesses a collective celebration of passion, dreams and failure. Okopot is an effort to revive the tradition of story-telling by connecting people from different walks of life.
Come join them for a snug conversation over tea and snacks. 
Ticketing partners: Jete Chao? Seats are limited.
THE COSMOS PROJECT MUSICAL CONCERT- TRIO
Date: 29 October
Time: 6:30PM
Venue: Goethe- Institut, Dhaka House No -10, Road 9 (New), Dhanmondi R/A
There is a genuine historical link between Beethoven and Indian culture; fascinated by the translation of the mystical Indian texts, the Upanishads, published in Germany in 1816, Beethoven immersed himself in these texts and even wrote a Brahmanic Indian poem to put to music!
To pay tribute to Beethoven and to contemplate the spiritual relationship between Beethoven and India, the Cosmos Project attempts to render that unique relationship with Shani Diluka on piano, Sahana Banerjee on sitar, and Prabhu Edouard on tabla — three of the most accomplished musicians in their respective fields.
To learn more about Shani Diluka, please visit www.shanidiluka.com