Let's Imagine
If you are to think of a typical Eid this year, how would it be? What would be the trends? Let's do some recollection from where we left off before the whole Corona crisis. Ruffles, bishop sleeves, jacket blouses, and belts on saris were trendy right at the beginning of 2020. And now you know, if we are to begin, we should start right there.
This Eid, let things go back to the old flow, and that is with a splurge on peach and pastels. For the evening homely events, we can always opt for the darker shades like brown, navy blue, black, olive green, and greys.
Eid mornings always demand that we wear something extremely comfortable, like linen kurtis, pure cotton saris with block prints, perhaps with light embroidery. Hair tied in a tight bun, a tiny black teep peeking in between the eyebrows and a nude shade on the lips is all that is required to look glam.
The afternoons demand a little more; kameez and panjabi in shades of beautiful pastels. Pink is a personal favourite and somehow, it looks extra special on the gentlemen as well. There is a reason why they say real men wear pink! Maybe a little embroidery in the borders with definite contemporary cuts that scream style, hip and trendy, all at once.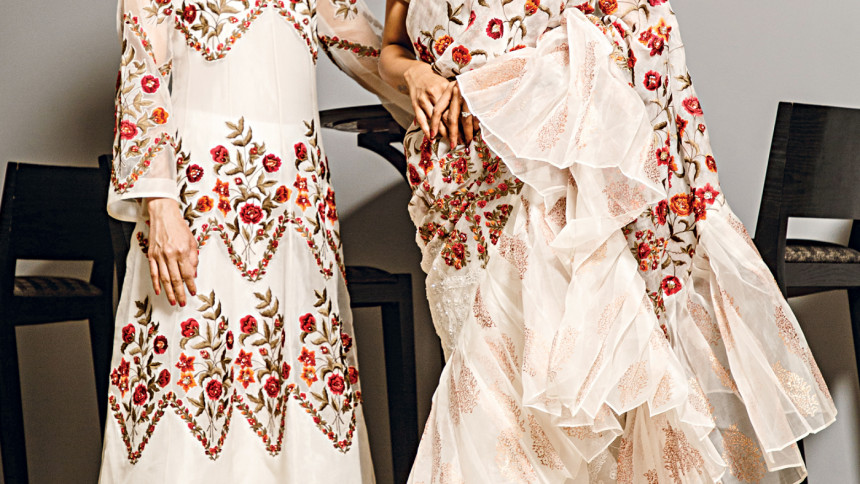 Then comes the evening — a time to relax and enjoy good meals with loved ones, a time to catch up on good old times and some good music. Does it mean you wear your usual drab clothes and do all that? No…of course not!
Put on that black sari you were meaning to, that gorgeous brown panjabi, or even the navy blue Jamdani. Whatever the choice of colour, it must always be a sari for the ladies and panjabi for men. Simply because it's Eid. The ladies must let their hair down. And the blouse…oh yes! The blouse must be mind-blowing, a cut out of the ordinary.
You promised yourself no Instagram this Eid, no bragging, no showing off. But there's no stopping you in permanently etching the style, the special moment in your memories. Look at the bright side. Those beautiful days may just be back again where we dress up, and be happy for our own selves. Not for others.
Here's wishing you all a wonderful Ramadan and a magnificent Eid to look forward to.
Photo courtesy: Summer Collection 2020 Z&Z by Mehjabeen Mutafiz Simily