Hair for the Baishakhi
Pahela Baishakh-- the favourite day of every Bengali woman is almost here. Amidst the scorching heat and stormy ambience, this day never lacks in festivities. Looking your absolute best under the sun all day long can get tough, especially on your hair. It tends to get sticky and messy, and can end up ruining your cheery mood! But as always, count on us to make sure things go just as you want. Here for the Baishakh? Let's get into all the details for your hair on this Baishakh!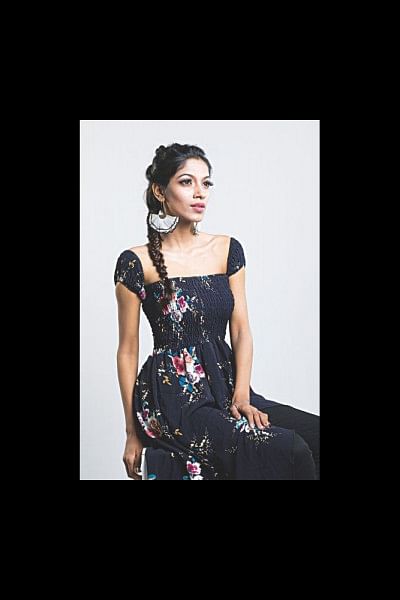 For your hair to look perfect on a specific date, you should start preparing beforehand. We vouch for walking the extra mile to take care of your mane regularly. But it's understandable that can take a lot of time and effort. So, keep at least a week in hand before 14 April, to start prepping your hair. Applying coconut, almond or argan oil frequently will make your hair look and feel healthier. Try hair masks, packs or leave-in conditioners for an extra softness and shine. Of course, make sure to choose products based on your hair-type. Hair treatments from the salon can prove to be highly beneficial. But it's not necessary unless you're willing to make that expense. Don't forget to use conditioner after every time you shampoo. During this time, try to keep your hair away from the artificial heat of dryers and styling tools as much as possible to prevent further damage.
On the day, make sure to have clean, fresh hair. This will help the most to keep your hair looking good for the longest. If you're planning to go out, be ready to feel the heat. Use a dry shampoo or texturising spray to help your hair stay non-greasy. This will also make your hair smell great throughout the day. Use a hair styling cream/serum before you blow dry and style. The combination of all these steps will help lessen sweat and stickiness.
Once your hair is prepped, it's time for some styling! Up-dos are recommended if you'll be heading out more as it will be the least likely to get messy. Play around with buns, braids and ponytails; whatever suits you and your get-up. Get creative with your dos! If you want to keep your hair down, the easiest route to take may be some bouncy curls or smooth straights. But keep in mind that leaving your hair down will get harder to maintain if you'll be spending most of the time outdoors. Finish off by locking your hairstyle in with a good setting spray.
Adding some accessories to the hair is a 'Pahela Baishakh' MUST! Flowers are the mainstream way to go; but does not ever go wrong. Tucking in flowers that complement your look can really lift up your entire spirit. If flowers are not your thing, go for pearl/rhinestone clips. Adding some golden or silver clips can be very on-trend. Traditional hair accessories are undoubtedly the best option for Baishakh!
Finally, don't stress too much! Follow these steps and leave the rest. Celebrate the day with your loved ones and enjoy to the fullest; let your hair go with the flow. Your beauty and mood will make any day a great-hair-day!
Photo: LS Archive, Sazzad Ibne Sayed