The sun kissed aura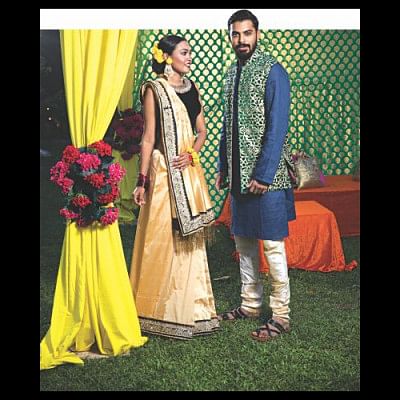 Makeup seems to be a go-to solution for any kind of desired look. Irrespective of the season, or time of the day, you can get the effect of the sun kissed glow with your favourite golden highlighter. Although your glow-up needs can be supplied by the help of makeup, there's little that compares to the glow you get from the sweat induced by a walk in the park under a bright sunny sky.
And with winter approaching, the moisture that makes your skin glow becomes harder to retain. However, this too is hackable.
Give your skin the love that the sun is currently out of service for. Exfoliation is key. The rough layer that is caused by the dryness needs to be scrubbed away first to reveal the supple surface. Then provide the three layers of epidermis with moisturising agents with products and/or natural emollients that are rich in fruit enzymes.
Pineapples and papayas are some great sources of a fruit enzyme called bromelain which is amazing for smoothing out roughness of the skin. Roughness causes scarring and darkening of the skin.
Also, why should winter brides be the only ladies with the glow for the winter wedding season? To achieve the coveted 'sun kissed glow' throughout this season, you can have a one-person holud in your room every week. The instructions are simple — for sensitive skin, mix four spoons of beshon (gram flour), roughly half a spoon of turmeric powder and enough milk to form a smooth paste. Apply this to the face, neck, and arms, then let it settle into your skin for 20 minutes before you wash it off.
For tougher skin with more scars, you need a citrusy element for a more aggressive treatment. Combine half a cup of cucumber pulp, a full table spoon of turmeric and one table spoon of lemon juice. In a bowl, stir till it's a fine paste. Let it sit for 15 minutes after application before you take a shower. You want to remember that when you are taking natural skin-care steps, do not chemically cleanse your body for at least 24-hours.
As we have already established that the sun is not there to suck out the toxins from our skin in the winter, you really have to hit the gym. But this time, it's not only for your weight, but also for the benefit of your skin.
When you work out, the toxin build-up in your body is released as you break a sweat. The work out will also increase blood circulation and will give your entire body a blush. Take a cold shower after the work out and take a picture, you might even glow in the dark!
Model: Salman and Sadia
Wardrobe: Artistic Couture (bridal sari) Chondon (panjabi)
Jewellery: Sparkle
Makeup: Farzana Shakil's Makeover Salon
Styling: Sonia Yeasmin Isha
Set Design: Eskay Decor  by Saimul Karim
Location: The Basecamp Bangladesh