The quest for the right children's literature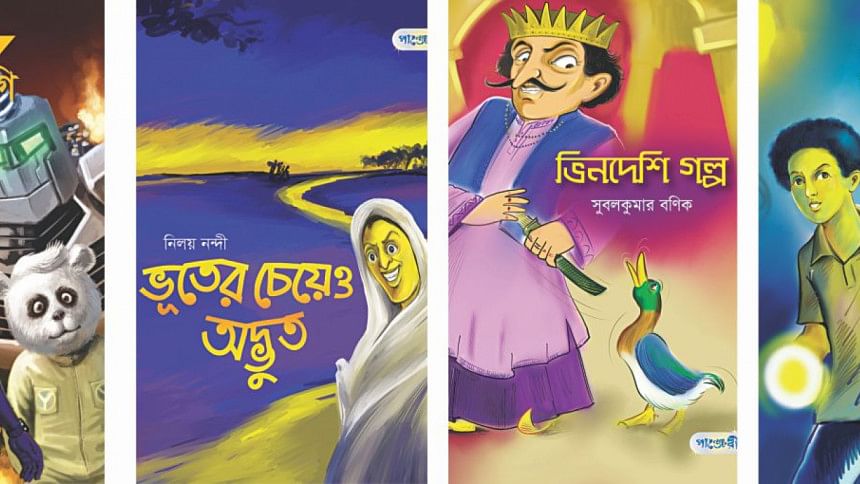 Growing up and reading Sukumar Ray was the most natural thing to do for a young reader with a moderate appetite for all things fun. Recalling the days of reading Lebumamar Saptakando and the translated Tintin comics sometimes feel like a lifetime away for the twenty-something of today. Surrounded by the cartoons, lost in translation, and the over the top TV shows, plus all the numbing games and hypnotising apps, you have to ask, do children even read these days?
Cautious parents have set aside screen time and fun time, but reading is a different issue altogether. Not only does reading require a balance of the local and the foreign, but also a good base to work up from. Just about any and every parenting guide emphasises the need for starting early with reading for children, but practice, sadly, is vastly different than theory.
In Bangladesh, the problem extends well into selecting the reading material as well. Parents who are trying to get their children into reading often focus too much on the English books. Jeff Kinney's Diary of a Wimpy Kid series or children's books from DK (Dorling Kindersley) grace many shelves, but the raw truth is these books have little to do with the actual surroundings of a child living in this country. Having good, interesting write-ups for children in Bangla is another challenge. Writers in Bangladesh have yet to tap into the full potential of writing for children. Despite this, The Ekushey Boi Mela paints a bright picture on the weekends during Shishu Prohor, the dedicated hours for children.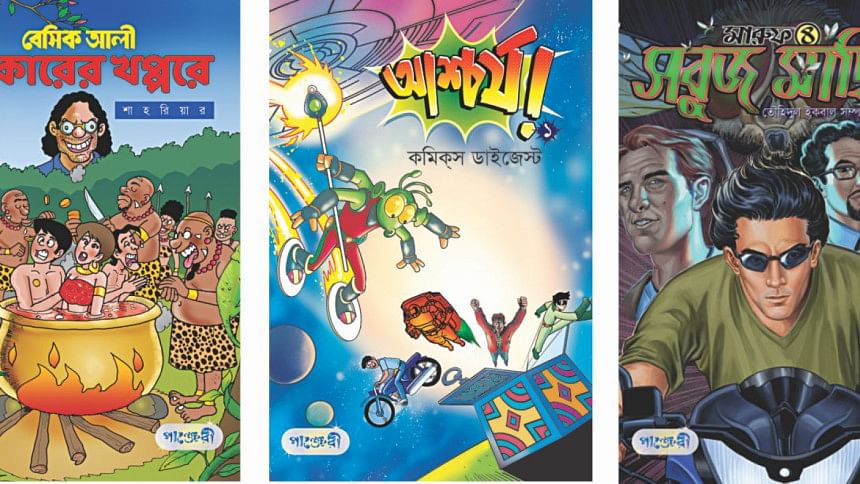 Out of the many publishers that are striving to engage more and more young readers, Panjeree Publications Ltd. is once again providing the young readers with a new selection of reads at this year's Ekushey Boi Mela. Basic Ali fans will not be disappointed as the latest entry includes a story where Ali is captured by hackers in Basic Ali Hacker-er Khoppore. Also, Laily is out this year in English.
Another great addition this year is Aschorjo – a comics digest bringing together the best of many. Sci-fi, action comic enthusiasts will not be disappointed as titles like Lo, Maruf are out to satisfy the adventure seekers. For younger readers, nearly fifty books on poems, jokes and translated children's stories are waiting to be picked up. Panjeree, this year, has many debut pieces for young readers, including Bhooter Cheyeo Odvut by Niloy Nandy and Bangladesher Bagher Golpo by Khosru Chowdhury, Bangladesh's most well-known tiger enthusiast! Older readers need not worry as there are a hundred titles to browse through this year.
From 2001, this publication house has been tireless in its efforts to provide young readers with reading material that not only entertain, but enhance the mind.
You can check out all the titles from Panjeree at this year's Ekushey Boi Mela at http://panjeree.com/boimela2019/Catalogue/
Special thanks to Niloy Nandy, Deputy Manager, Creative Department at Panjeree Publications Ltd. for his insight.
Book covers provided by: Panjeree Publications Ltd.