Tales of two foodies
As two blokes sit at a coffee shop somewhere in Gulshan immersed in conversation over their love for all things food; in the midst of it, I hastily try to scribble note after note of their many anecdotes and the food adventures they've been on. The constant sarcastic and witty remarks laced in the two food lovers- Kaniska Chakraborty and Indrajit Lahiri's discussion was nothing short of an animated and engaging conversation that simultaneously posed to be entertaining and distracting from the very job that I had at hand. Customary introductions are needed- Indrajit Lahiri hails all the way from "o parer Bangla" and is known for his popular food blog, "www.moha-mushkil.com." He is also part of a food web series, "Foodka" that will soon showcase his Hilsha travels during his stay in Dhaka. On the other hand, Kaniska Chakraborty works independently as a brand and communication consultant but his alter ego is a self-professed food lover a.k.a "Dudefood" on social media. Steaming cups of coffee, two foodies and one bewildered writer; turned into an evening of stories, laughter and learning things I never knew!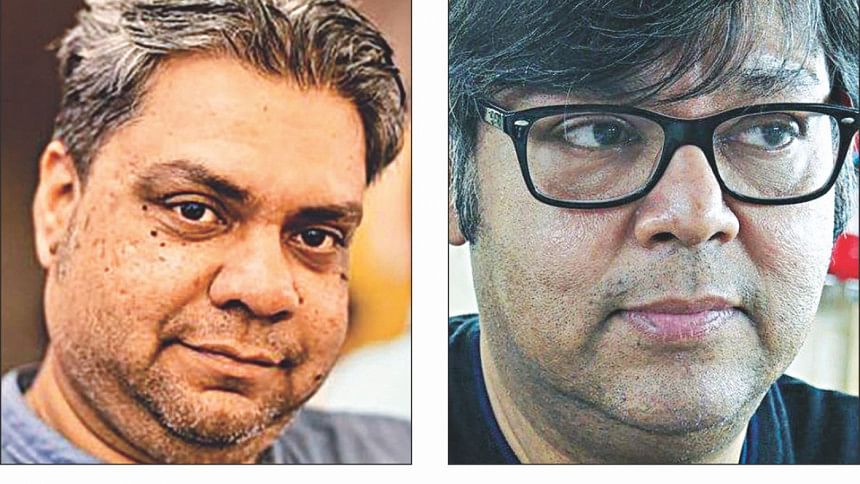 We often hear people say, "I am a total foodie". What does it really mean to be a foodie?
Indrajit: A foodie is someone who appreciates food in general. It can be someone who not only loves to eat but cook as well. The term is not exclusive to one group as even healthy people can be foodies. 
Kaniska: The term "foodie" itself has become tainted. I prefer to use 'food lover' because being a foodie does not necessarily mean that you have to consume in exorbitant amounts. 
You recently visited Mawa Ghaat. How was your experience at Hilsha experience there?
Indrajit: Bengalis love for Hilsha crosses borders, especially the "Padma'r Ilish."  But I must say that the way it is prepared here is very different from its Kolkata counterpart. I chose, bargained and then bought the fish and then saw it being prepared. It tasted amazing.  Honestly, after this trip, I am doubtful about the authenticity of India's claim to "Padma'r Ilish".
How is Kolkata cuisine different to Bangladeshi's?
Indrajit: Kolkata is home to "cosmopolitan cooking," in other words, a melting pot of various cuisines from Parsi to British. The local food in general is less spicy and delicate. For example, the Hilsha I had in Bangladesh was well done, whereas in Kolkata it is shallow fried, in addition to the incorporation of garlic and onion into the fish is something I have never seen in Kolkata. That being said Bangladeshi food is different in a good and exciting way.
Kaniska: The use of spices is very different especially in mutton and fish dishes in Kolkata. There is more diversification in how spices and oils are used to create layers of flavour and cooking, respectively as is the use of poppy seeds. In fact, residents of Kolkata take their "Posto" so seriously, that it is worth waging war over for.  Bangladeshi food tends to be on the richer side, while the sole common purpose of poppy seeds is as a thickener over here.  
What is the one food you would never eat?
Indrajit: That truly is a hard question to answer. But to be honest, I hate eating the same kind of food everywhere. In that aspect, I would say that makes me a "Born Foodie."  
Kaniska: There's not much I wouldn't eat or try for the sake of it except for "Balut" (a popular Philippine Street Food) and yes, I hated "Butter Tea" from the Himalayas. 
Indrajit: I love Butter Tea!
With every generation we see a loss of recipes, is there any way of preserving and reviving them again?
Indrajit: As sad as it is, our lives do revolve around efficiency, and thus, losing out on time-old recipes has to be prevented. It is not just a loss of recipes, but even the little details like the art of how one vegetable is cut for a specific dish is lost. Being a blogger, I feel this is where documentation is integral to the process of preservation and revival.   
Kaniska: You will still see labour intensive dishes being prepared around Kolkata, and there are interesting pop-ups that are making attempts to rev up such dishes. But these efforts need to be translated into a more concerted movement. There's this one book titled, "Thakurbariri Ranna Banna" which is a repository of lost recipes that I always refer to and at times, I choose to just read instead!
How does the shifting in social media scenario affect the food and beverage industry?
Indrajit: Social media connects people and the algorithm used to match people to preferences has changed the way we see our own newsfeeds now. The hashtag I use with every post of mine "#mohamuskil" not only works in the same way, but is a phrase I use all too often to describe the conundrums I face on my foodie expeditions.
Kaniska: The shifting roles of social media have only helped the food industry. I started with blogging in 2004 as an avid food enthusiast, and continued on till 2014-2015 before my attention span was reduced to a fruit fly. I now do a one picture-one story upload which I think works just as well. Social media has made people bolder and more forthcoming because of the veil of anonymity that it allows us. But I must say that the feedback that I have received is what keeps me going. It also makes you feel good when you know that it has also inspired others. But I must give a special mention to those who troll on social media. I really do enjoy it!
What is your opinion on the role social media plays in brands' lives these days?
Indrajit: Basically, social media's purpose was to broadcast what one posted and how it was being interpreted. It is to express, not repress. If I am fortunate to have a social reach today, I should make the most it. I see nothing wrong with using a platform that pays as long as it is clearly mentioned which is sponsored and is my own.
Kaniska (nodding in agreement): The social media movement is not only a global one, but various case studies have documented the shift it has caused. It is my perception versus that of all the others who get to see it.
What should restaurants and in general the food industry be focusing on more?
Indrajit: Restaurants should focus more on product development, because not many people are doing so. And another thing is the unnecessary shoving of their latest this and that, what is good at their shop. This has to stop.
Kaniska: I couldn't agree more! Servers need to be asking customers what they want and not what is good at their place. Research and Development is much needed, especially since customers are very easily satisfied. So the question is how do we change the mindset of restaurateurs to bring something more dynamic to the table? Charging for water in high end restaurants has to stop as well. This still is something that I cannot make sense of and have always been vocal about.
As I wrap up the interview and we all get ready to leave, I am amazed to discover that these two individuals have known each other for a little less than a year, yet anyone would mistake them for age-old buddies. That's the magic of food, especially when Indrajit and Kaniska consistently keep mentioning to one another that they both want to grow up and be just like the other one- From one foodie to another I guess!
Photo: Collected