Getting the best of Sheba.xyz
Urban work and living are as time strained as ever. Dhaka's everyday office goers have very little time to manage their daily lives, let alone care for their homes. There cannot be a less desirable way to spend the only day off in a week than to look for repairmen to fix your living room light. And if you happen to have a malfunctioning air conditioner, there is little you can do but to take the whole day just to find someone who can fix it properly.
Time constraints being such a pressure, people have to make use of what they have nearby, like the neighbourhood servicemen (who have only grown incompetent at everything over the years) with higher prices and mediocre services. This same time constraint issue has now invaded personal care, moving houses, and gadget troubles; people are just managing by with whatever service they can avail.
There is still no 'solve' button for all these, but Sheba.xyz is striving to take the challenge on as an online service market. Using the Bangla word 'sheba' meaning 'service,' Sheba.xyz as its name suggests, provides services. To be exact, Sheba.xyz works as a connecting online platform that provides service solutions to the users (both service seekers and the service providers).
The brainchild of the three co-founders, Adnan Imtiaz Halim, Ilmul Haque Sajib and Abu Naser Md. Shoaib, Sheba.xyz reflects their expertise in their respective fields of engineering and technology, and their desire to do something for the society. Service is still one of those aspects that cannot be provided with a set standard. But when you are considering scalability, with a target market, and an eye to make use of the digital wave, a lot can be accomplished.
Sheba.xyz was launched in July 2016, and was not the app that many are familiar with now.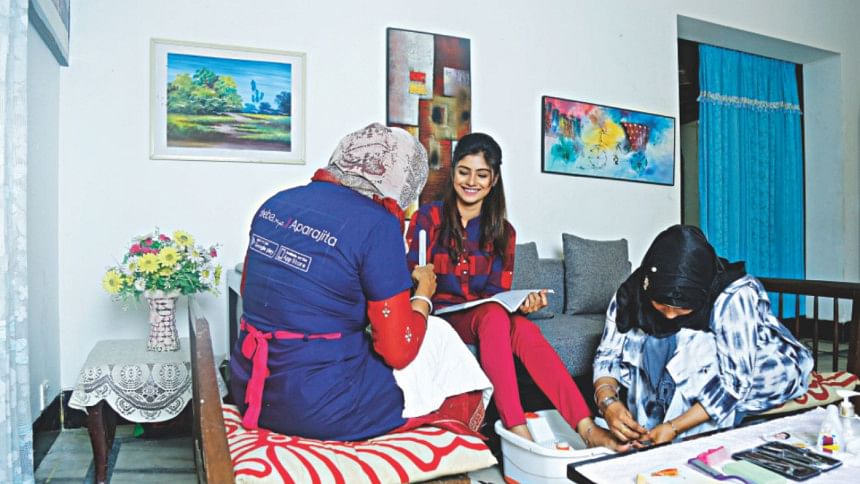 It was a simple call centre, catering to the service needs of the capital's Mirpur DOHS.
The current effective business model came into effect through these early connections with the service providers. Achieving an autonomous model like the now-popular Pathao and Uber apps was essential, as Sheba sought to grow beyond just being a service provider hub.
To reach that, besides the call centre, the app was launched in December 2017. Customers and service providers can use separate sides of the app after registering. While customers can use the app to check what services are available within a specific location, with prices and ratings, the service provider or partner side of the app is catered to fit the multitude of details that is typical to an actual brick-and-mortar store. The service providers can use the app to list their specific offerings as well as keep track of the status of the order(s) received.
Starting on the twelve main lines of services, including food, beauty, cleaning and pest control, appliance and gadget repair, Sheba.xyz has all the main bases covered for your typical day-to-day urban living problems.
Thinking of fixing your fan or maybe your air conditioner? From simple servicing to repairing circuits and beyond, all possible problems are listed for reaching the best possible solution.
Approximately ten thousand service providers are registered with Sheba.xyz as of now, with five thousand active ones. Coming to popularity, the top-most would be repairing and beauty services. Furthermore, the main section of users are women who are decreasing their dependency on male figureheads in a family regarding management of household matters. Sheba.xyz's food delivery too is on point, and focused on homemade food as well as food for dietary needs. All in all, the app is the platform where all daily needs are listed for any person to make full use of.
Sheba.xyz, as an app, has far more potential than simply being a service provider. Sellers can make use of the app by cutting down on managing miscommunication, and by putting all related parties on the same page. With insights on resources and deadlines and other targets, for service providers, the app connects and provides info on sales, their earnings, as well as projections on a whole new level, compared to the conventional existing methods.  
The Sheba.xyz app, as well as the Sheba Manager App (for the service providers), has a clean interface, with all necessary information literally right at the user's fingertips. It also works as a complete business solution when utilised to its full potential.  
Sheba.xyz is still a work in progress, despite its ease of usage and unifying factor of putting together customers and service providers. Iterations and testing are a constant part of improvement for the app. But then again, the context itself is unique in every way, which no run of the mill code template can solve. It goes to show that Sheba.xyz is focused on providing solutions to issues that are indigenous to this region!
Coming to obstacles faced so far, the market itself is too niche as it requires connectivity from all sides. Currently, the app has covered Dhaka city, and has expanded to Chattogram. It is, after all, a personalised service provider, and it is basically connecting two sides. It is estimated that it will take around five to ten years to cover the entire nation given the current pace of digitisation. Just like any market-place, striking the balance between customer demand and service provider supply is the main challenge so far. This is one part that has to be matched constantly to keep the operation flow smooth.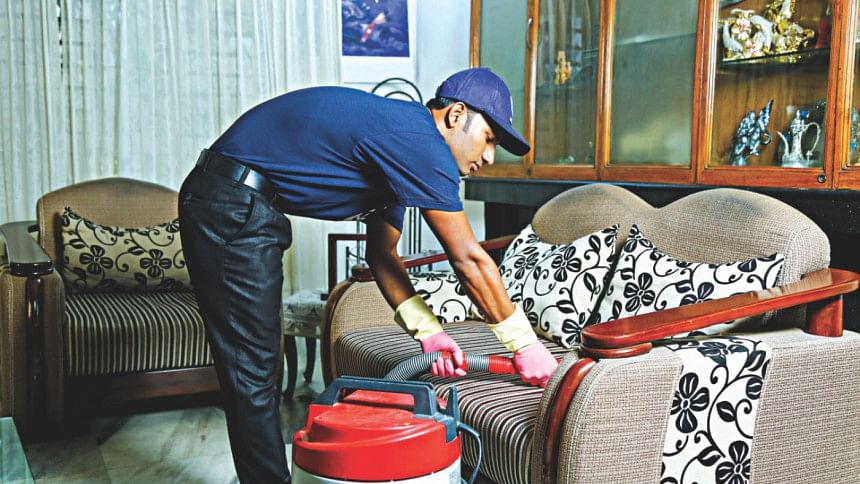 To receive the best of service, customers are encouraged to provide feedback. Every rating counts, especially the bad ones. Since the service providers are given badges and ratings based on their quality of service, improvement lies in the hands of the customers.
The app is designed so that the best service providers are brought forward, based on ratings.
For a user, it is recommended to rate any and all services for both the providers as well as other users.
There is still a long way to go for the urban denizens to find a solution for their daily household repairing and servicing needs, as well as personal services while balancing work and time. Till then, Sheba.xyz is here to help to its best potential at any time of the day!
You can find download links for Android and iOS at www.sheba.xyz. Also stay updated at facebook.com/sheba.xyz for latest offers and promotions.
Special thanks to Mehad ul Haque, Lead, New Business and Investment, and Debashish Howlader, Creative Lead from Sheba.xyz
Photo courtesy: Sheba.xyz