special feature
Upping the fashion ante in winter
Misty mornings with soft rays of sun gleaming on the windowsill, chilly evenings and velvety nights redolent with endless possibilities, a distinct note of excitement and thrill in the air — all these are reminiscent of Dhaka winters and more!
Any seasoned Dhakaiite will admit, we await the arrival of this magical season with bated breath, through unbearable heat waves, dengue scares and ridiculous humidity. And once winter arrives on the silver chariot, we embrace her with arms open wide in all her forms and glory.
 The real festive season, it warrants us shaking out of the careless summer dressing mode, switch gears and take things up a few notches with a hefty dose of glamour.
 Women in Dhaka have evolved into splendid fashionistas who effortlessly switch their sophisticated, glamorous styles from season to season. And winter brings out the best of their sartorial repertoire.
Speaking of winter, outerwear comes to mind right away. Relegated the back of our closets and collective consciousness throughout the year, it becomes truly indispensable during the colder months.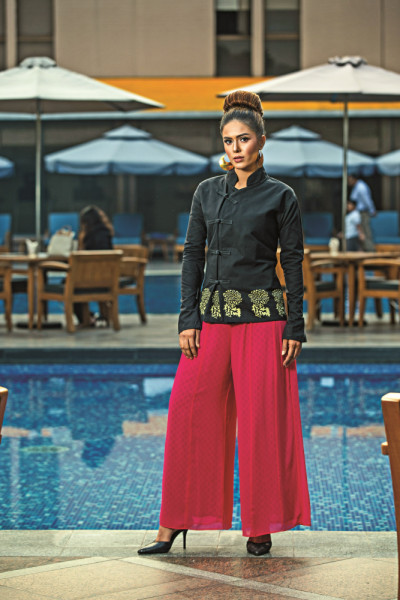 Shawls are a wardrobe staple and perennial favourites of Bengali women. In all shapes, forms and styles, shawls are much-needed, much-loved. For daily wear, there are endless versions that will have the wearer spoilt for choice.
 They are also versatile, in that these can worn with both western as well as ethnic outfits. To begin with, pure wool shawls in solid colours are perfect for daily wear, and can be casually draped over a kurta or a shirt for office or classes.
 Simple prints and patterns are also nice and bring accent to a monochrome outfit. It is a good idea to have a couple of basic colours in one's wardrobe such as beige, white, brown and of course black. Some colourful and printed ones are also essentials because life is too short to not wear colours!
 Local boutiques such as Aarong, Kay Kraft, and Aranya have a great selection of handloom weaves among others that keep you warm while looking beautiful. For nightwear, brocade shawls look rich and elegant. Nakshi kantha shawls are steeped in Bengali heritage and look stunning, while being a great piece to hold on to for years. Silk shawls look opulent and classy; and have many variations such as endi, half-silk and so on. A jewel-toned silk shawl when worn with a contrasting outfit will make the wearer stand out.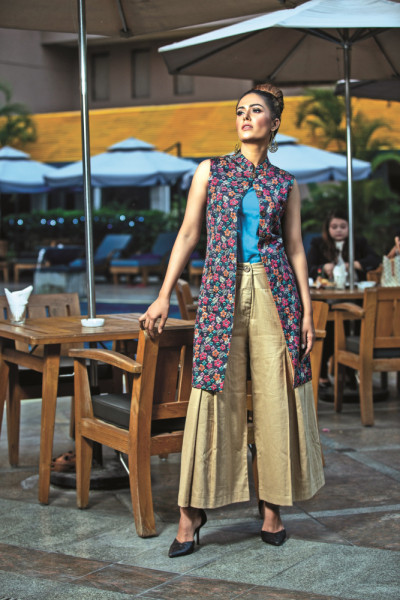 A cape is a relatively modern item that has won the hearts of stylish women everywhere. A versatile cut that has many different versions, there is a cape for every woman. It can be dressed up or down, which makes it stylish as well as practical.
 What makes it perfect for winter is that a cape made from a thicker material keeps one warm and cosy. A mid-length, classic cape in a solid black, brown or navy is ideal for daily wear, on top of a pair of jeans of formal pants.
 It looks good when worn on top of kurtas too. Wool, viscose and handloom weaves are materials perfect for a winter cape. Many local boutiques have different versions of it, from short, medium to long ones. For casual, every day wear, a wool or viscose cape is perfect. If you are having a hard time finding the right length, fit, or cut that suits your needs, getting one custom-tailored is a good idea.
For eveningwear, a brocade cape in a rich, metallic hue like gold or silver will truly bring winter glam to your outfit. It can be further embellished with zardozi work or 'dabka' motifs to make it extra special.
 Jewel-toned raw silk can be used to make a short or mid-length cape. It can be worn on top of a sari, a pair of culottes, or a skirt, and the effect will be stunning. One can also go for printed Benaroshi cape that will gleam and sparkle like the stars and will elevate every outfit this winter.
Photo: Shahrear Kabir Heemel
Model: Tania
Styling: Sonia Yeasmin Isha
Wardrobe: Chondon
Makeup: Farzana Shakil's Makeover Salon
Location: Pan Pacific Sonargaon Dhaka