Those 'paan-chini' days
Traditionally in Bangladesh, weddings have always tended to be grand affairs and have only become grander, more elaborate and expensive. Starting from the proposal to the reception, they are a magnificent immersion of rituals, culture, and festivities.
Almost everyone dreams of having the most perfect wedding, with the most perfect better half. And when it's time, your loved ones go all out to make your special day perfect.
The first and often most significant occasion that marks the start of a bonding between two families is the proposal. This particular ceremony has certain aspects that  remain unaltered, but of course with a few contemporary touches here and there to it.
Even just about a decade ago, it would begin with a rendezvous between the families. While it used to be an intimate 'family-only' gathering at the families' or their relative's home, currently they take place in restaurants and cafes as well, and often include extended family and friends.
Reminiscing her paan-chini, Anika Rahman, a final year student at London College of Legal Studies (South), shared that it was exactly how she wanted.
"All my in-laws came to visit me with sweets, flowers, a cake and a jewellery set as a token of blessing," she said. Rahman also fondly recalled the memory of dressing up as a beautiful bride-to-be and the traditional rituals that followed up including family introductions, bestowing blessings, and cutting a cake as a bonus.
On the other hand, Nazia Tasnim, an Accounts Payable Officer settled in Australia now, recounted her in-laws visiting from Bangladesh to meet with her parents for the formal talks back in 2014.
She described how she got to know her husband for a while, before they decided to tie the knot.
"My engagement and proposal were both quite private occasions, and I personally prefer that as well," she added, explaining that it gives the families a better opportunity to be in accord.
It might seem petty to some people, but the fuss surrounding the choosing of wedding rings is not exactly baseless, because among other things, they serve as a memento of marriage, symbolising that weddings are forever, like the circle.
While the passing down of family heirloom rings was a fundamental custom in the past, today customisation and/or catalogue shopping is the more convenient way to go.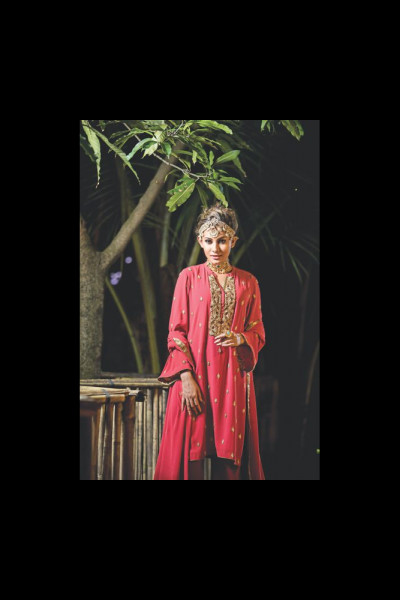 Take one of the recent royal wedding rings for example — the most beloved jewel that Meghan Markle sports with pride. It had been custom designed by Prince Harry (the groom) himself and that indisputably adds a very profound meaning to it.
Tasnim said that her husband had surprised her with the wedding ring – a gorgeous one-carat solitaire – which he had chosen by himself. Similarly, Rahman fully entrusted her husband, who was living in the United States then, with the ring-choosing task.
"He picked a brilliant solitaire from a store there and it will truly always be my most favourite ring," she said.
Besides the customary traditions, proposals of the 21st century entail a mixture of several new and upbeat rituals. Proposals these days are even designed to occur with a pre-planned romantic photoshoot. This is often followed by 'pre-wedding' photo shoot as well. Moreover, most modern-day couples also love to include their friends into the ceremony just as much as they involve their families. 
To be honest, the perfect proposal or the perfect engagement ring is purely subjective. Whether the event is fancy or mundane, what matters most is that it makes you and your beloved ones happy. After all, at the end of the day, what's most important is to remember that it's all about the value that this special occasion holds and about enjoying your big day to the fullest.
Photo: Sazzad Ibne Sayed
Model: Indrani and Mysha
Make-up and hair: Noyon Ahamed and Niloy, Farzana Shakil's Makeover Salon
Wardrobe: Z&Z by Simily, Rima Naz
Styling: Sonia Yeasmin Isha
Jewellery: Araaz
Location: Mermaid Beach Resort, Pan Pacific Sonargaon