Setting up a treasure hunt for your children
Have you ever heard your children saying, "I'm bored"?
That's what all parents are tired of hearing and it's one of the trickiest problems to resolve. It's way too easy to let your children lay down with an electronic device unattended, but we all know that filling that leisure down with fun, stimulating activities are way better for children's health and creativity.
Surprise them with a treasure hunt!
'A treasure hunt' is one of many different types of games for players who try to find hidden objects or places by following a series of clues. Treasure hunt games may include indoor or outdoor activities. Outdoor ones can be played in a garden whereas indoor ones can be played in a specific room, which would make the work of hiding the clues harder.
WHY PLAN A TREASURE HUNT?
Treasure hunts are fun, interactive, and creative, and you can tailor them for children of various ages. They offer a huge amount of everlasting fun and will improve children's physical and intellectual development.
It will give them something fun to do, besides being a great way for you to get more involved with your children and learn about their interests. Whether it's too hot to play outside, a birthday party, or just an ordinary day, treasure hunts are a great and an easy way to keep children entertained.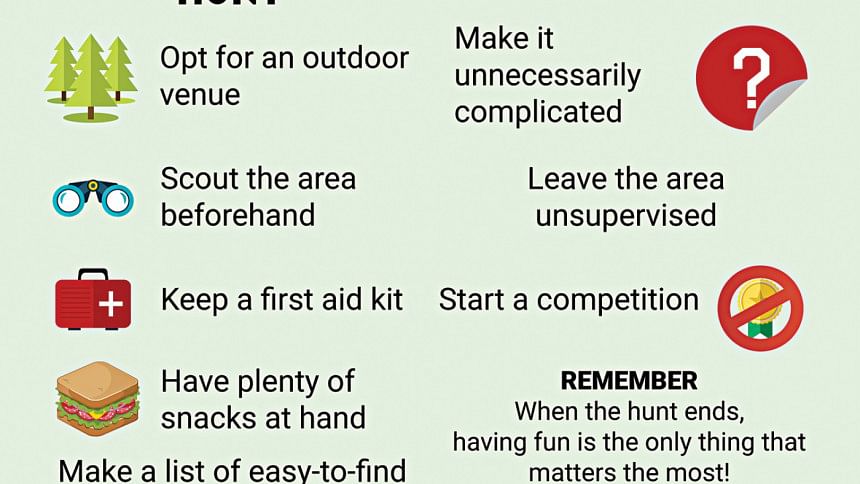 WHERE TO PLAN IT?
You can have a treasure hunt right at home, in your yard, or just about anywhere. And the different themes and styles to choose from are countless.
OUTLINE THE TRACK
You can send children through a neighbourhood, or have everyone meet at a local park. Call up a favourite neighbour who might have children do 20 jumping jacks or sit-ups before handing them over with the first clue.
NUMBER THE CLUES, AND PUT THEM IN SPECIFICALLY COUNTED ENVELOPES
Write some bad poetry "This clue hides/At the bottom of a very long slide", scrambled children's names or create little fun puzzles for them to solve. You will hand the children the first clue, which will direct them to the next one, and so on. Make sure the children can get to each clue within about five minutes or so of walking.
TAKE TIME TO PLAN
It takes about an hour to sit down and map out a route, identify good places for clues and jot down the hints for each place. Packing tape and scissors can be brought to secure clues to tree trunks, posts, etc. Once the mental work is done, the physical preparation will feel much less distressing.
DEVELOPING EXIGENCIES
All the clues can be sealed in plastic bags so that they do not get soaked in the event of rain. Extra copies of each clue can be printed out too, just in case any are lost or stolen before the children can get to them.
ADD IN SOME RANDOM GIFTS TO KEEP THINGS INTRIGUING
At three or four stations along the way, clues can be accompanied by candies, chocolate bars, juice boxes (in case they get thirsty), or toys like bouncing balls, teddy bears.
SET GROUND RULES IN PRIOR
Children need to know to stay with the group, wait for each other before moving on to the next clue, clean up any litter and wait for an adult to cross major streets. These can be set beforehand as ground rules to avoid unnecessary hassles.
TAG ALONG TOWARDS THE DESTINATION
If you are not prepared to let a group of excited second-graders run through the streets by themselves, tag along with them. It will be great to have two adults with the group — one to race ahead with the swifter kids and one to bring up the rearward with the slow-starters.
Happy exploring!