My herd and I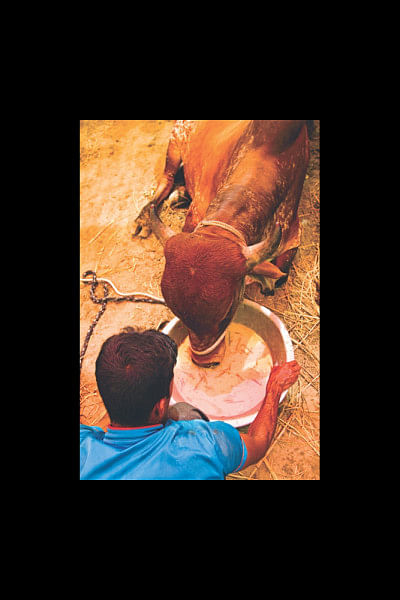 He is as muscular and burly as those men depicted in S M Sultan's paintings. And usually bare-chested that showed much of his rough, weather-beaten skin, the resemblance is uncanny. For Sattar, after all, also faces the same hardships Sultan's men faced and lives the lifestyle of a common villager.
A farmer from Khitirpara of Munshiganj, Sattar works in the fields and strives to make ends meet. He cultivates potatoes and other vegetables. He takes breaks from that work to go to the canal or even the mighty Padma in the hope of a rich catch, which he sells at the local bazaar.
He is also farming four cows (all cross-breeds) this year. In the backyard of his modest home, there is a small and simple cowshed that houses his herd.
He bought them around seven months ago when they were much smaller. Each will eventually cost him about Tk 35,000 excluding feeds and other expenses. He is paying in instalment as there was no way he could afford the whole sum together. With the stress of the commitment to pay up, he eyes the upcoming Eid-ul-Azha.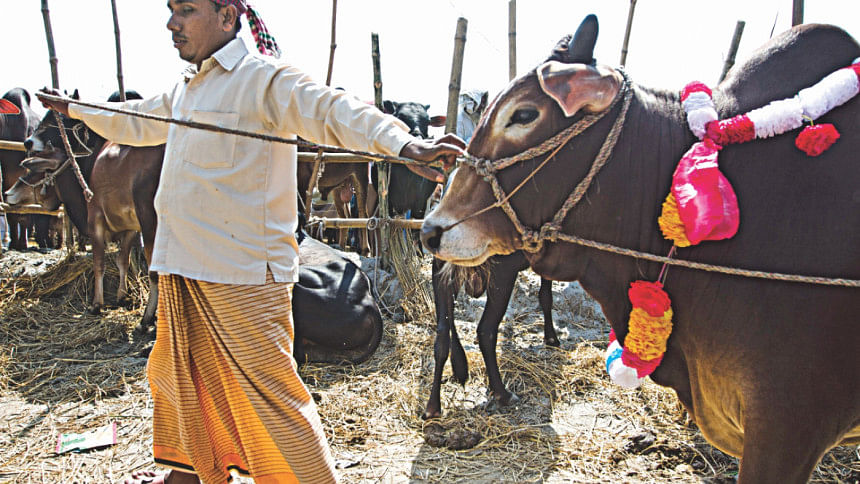 For Sattar and so many others in the village — as is the case in many regions of our country — the Eid provides an opportunity to earn a chunk of cash.
This is the case of tiny-scale livestock farmers who buy cattle some months prior to Qurbani Eid and raise them in cowsheds to sell them as sacrificial animals.
Khitirpara is dotted with such households. A walk through the village whilst visiting these homes on the way not only reveals the farmers at work, but also their thoughts — "Are they being well-fed? Have they become the right size? Would I be able to sell them all? Can I make a good profit this year?"   
Of course, if luck allows, some of these cows will be sold even before reaching the haat, directly from the cowshed, bought by villagers or city dwellers who return to their ancestral homes for Eid.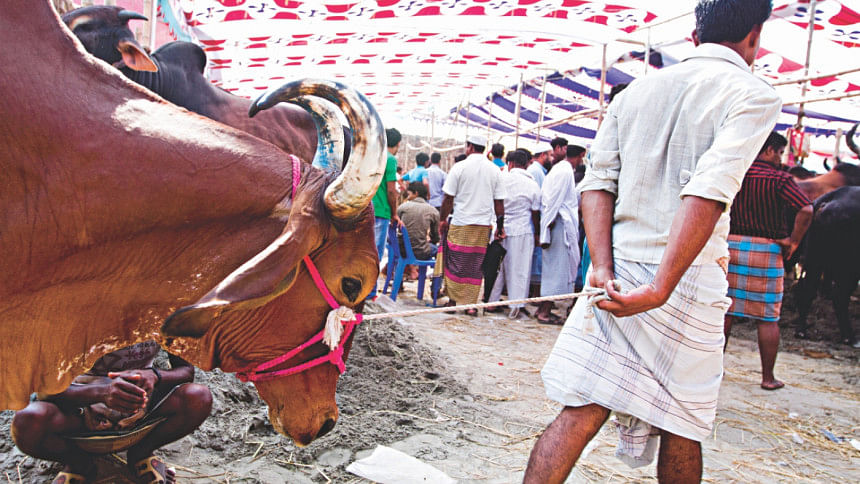 This actually may be a good idea for you. Indeed, haat dynamics is fun and we love going there. But at the same time, to save some hassle and also to experience a charm of another kind, you can consider hopping from one home to another to shop for your sacrificial cattle this year.
One advantage satisfied customers point out to, is the fact that they can directly see how the animals have been raised and also get an idea of what they have been fed. This insight becomes more valuable if a customer knows the seller or farmer personally, which is often the case, given that a customer may hail from the same village or is an acquaintance of the farmer. There is a trust factor at play here.
Sometimes, the cattle continue to remain with the farmer even after the sale is done, until the time of Eid.
As for Sattar, so far this year, his only regret is that he could not sell a cow to a local businessman for his daughter's wedding. He was approached, but his herd was not ready. Now, it is. Hopefully, his shed will be empty soon.
Until then, as he casually observes and inspects his herd, sometimes his mind walks down the memory lane. It takes him back to his childhood, when times were simpler. He used to help his father, but he felt terrible when the cows were taken away from him for Qurbani. And then, one day, his father got very ill, entrusting him with the whole herd. His first herd.
He grew older and those emotions left to make way for reality and hardship. But he can't help let out a smile when his small child plays with the cows or feeds them grass.
Simpler times. But one day, he will have his own herd.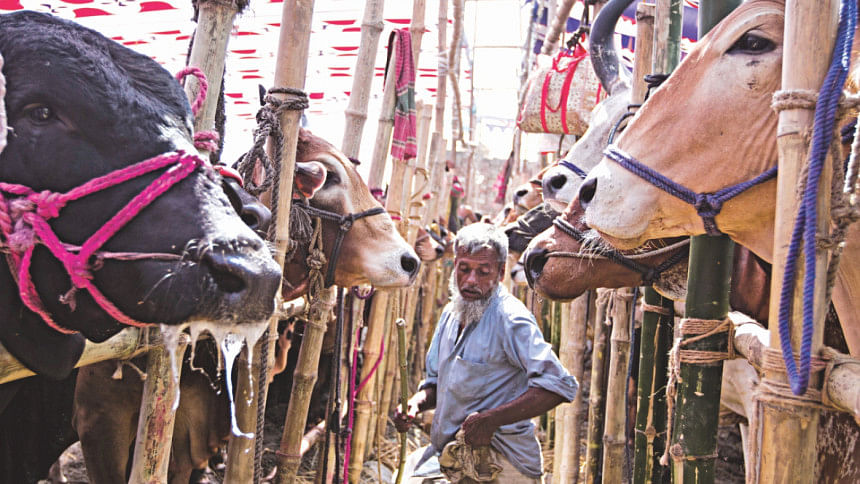 Photo: LS Archive/Sazza Ibne Sayed