Living Blue in Paris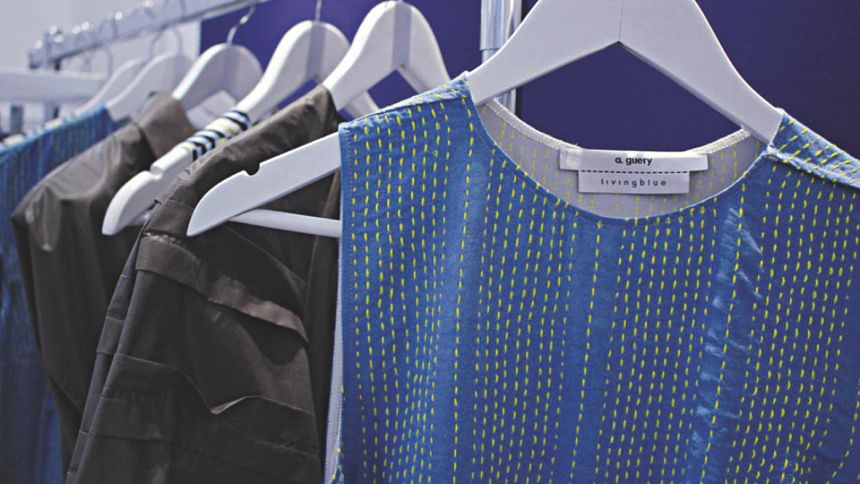 It is the fashion capital of the world. Home to many of the most prestigious labels, Paris is a city that does not go out of style. It is that perfect glass of cocktail which brings together art and vanity, fashion and ambition, and glamour and sophistication. So, if you want to establish your fashion brand as a premium label, you would want a ticket to Paris.

Living Blue, a premium brand from Bangladesh, has made it to 'the dream city'. This is an exciting time for them. From participating in Paris Fashion Week to getting selected in the most exclusive and prestigious, Maison d'Exceptions, it has been one busy and exhilarating year for Living Blue.

Ten years ago, when CARE Bangladesh (a humanitarian organisation) wanted to improve the livelihood of the poor people in the northern part of the country, found that indigenous, indigo plants were abundant, and that the villagers were skilled in making hand-stitched 'kantha' (quilt). The organisation added 'shibori', a Japanese tie-dying technique, to the skills set of the villagers.

Indigo production, quilting and shibori translated to financial prosperity for the villagers. They also translated to a high-end brand: Living Blue.

"We do not sell poverty, we sell skill," says Mishael Aziz Ahmad of Living Blue. "We work with artisans. We are not concerned about volume. Rather, we focus on craftsmanship and producing works of the finest quality."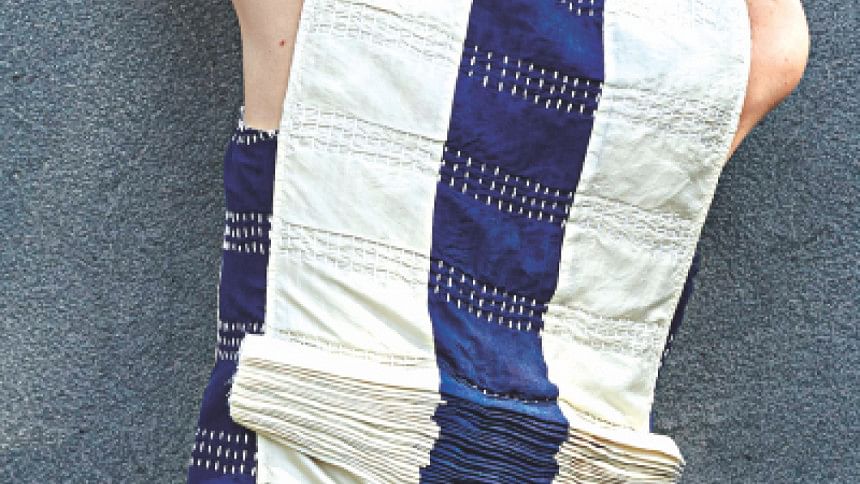 BLUE BEYOND BORDERS
The brand exports to many countries, such as the USA, UK and many other European countries, Japan and others.
"Living Blue, which commenced as a project of CARE Bangladesh, spun off as a social enterprise and a textile label of CARE Enterprises, Inc. and Nijera Cottage & Village Industries, which is a community of dyers, quilters and farmers of Northern Bangladesh," Ahmad informs.
Placing Living Blue in the high fashion genre has its challenges. "The world knows Bangladesh for its readymade, mass-produced garments. Many do not fancy Bangladesh as a producer of haute couture fashion, despite the fact that our country has an incredibly rich history of textiles and weaving," Ahmad shared his experience.
Battling against odds, team Living Blue had secured position on the shelves of many upscale stores in the world. It has also taken part in some of the most renowned international fairs and exhibitions. "We participated in Greenshowroom, which is a part of Berlin Fashion Week," Ahmad elaborates.
The exclusive Greenshowroom features "... elegant designs and sustainable high-grade materials." Another illustration of Living Blue's success is its participation in Santa Fe International Folk Art Market. Not everyone qualifies for such shows; you have to go through a highly rigorous process to prove eligibility.       
From the workshop located in rural Rangpur, the products continued to reach far-off destinations.
#RANGPURPARIS
It's not that while all these were happening Living Blue was not pursuing Paris. Indeed, France had been one of the export countries, but they were yet to get their 'big-break', to establish a firm Rangpur-Paris connection.
Then, they got the opportunity to exhibit their products in an upscale French department store; Galeries Lafayette houses the biggest fashion brands of the globe. It also has its own fashion label.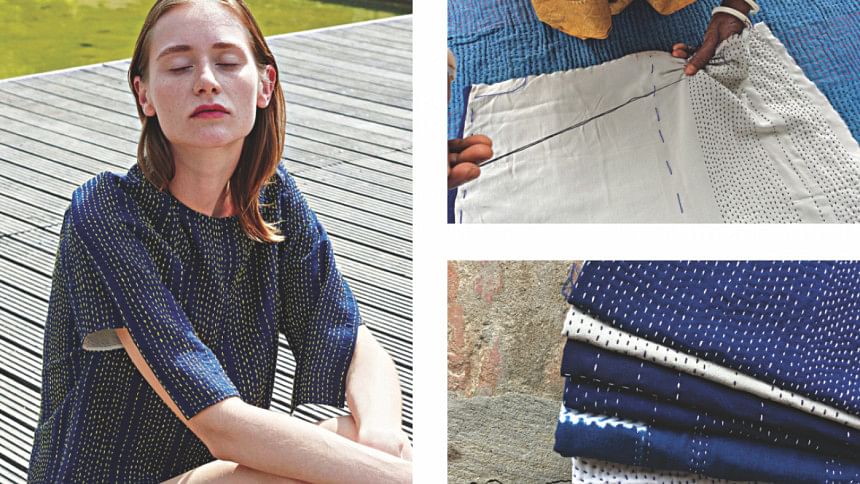 "In its Paris outlet, we exhibited our line as a co-brand to Galeries Lafayette. This was launched in March 2016 and went on for some weeks," Ahmad informed. "We hope to work with them again in the future."
That was the first big step in the Parisian high fashion market. Another huge step would be to get invited by  Maison d'Exceptions, which is an exclusive event held in Paris every year, where only the most creative and unique ateliers of the world can participate.
Living Blue applied in 2015 (for the year 2016), and failed to qualify.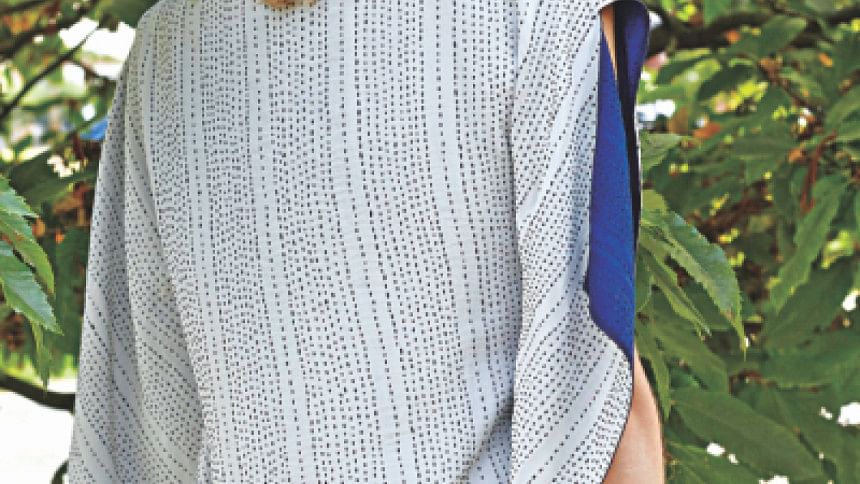 THE HOUSE OF EXCEPTIONS
"Maison d'Exceptions is extremely selective. It is not enough to simply prove yourself as the master of a skill or technique; you also need to show varied applications and uses for it in the contemporary fashion world. This is probably where we fell short," Ahmad thinks.
The event is dominated by French, Japanese and Italian ateliers.
More determined than ever, they tried again (in 2016); this time, with a very creative and promising Paris-based fashion designer - Anais Guery.
Numerous miles away from home, a designer devoted two weeks in Rangpur, working with local villagers, artisans and dyers.
"It was a magnificent exchange of ideas, knowledge, and technique," Ahmad reflected.
"We have skill, know-how, technique; indigo production, stitching, shibori. She borrowed these, used her imagination and intellect to create something contemporary and ultra-modern and chic."   They applied to Maison d'Exceptions again. Recently, their selection had been confirmed! 
"It places Living Blue among an elite class of ateliers. Every year, a maximum of thirty ateliers can get selected. Only the finest in this world get this privilege," informs Ahmad.
This is the stamp of ultimate craftsmanship, the seal of excellence. And it puts the limelight on Living Blue, possibly paving the way to work with the rulers of the fashion world. The event, organised by Première Vision, is scheduled to be held on 7-9 February, 2017.
LIVING BLUE IN PARIS FASHION WEEK
It is arguably the most glamorous fashion events in the whole world. In 2016 (for Spring-Summer 2017), the label 'a. guery-Living Blue' (a collaboration between Anais Guery's label and Living Blue) was featured in Designers Apartment Showroom, which is a programme of Paris Fashion Week that showcases works of emerging talents.
Living Blue also got invited and attended Emergences - in October 2016 - another show in Paris.
Through innovation, relentless effort and a culture of excellence, Living Blue has made its presence in the melting pot of fashion world. This, of course, is just the beginning.
Living Blue now must strive to survive long enough in Paris to establish themselves firmly. Now that is the next step!
N.B. Living Blue's products are not generally available for sale in Bangladesh. However, you may purchase by contacting them directly. Email address: [email protected]. Facebook page: www.facebook.com/ livingbluebd. Website: www.livingbluebd.com
Photo courtesy: Anais Guery/David Barikder/Josh Estey/Living Blue
Location: Rangpur and Paris