Polka Drops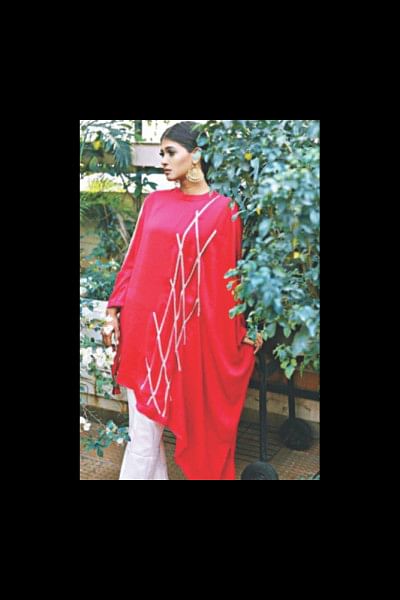 Fariya Tazin, owner and chief designer of Polka Drops, known for her signature fringes and screen prints, has just released a collection for the winter and wedding festivities. Her latest project is inspired by the haute couture works of Russian designers Ralph & Russo, with a fusion of Indian designer wears. What does Polka Drops for 2018 Winter and Wedding collection have in store for us?
"Parties are no longer reserved for the evening. So for this winter, I designed outfits that can be worn any time of the day. My colour palette of choice is suited for this purpose, and I carefully selected materials that will give my customers both warmth and comfort, and of course, all my designs have a touch of zardozi and sequin embellishments," Tazin said.
It goes without saying that most of Polka Drops' clientele enjoy some bling.
The 2018 Winter line includes her usual range of smart casual and formal outfits in georgette and chiffon fusion wear, with the addition of cashmilon, suede and velvet suede. For the upcoming season and beyond, she has designed new innovative cuts and patterns for modest wear. There's something for everyone in her catalogue and there is always something different.
The new collection features kameezs, fusion wear, kaftans, crop-coats and capes appropriate for winter weddings, events, Christmas, and New Year's parties.
For the everyday semi-formal/ smart casual office wear, she designed new screen printed long shirts and fusion kurtas on cashmilon, starting from TK 3,800.
For Christmas and New Year's parties, she created a dedicated collection in black and red. The winter wear outfits include the velvet suede-leather jackets, as well as full suede jackets with zardozi piping and sequinned collars. The jackets fall under the smart-casual genre, to be worn with matched pants and leggings.
The formal, more gorgeous and heavy collection for the wedding parties ranges from Tk 5,000 to Tk 12,000. It includes the two-layered fusion dhoti-cut dress, the fusion ankle-length dhoti gown (popular from this year's Eid-ul-Fitr), the double georgette sequinned zardozi shrugs, along with cotton t-shirts, the long shirts with zardozi work on sleeves and collar, and the screen printed straight cut kameezs and fusion tops.
Tazin is very excited to see her customers rock Polka Drops outfits, saying, "This year's winter collection has picture perfect outfits, and if one wishes to customise some items they like from my shelf, there's no need to rush in during peak festival times. Drop by a little earlier so that we can create some gorgeous and unique outfits, just for you, before the mayhem starts."
Photo courtesy: Polka Drops