TRESemmé Bangladesh Fashion Week 2020
Ringing the bells on what fashion in the 2020s will look like, TRESemmé Bangladesh Fashion Week in partnership with the Fashion Design Council of Bangladesh, went all out for the success of their 3-day fashion show. With glitzy ramps and covetable collections on dazzling display, the fashion event ended on January 25, at the International Convention City, Bashundhara (ICCB) in Dhaka. Through this show, TRESemmé sought to solidify the path to a new generation of savvy independent individuals who also take pride in looking good. The fashion show underscored the importance of being unapologetically one's own self on the runway of life, and further boosted the event coupled with a digital campaign styled around the hashtag '#doitforyou.'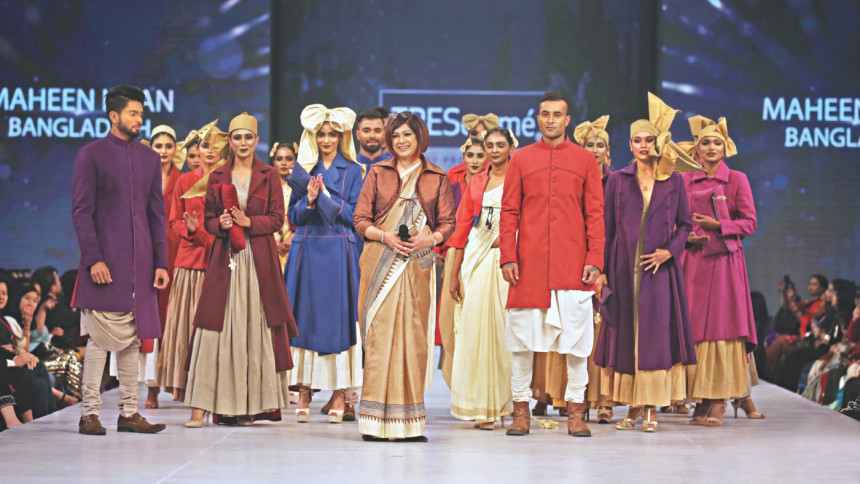 Headlining the fashion show for the evening, was an exclusive line up on the first day, featuring popular media personalities like actresses Sunerah Binte Kamal and Masuma Rahman Nabila, news presenter Safina Ahmed Tory, and singer Xefer, gracing the ramp.
Nawshin Khair, managing director of the sustainable fair-trade brand, Aranya, showed her salt's worth and kick-started the show. A two-year project seeking to revive the iconic Jamdani by creating a juxtaposed transition to incorporate Indo-Western wear, her collection featured muted shades, jacket blouses, and minimalism in its designs.
This only paved the way for Rima Naz, whose interest in a blend of the modern and historical lead her to create a collection featuring saris, panjabis and Indo-Western tunic pant-suits flowing down to asymmetric lengths. For her designs, she took inspiration from traditional Bengali jewellery. 
Up next was Tenzing Chakma, a supporter of indigenous textiles, inspired by deeply-rooted Bangladeshi traditions mixed with mainstream fashion designs with a touch of cosmopolitan trends. His theme, 'Toy Soldiers' showcased trendy uniform styles with a colour palette of forest green, black, navy and maroon.
Rifat Rahman then focused on traditional stitching methods of Nakshi Kantha to bring a twist by incorporating the Japanese stitch 'sashiko.' He showcased denim blue in his western line comprising of jackets, shirts and dresses with asymmetrical cuts and bold designs.
Anuj Sharma from India, pioneer of Button Masala, the art of stitching without needles or threads, revealed his intricate designs next, only to make way for Ajay Gurung from Nepal, who prides himself on being a globetrotter inspired from the likes of Winston Churchill and Prince of Kent.
More designers from the evening were Tashfia Ahmed delivering true contemporary fashion, Sadia Hossain Mishu focusing on cotton, muslin and traditional motifs, and Afsana Ferdousi.
Ridhi Jain closed the show on Day 1 with her capsule collection born out of a love for circles and Japanese technique like 'shibori' to create transitional silhouettes.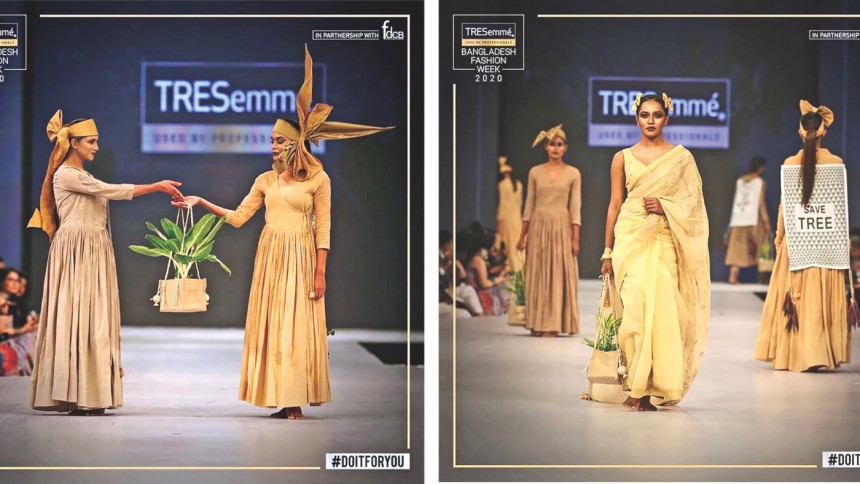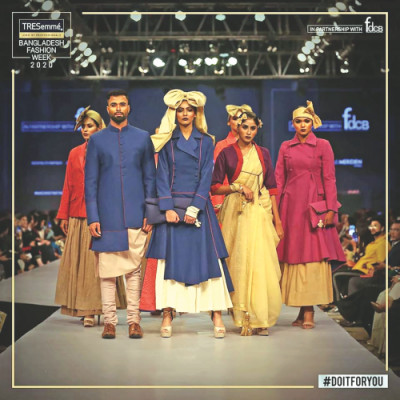 TRESemméFashion Week drew the finish on the opening day with a star-studded segment with Emdad Hoque thanking the audience and rounding up all the designers, models and makeover partners for the evening.
Day 2 commenced with the empowering showcase of 'Runway of Life' highlighting women from different walks of life and their contributions to society. Nine powerful and strong individuals walked the ramp, sharing their inspiring stories, leaving an everlasting impression on the crowd present.
The second day of the show was initiated by Shaibal Saha and his ensembles drawing inspiration from 'Shitol Pati,' the traditional, handwoven floor mats of Bengal. Models graced the ramp in earth-toned palettes. In his work, he made use of prints on hand woven fabrics, adding a punch of visuals to his collection that brilliantly embodied modern fashion with contemporary styles. 
Farah Anjum Bari exhibited her brilliance as she played effortlessly with colours, combining primarily pastel shades of green with black, turquoise, and even orange. Her love for pleats and frills embellishing the flowy dresses showed in her 2020 collection; models were seen in anarkali, kaftan kameezs, jumpsuits, saris with an attached coat, shawls and even bat-sleeved blouses.
Maheen Khan, in her work, promoted local expertise using heritage textile craft in the second instalment of TRESemméBangladesh Fashion Week. Drawing inspiration from Bangladesh's needle craft, which are both traditional and minimalist in design and aesthetics, she put together an energising collection focusing on layering with pieces in fine cotton and linen with matching long and short coats. 
She did not shy away from the pressing issue of climate change looming above us, adding capes behind each of her ensembles with bold messages, reminding us that our planet needs help, and it needs it fast. Models were seen carrying plants and passing it on to each other like a torch.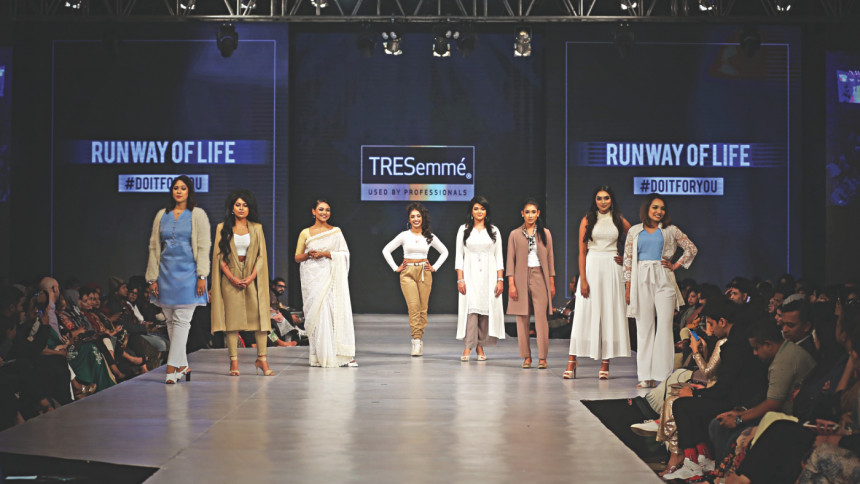 Emdad Haque's minimalistic designs showcased cotton khadi and silk fabric in pastel shades. Each of the models were seen sporting glasses paying homage to the creative genius behind the ensembles, Emdad Haque himself. 
Maria Sultana Mumu had a very cheerful, lively and playful display primarily in yellow and white, with sequins work and embroidery. A lot of her inspiration were seen to be taken from Victorian styles.
Shahrukh Amin's collection was very much anticipated amongst the audience, and once exhibited, proclaimed again his 'knack for eccentricity,' as he opted for bulky neckpieces matched with gradients of colours.
Rupo Shams' collection introduced us to red-ruffled sari with Muslin kurti, peach anarkali with gold work, maroon short shrug with belt, and white pants and coatees over purple silk kurta.
The much-anticipated Indian designer Antar Agni showcased a collection which was simply electric, focusing on monotones, as models walked the ramp in white flowy coatees, black kurtis in imaginative cuts and black sherwanis with sharp edges and a lot of glittery glam.
Sonali Dharmavardena's work was an embodiment of her roots in Sri Lanka as she focused on cotton, linen, and silk fabrics and her traditional fashion pieces. A lot of close attention was given to geometric prints and remarkable combinations.
Soumitra Mondol, the Indian designer, stuck close to the truth of his native art and culture with emphasis on fine cotton, linen, and khadi. His collection was a stunning representation of simplicity and suave, focusing on minimalistic style combined with classic prints.
This brilliant show carried on to the third day and highlighted stories of native lands, handloom wear and slow fashion. Events like TRESemméBangladesh Fashion Week 2020, promote all things that are important for a more peaceful and green future — sustainability, environment friendliness, concepts of fair-trade, equality, and protection of heritage, etc. With so many important aspects covered, this was surely one show that will continue to be the talk of the town for the foreseeable future.