Experience paradise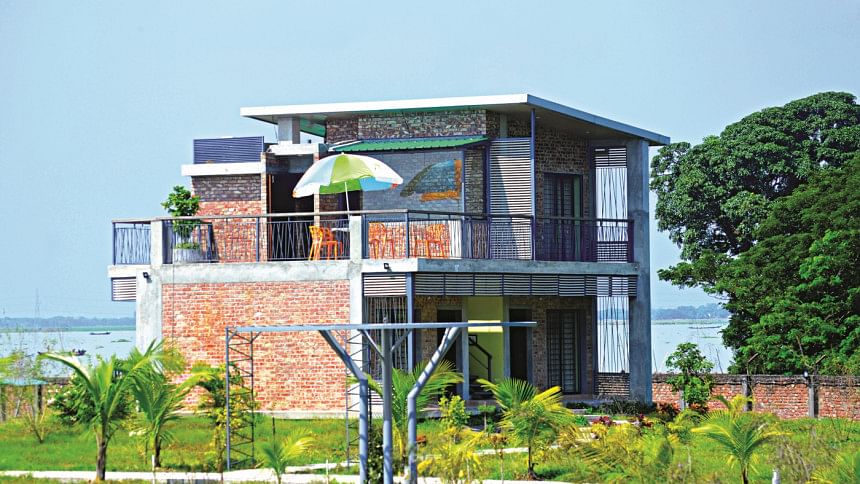 Spread across a scenic expanse of land, and encompassed by a beautiful environment, lies the Subarna Bhumi Resort in Gazaria, Munshiganj, where your winter holidays need to be.
Away from the hustle and bustle of the city, situated on the banks of the river Meghna, where fresh air from the river is a respite for the dwellers, Subarna Bhumi Resort offers you the getaway of a lifetime.
Imagine waking up to a morning blessed with sunrise, birds chirping, and the sight of the Meghna river, with sitting arrangements for enjoying your morning coffee. Tranquillity and greenery envelops the entire scene no matter how far your eyes can see; in fact, no photograph could ever do justice to the serenity of that place.
An evening at Subarna Bhumi is even more heart-warming. The breath-taking beauty and glow of the setting sun near the river is a rare view that cannot be surpassed. Everything seems artistic and respectful to the surrounding flora.
The four cottages offer dazzling and aesthetically pleasing views of the river, the wide-open sky and the setting sun from balcony. Each of the cottages have three bedrooms and a big terrace, coupled with sitting arrangements.
Godhuli Bela, Megh Balika, Diganto Choa, and Rodela Sarabela are the names of the four cottages that stand for serenity and equanimity. They are the essence of authentic luxury living, encompassing an array of design details and modern furnishings.
With exquisitely furnished living rooms, the suites are elegantly decorated in soothing tones, and are impeccably furnished to give a residential feel. Indulge yourself in the sleek and stylish new bathrooms, walk-in rain head shower, bath with shower combination, and luxurious toiletries.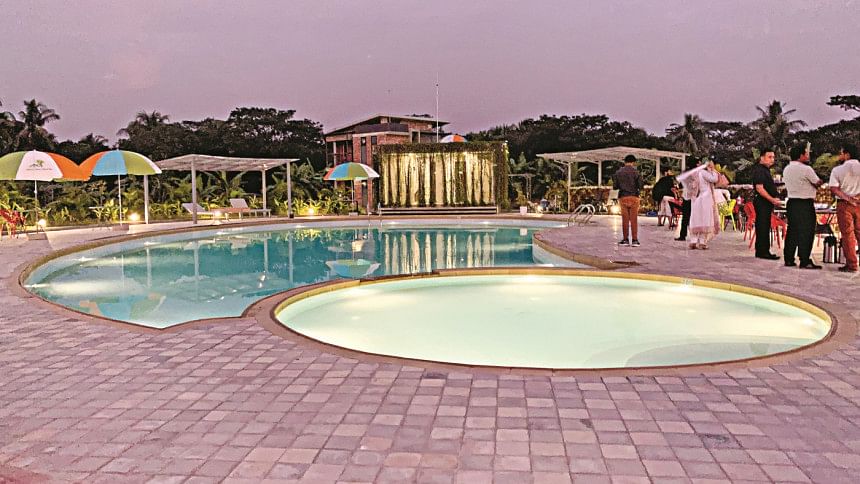 A large outdoor pear-shaped swimming pool is right at the heart of the property, with a Kid's pool beside it. Make your winter even more soul-stirring by experiencing barbecue parties and campfires by the poolside.
Unique dining experiences vary from elevated fine cuisine to a casual café setting. The two-storied spacious dining area, named 'Dhrubo Tara' and 'Arundhati,' offers a wide array of cuisines, prepared by well-trained experienced chefs, ranging from Bengali, Mughlai, Chinese, Thai, and Continental.
Make your voyage to the resort truly memorable by taking a cruise on the Meghna river. Yes, Subarna Bhumi Resort also features an exquisite coastline, providing an easy access for boat landings.
Also, an interesting contrast to the resort is the huge shipyard located beside it, giving you a unique look at shipbuilding.
If you are looking for a place for corporate gatherings, look no further, because Subarna Bhumi features a modern indoor conference hall, the 'Shaptarshi Hall,' which can accommodate up to 80 participants at a time, with unparalleled luxury and privacy.
For a truly impressive event, a dedicated team of creative specialists helps to create surprising moments, and infuse a spirit of wonder into any joyful occasion or celebration, filled with personalised details and touches, directly inspired by the warmth of the surrounding region.
Day-long packages are available for enjoying individually, and day-time events like picnics, family gatherings, anniversaries, birthday parties, and destination weddings are also available.
The resort features extensive security, with security personnel and 24/7 CCTV surveillance. They also feature many modern luxuries such energy efficient LED lighting, air conditioning, heater, Wi-Fi, and LED televisions.
Surrounded by the Meghna River, along with an unobstructed view of Land's End, Subarna Bhumi's luxurious suites provide an exclusive and tranquil retreat for travellers seeking to recharge from the hustle and bustle of daily city life.
Photo courtesy: Subarna Bhumi Resort
Website: www.subarnabhumiresort.com
E-mail: [email protected]
Telephone: +8801999921066,  +8801999921067