Around the world in my Hijab
As a Muslim, I take a lot of pride in my identity as someone who tries to practice this beautiful religion in the best way possible. My hijab is part of my identity; it makes me who I am and it shapes me as a person. I don't consider it a cloth on my head, rather something that determines my actions, my thoughts, and the way I want to live my life.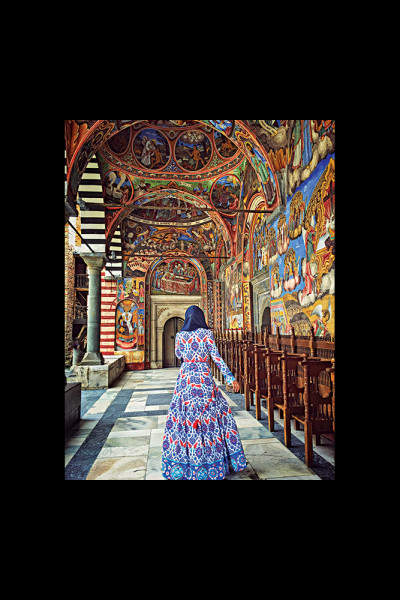 So, when I started travelling, I found it surprising when people asked me questions like "is it difficult to travel with your hijab?" or "Do you face racism because of your hijab?" "Has anyone ever treated you differently because you wear the hijab?" And it dawned upon me that girls out there actually find it intimidating to step out of the house and explore different countries because they are worried about the comments and criticism they may receive because of the way they dress. And this really upset me. You don't have to compromise your religion or your faith to be able to travel, but rather, you should travel more so that people out there who may have misconceptions about the hijab can realise that in no way does our hijab prevent us from living our life to the fullest! People often view Muslim women (even more if you are from a supposedly "conservative" culture such as Bangladeshi, Indian, Middle Eastern or Pakistani) as women who need "permission" to step out of the house, or are forced into covering themselves, and have to wait to get married before they can even go shopping, or they have to rely on their family to be able to travel. Show the world how wrong these concepts are!
As for me, I never faced any racism while travelling. In fact, I feel that my hijab and the way I dress have opened up avenues for conversation with strangers. Of course, it's nice when someone approaches you and says, "Oh you look so pretty, can I take a photo with you?" It's even nicer when they ask you about your religion and why you dress the way you do; curiosity and an open mind is the beginning of all friendship. And I always tell people, I think I could never fulfil my religion or my potential as a human being if I didn't experience the world that I live in. Exploring the creation of Allah (SWT), experiencing the tremendous wonders he has created, the variety of people, cultures, languages, landscapes not only humbles you as a person, but can strengthen your faith in a more permanent way than anything else possible. Remember, "do not walk proudly on the Earth. You can neither tear the Earth apart, nor are you as tall as the mountains."
Another statement I frequently hear is, "we don't have the money to travel to Europe or America" or "it's all about having money." One of the biggest mistakes I feel travellers make is undermining the beauty of their own country or even their city. For those living in Bangladesh, do you not realise that people outside the country would be dying to visit places like the Sundarbans, Cox's Bazar, St Martin's, the tea gardens of Sylhet and many more places? Travelling doesn't necessarily mean you have to do a Euro-tour; travelling is whatever you make it. Even if it's day trip with the family to the beach, as long as that experience made you happy, made you see a new place, perhaps learn something new, that in itself makes you a traveller! I admit, some people may be better at advertising their travel photos (I'm guilty of this!), they may be better at photography, they may be popular on social media platforms, which always makes it look like they're enjoying their travels more and you feel your trip to Cox's Bazar wasn't as nice as someone else's trip to Venice. It never works like this. I know people who won't have a single photo on Facebook or Instagram, yet they may have had the best time during their trips. Someone could have stayed in a hostel and had a better experience than someone who stayed in a 5-star hotel. Someone could have worn the same jeans and top to every city, whereas someone wore 5 different dresses to one. If you constantly compare your stories to someone else's, you will never enjoy writing your own book.
We spend money on a lot of things, clothes, shoes, makeup, houses, cars, weddings; my best advice would be to spend money on experiences. When your kids grow up, believe me they won't say "oh mone ache oi notun dress kine dieychila," they will say "mone ache amra shobai okhane ghurte giyechilam? Ki mojar din ta katlo!" Honestly speaking, I still smile at the thought of our rainy afternoon in Antalya, and that sunset we saw from the gondola in Venice.
As a Bangladeshi, I love it when other fellow Bangladeshis approach me and tell me I inspire them to travel. A few weeks ago, I received a message from a girl on Instagram saying, "I've always been worried about going to new places because I hear stories of racism. I wear the hijab and I'm worried that everywhere I go, people are judging me. But you've given me the confidence to step out of the house and pursue my dreams." That, in itself, was my biggest accomplishment as a traveller. Not the number of countries I've visited. Not the number of likes on my photos. Because a traveller isn't just someone who visits a lot of cities, it's someone who has an appreciation for the world they live in, for other cultures, other religions; someone who realises there is something bigger out there, and soon, us and all our problems begin to shrink in the face of that. We are, after all, a drop in the seemingly vast ocean. And I'd like to say to anyone who feels that being a Bangladeshi Muslim (or even non-Muslim) means that travelling will be more difficult for them — it's only as difficult as you make it. It's only difficult if you compare your life to others. Leave your laptops and mobiles, and just explore the world!
Because, as I always say, there's no time to be bored in a world as beautiful as this.
Photo: Rehnumah Insan