Desertification And Drought Day: The threat of parched land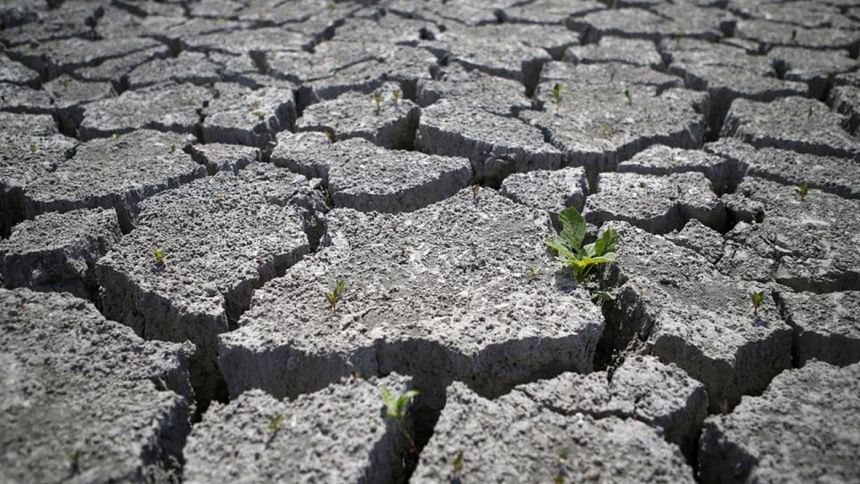 Barsha-Kaal, or the rainy season, has officially arrived this week. If we were not shackled by Covid-19, we would have been welcoming monsoon with singing and dancing at public gatherings, arranging tree fairs, and planting hundreds and thousands of saplings all over the country. A perfect time to make our country greener!
It may therefore sound a bit strange to observe Desertification and Drought Day today, on June 17. We may even wonder—does this day have anything to do with luxuriant, riverine Bangladesh?
Before answering this question, let's quickly look back at the 1970s. The year 1973 saw the end of a five-year-long drought in Sub-Saharan Africa that killed more than 200,000 people and millions of animals. The severity prompted numerous global discussions and initiatives over the next two decades to address these grave societal challenges—drought and desertification.
On June 17, 1994, the UN Convention to Combat Desertification (UNCCD) was adopted in Paris as a global effort to fight desertification and drought, primarily in Africa. Six months later, the UN General Assembly decided that, from 1995, June 17 would be observed as The World Day to Combat Desertification and Drought to increase public awareness of these vital environmental concerns. Twenty-five years later, this year, the day has been renamed as Desertification and Drought Day.
Just to clarify, desertification does not mean expansion or creation of deserts. It is in fact a process where the quality of land gets degraded—through clearing of tree covers, unplanned and over-exploitation of land resources, erosion of hills and rive banks, chemical pollution of land, and salinity intrusion, for example. Back in the 1990s, Bangladesh did recognise land degradation as a growing concern, as well as seasonal and long rainless spells, especially in the north-western part of the country.
Bangladesh signed the UNCCD in 1996. This UN convention is rather less known than its two sister conventions—the Convention on Biological Diversity (CBD) and the UN Framework Convention on Climate Change (UNFCCC). These three UN conventions together are called the Rio Conventions—as they were the direct outcomes of the UN Conference on Environment and Development or the Rio Earth Summit held in June 1992 in Rio de Janeiro, Brazil.
Prepared in line with the UNCCD, the National Action Programme (NAP) for Combating Desertification (2005) was Bangladesh's first comprehensive attempt to tackle land degradation. This enthusiasm gradually dried out over the following years, and land degradation in Bangladesh continued. From 2000 to 2010, for example, 334 square kilometres of forest land in Bangladesh was converted to shrub/grass land or cropland.
There are a few possible reasons for the UNCCD implementation getting sidetracked. First, overwhelming global attention to and resources for climate actions and biodiversity conservation, facilitated by the UNFCCC and the CBD processes, respectively, made the UNCCD a backbencher. Those two conventions also deal with land degradation and drought as a part of changing climate, carbon emissions, over-exploitation of natural resources, and destruction of ecosystems discourses—the second reason for the UNCCD struggling to find its unique niche.
Thirdly (although this is up for debate), the leadership—both at national and global levels—could also be responsible for limited attention and action to tackle land degradation. In Bangladesh, for example, while the Ministry of Environment, Forest and Climate Change is accountable for implementing the UNCCD decisions, more resourceful ministries, like agriculture, land, local government, and road transport and bridges, are managing the country's land resources according to government priorities.
In 2015, the fight against land degradation was rejuvenated globally as the UN General Assembly approved the Sustainable Development Goals (SDGs). Out of 17 SDGs, the UNCCD started focusing on SDG 15—life on land. More specifically, the convention deals with target 15.3—one of 169 SDG targets—which says "By 2030, combat desertification, restore degraded land and soil, including land affected by desertification, drought and floods, and strive to achieve a land degradation-neutral world".
"A land degradation-neutral world" is indeed a very ambitious vision. Nevertheless, if we move towards such "neutrality", the concept of Land Degradation Neutrality (LDN) can help us to measure our progress. LDN talks about a condition where the amount and quality of land needed to support ecosystem's functions and to improve food security remains at least stable. In other words—no more degradation occurs in a given piece of land, over a period of time.
In 2018, Bangladesh voluntarily set six targets towards LDN to be achieved over the next 12 years. In the National Report on Land Degradation Neutrality Target Setting Programme submitted to the UNCCD, the country promises to increase soil fertility and carbon content in 2000 square kilometres of cropland, to protect 1200 square kilometres of non-saline coastal land from salinity intrusion, and to reduce conversion of 600 square kilometres of forest area, waterlogging in 600 square kilometres of area, soil erosion in 600 square kilometres of hilly areas and river bank erosion in 100 square kilometres of area—all by 2030, in line with the SDGs.
To meet these targets, the government has proposed a number of nature-based solutions—afforestation, reforestation, green-belt creation, village forestry, agro-forestry, slope stabilisation with vegetation, and river bank protection and charland stabilisation with plantation—many of which have long been practiced in Bangladesh for disaster risk reduction, climate change adaptation and ecosystem management.
We should now bring our experiences together and invest our limited financial resources in nature-based solutions that will not only reduce land degradation, but also fight the climate crisis and biodiversity loss in a cost-effective and efficient manner, with the people.
As we get ready to revive our economy after the pandemic, we need to stop seeing land only as a source to generate revenue, a space for rampant agro-chemical application, and a resource to abuse. We need to see soil as a living entity that feeds us, that shelters biodiversity, and that has the tremendous potential to store carbon, large enough to keep the global temperature increase below 1.5 degrees Celsius by 2030.
It is time for the Ministry of Environment, Forest and Climate Change to take the lead and push for Land Degradation Neutrality as a priority in Bangladesh's land use sector. As the ministry is responsible for strategies and actions against land degradation, climate change and biodiversity loss, it needs to coordinate its efforts and investments around nature-based solutions to address all three societal challenges together. We should not miss this opportunity.
Dr Haseeb Md Irfanullah is an independent consultant working on environment, climate change, and research systems. His Twitter handle is @hmirfanullah.