Young aspirations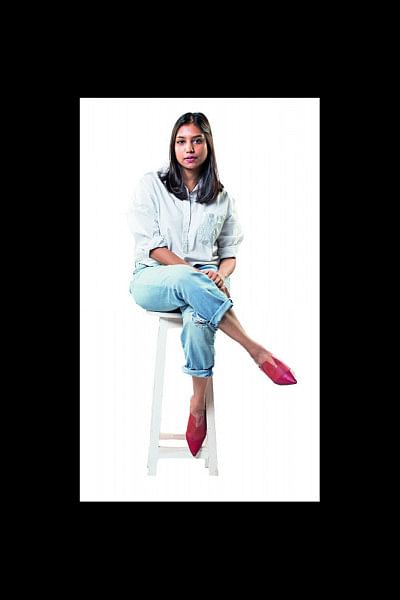 "I feel extremely privileged in the way I was raised, but I feel that, at the same time, it is important to make sure that whatever I am part of, particularly the company and brands that I am creating, that same ethos is followed"
- Rayana Hossain; Director, Dekko Isho Group
Clothing line Klubhaus and Japanese restaurant Izakaya need no introductions, but the face behind them is Rayana's, who also heads the latest furniture company 'Isho' which is a part of Dekko Isho Group.
To have gained so much in less than two years was not easy, yet amidst her struggles, a strong work ethic, ambitious aspirations and a go-getter nature is what has let Rayana to achieve so much. "The struggles I faced when I started to set up my own business became very real when I realised that different people don't necessarily share the same work ethic," she says.
Her clothing line, Klubhaus which has a branch of initiatives under it, just finished their first season of Klub Sessions; a platform set to promote young and unique musicians.
"I gave myself a crash course in fashion history in order to develop a design team who would be able to grasp my vision for the line. Klubhaus now operates under the process of identifying how to incorporate international fashion trends into the current Bangladeshi scene."
On the other side, her furniture company, "Isho" is made up of five sub brands that provide a range of traditional, contemporary and smart furniture.
While Rayana has just entered the world of business, she credits and acknowledges the way her family raised her. "Growing up as the only girl with three brothers and a joint family, I was never treated differently from my siblings." When asked about how she deals with situations in which she could be seen as lesser for being a woman, Rayana said, "I am fortunate to not have faced this issue. I do realise that many women in our country and around the world aren't so fortunate. My advice to any young woman starting out is to always be completely and consistently professional. Even if someone starts off prejudiced, you can win their respect eventually."
Her degrees in art, architecture, and landscape architecture with the Harvard seal of approval meant that she could work anywhere in the world, but she still chose to come back. "The entire reason I wanted to study architecture was to give back to my country. Bangladesh has exhibited the highest economic growth rate, globally, and I knew I could add more to that through my areas of expertise," she says.
Designs can be interpreted based not just on its engineering sense, but artistic expression as well. Conceptualising any design is not a cup of tea regardless of what field it is. "Art is personal and an expression, but design is for the people with a purpose. This is intrinsic in all the three ventures that I have. In Klubhaus, particularly, it was important to establish that with the design team. Clothing that people can feel good in, at an affordable price," explains Rayana.
As a budding entrepreneur and a director at Dekko Isho Group, Rayana is aware about the struggles women in Bangladesh have to face on a regular basis, especially in the workplace, for which reason, she implements a fifty-fifty gender employment in all her businesses, as well as zero tolerance to any kind of gender disparity related practices. She feels that having been surrounded by strong women, especially professionally, she has learnt to be resilient. "I see a lot of women struggle and not being allowed to do something, although a man can, working in the same position. In some cases, it is due to societal issues. Despite the way people are, being resilient and part of a progressive movement is what will bring changes to Bangladesh. It also allows women to become more courageous," she concludes.
Raised in a family filled with successful entrepreneurs for three generations, Rayana Hossain is the next fresh young face set to make changes in the future in the world of entrepreneurship and business. 
--LS Desk
Photo: Sazzad Ibne Sayed
Model: Rayana Hossain