Timeless
For the past few years, brides have chosen bejewelled pieces as their style statements. While they still reign supreme, there is a slow trend moving back to good old gold, in their myriad forms and hues even. In this part of the world, gold is worn in their sparkling yellow, vermillion, and spectacular shades of rose. Brides opting for this forever classic metal are not following trends, taking cues from celebrities, but more so from their mothers and grandmothers, who have passed an important heirloom to this generation — the family collection of precious jewellery pieces. Here, the family portrait serves more as an inspiration than a beauty magazine.
Sometimes, that is exactly where the inspiration is rooted in. They are not just heirlooms, but the very essence of a generation lived before, a legacy to pass onto. Depending on the number of pieces being passed down — one mother/grandmother to a daughter or daughter-in-law and so forth on, opt between either layering or custom ordering ornaments to create a full set.
Imagine the stories they add on to. One woman's bridal 'sitahaar' turned into a complete set by simply adding 'jhumkas,' designed or similar to the former trinket, for her daughter's big day; better yet, layer on the jewellery pieces that belong to your thamma, and mother to have a small piece of each with you on one of the most important days of your life, paying not only homage, but emulating their very own, long gone bridal essence.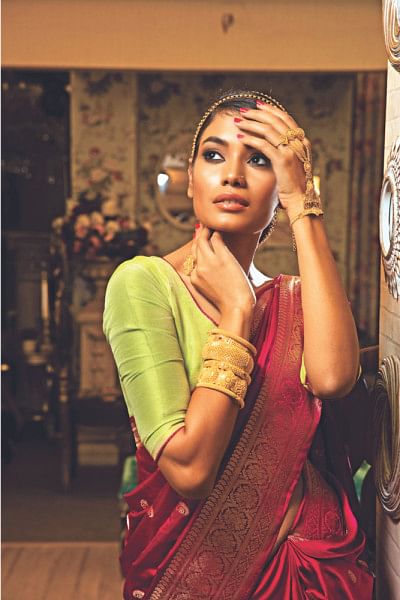 Even in the late nineties, the jewellery business would have been hot in the Baishakhi summer, sweltering in the winter wedding season — not to mention religious festivities like Eid, Puja, Christmas, and Buddha Purnima to intercede in between. Today, it revolves solely around weddings. And this very fact makes it necessary for a curious tweaking to the bridal ensemble.
If you want to mix and match something old and something new, it serves as a good idea to make simpler designs, and not go for one elaborate piece. The reasons for this are simple. Gold is no longer associated with savings, yet their prices are high. It makes good sense to make jewellery that will be used, rather than kept in a vault for years and years.
Our social scene has changed to the point where excessive bling gives an aura of fashion crime and fasionistas try to keep it low profile when it comes to gold, or any precious jewellery. Thus, while investing on wedding jewellery, think before you jump into the trend bandwagon.
Local tradition can still pride itself for the abundance of elaborate wedding rituals. There are no limits to events, pre-and-post weddings.
There is a chance that the wedding bells are about to toll for you this year. This just may well be the right time to create a jewellery ensemble at the excuse of 'nothing to accessorise with' motto. Weddings are also traditionally occasions when vintage, family pieces would be handed down as heirlooms. No matter how out of fashion they seem to be, let them be, because although the latest trend may look appealing this year, but in retrospect, a classic bridal look will leave an everlasting impression, rather than a chic 2019 trend.
One needs to exercise caution and strike a balance between being practical and looking the part on your big day.
Special thanks to Supriti Sarkar for assistance regarding the writing of this article.
Model: Sonia Yeasmin Isha
Styling: Sonia Yeasmin Isha
Jewellery: Alvi Jewellers
Wardrobe: Tangail Saree Kutir
Makeup: Farzana Shakil's Makeover Salon
Location: Eskay Decor