Tales of tradition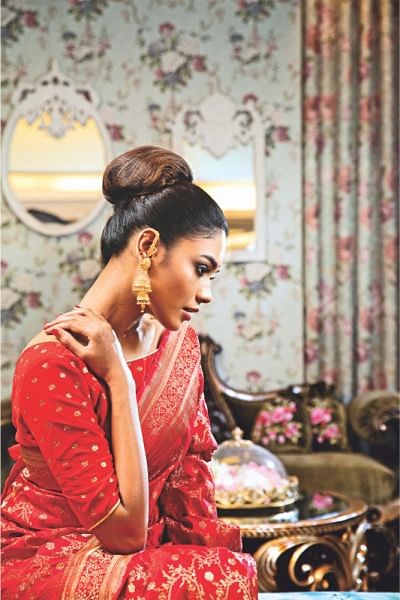 The classic Bengali belle looks incomplete without the sari and the quintessential 'khopa.' Delving into traditions, one will find that perhaps no other hairstyle pairs as well with the sari as the centre-parting and chignon, with a single flower, preferably a rose, neatly tucked into the latter.
True fashionistas know all too well that braids are as famous as hair buns in this part of the subcontinent. Flipping through old photo albums only makes the claim even more convincing, because there won't be many pictures of your stylish mother without 'the weaves of two plain braids.'
It's as if in the bygone days, the womenfolk regarded no hairstyle better than the archetypal braids; maybe it was just convenient enough for daily styling of long hair, or maybe it was just chic at the moment!
But, don't just jump to conclusions as yet. Our predecessors did not just have two hairstyles to trail around with.
There were numerous others that were mostly flaunted during evening parties, or special occasions like birthdays and weddings. The most famous being the ringlet buns with effortless 'gajra' insertions in between, or the windswept waves, akin to the legendary Hollywood actresses.
Back then, the fashion culture was to sport long hair, hence the styles were as such — typically attributed to longer hair. If it was today, and you hoped to do similar styles on your manes with your much shorter natural hair, then the easiest solution are high quality falsies and styling them accordingly.
Here is one simple example of a traditional hairstyle that you can easily pull off at home to look your classic, sophisticated self, without much trouble.
THE RINGLET BUN
When it comes to fancy hair, you should either go traditional or go home! And a ringlet bun is perhaps the perfect answer to a night filled with glitz, glamour, and good hair styling.
How to style —
First of all, prepare your hair by washing, drying, and using some texturizing spray, this will make sure the hair is not frizzy and easily manageable. The second step would be to pick up half your hair from the top and French braid it, and secure it with an elastic band. The third step would be to take the rest of the hair, and tie them in a simple bun, making sure to place it off in the centre.
The fourth step is to pick up a 1-inch section of hair from the hair left under the French braid, roll it into a ringlet, and secure it onto the bun using bobby pins, and then, repeating the same step to form more than one ringlet.
 Finish off the look with a few spritzes of strong hold hairspray. You can insert pearl clips or flowers inside the ringlet to make it more elaborate.
After you are done with the look, make sure you put a traditional sari, preferably a Banarasi silk or a Mirpuri katan to complete the look, but you should also keep in mind that the sari must not be too intricate, otherwise, instead of looking sophisticated, you would end up looking exaggerated and tacky.
That's enough knowledge for today. Have fun pulling off some traditional hair styles!
Photo: Sazzad Ibne Sayed
Model: Sonia Yeasmin Isha
Styling: Sonia Yeasmin Isha
Jewellery: Alvi Jewellers
Wardrobe: Tangail Saree Kutir
Makeup: Farzana Shakil's Makeover Salon
Location: Eskay Decor