Sonia Musa launches her Fall Collection 2022, Naaz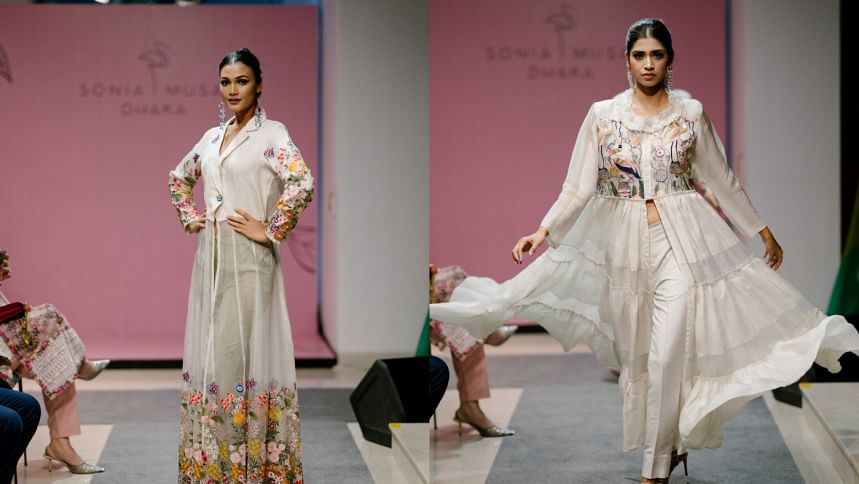 On 28 October, Sonia Musa introduced her Fall Collection 2022, Naaz, in a star-studded show at the Bay's Edge Gallery in Dhaka. Actress and model Bidya Sinha Mim walked the ramp as the event's showstopper in a beautiful white and silver embellished lehenga especially customised for the model.
The show featured a variety of outfits all of which were created in their design studio. The show was divided into three segments — the first featured some beautiful pastel shade outfits that were nicely blended into bold colours like parrot green and bright pink. The second segment exhibited a clever twist of fusion and traditional wear. The final section was all about stunning wedding attires, each being completely different from the others. With a vision to work with deshi motifs and fabrics, the designer Sonia Musa wanted this collection to be all about colours and motifs.
With the help of partners like Azra Mahmood fashion choreography and styling, makeup by Prive' By Nahila Hedayet, jewellery partner Summer by Sanjida, event management and decor by Creato, strategy and communications by Avari, and photography by Reminiscence Photography, the show was an incredible success.
"This show is a dream come true moment for me. For so long I wanted to launch this versatile fall collection and now that it is taking place; feels like an unbelievable moment in my life," said Sonia Musa sharing her gratitude for everyone present at the event.
Photo Credit : Reminiscence Photography