Sohel Taj launches Inspire Fitness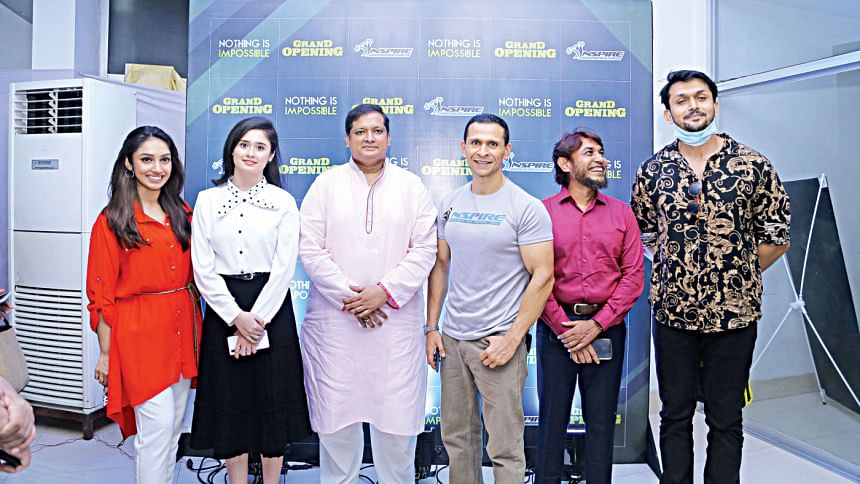 The former State Minister for Home Affairs, Sohel Taj, launches his first ever gymnasium in the capital that goes by the name, Inspire Fitness by Sohel Taj. The inauguration took place on 9 October 2020, which was attended by the honourable State Minister, Ministry of Youth and Sports, Zahid Ahsan Russell.
The ceremony was further heightened by notable guests like lifestyle modifier Dr Jahangir Kabir, actor Arifin Shuvoo, former Miss World Bangladesh Jannatul Ferdous Oishee, and many more.
"The goal, through my small contribution in this arena, is to be a cog in the wheel of the next revolution — the health revolution!" said Sohel Taj.
And with that being said, Taj, with his group of professional trainers, is set to get the show on the road and bring in a lifestyle change.
Inspire Fitness offers you the highest quality, state of the art equipment with meticulous attention splurged on R & D. From variety of cardio, aerobics machines to free weights (Olympic), everything is assembled according to American design and standard specification.
Members will be provided with separate locker rooms, further facilitated by shower and steam rooms. They will be given diet, nutrition and supplement planning along with individual personal and group training.
Dread to think about the pandemic situation? No worries, UV-c technology have got your back. Each interior AC blower equipped with UV-c system will make sure that COVID-19 does not have your number. In addition, anti-COVID cleaning recommendations and guidelines will be strictly followed.
With all training protocols and nutrition guidelines supervised by the man of the hour, Sohel Taj himself, you will be going places. Each session would be so interactive allowing a three-way flow of information among Sohel Taj, the trainer, and yourself so that you can get the best out of everything.
 "I would like to share my years of experience and extensive knowledge in fitness, nutrition and a healthy lifestyle with others," Sohel Taj assured.
 "A significant number of people passes away every year suffering non-communicable diseases which, however, could be prevented I believe. All we have to do is maintain a healthy food habit and do physical exercises. It is high time people should consider going to a gym as not a luxury" he added.
 With separate ladies only hours from 10 AM to 1 PM, Saturday to Thursday, they would be guided with professional female trainers. Moreover, Sohel Taj has assured of setting an aerobic and yoga centre in motion soon.
 Therefore, look no further and lay your hands on the optimal services and guidelines that Inspire Fitness has to offer in an exclusively reasonable fee. Work out like never before and be a part of this health revolution.