Shanta Lifestyle launches international interior décor flagship store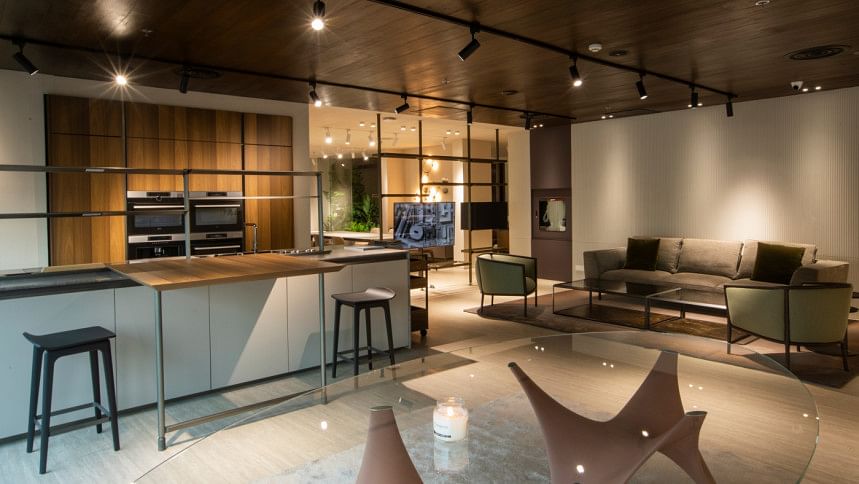 The personalisation of one's house or room is key to feeling at home, but one of the key challenges is starting the process. There is an excessive amount of information and a plethora of options available for interior décor. However, translating one's vision into reality while taking into account the aesthetics, durability, size, and design proves to be a struggle. Furthermore, the lack of international brands in the country proves to be a major obstacle for architects and interior designers when working with clients.
Shanta Lifestyle, a new initiative of Shanta Holdings, aims to alleviate the challenges faced by consumers and architects alike. Shanta Lifestyle, in co-operation with the Molteni Group, has inaugurated the first Molteni&C|Dada Flagship Store in Bangladesh on 26 June, 2022. The store is located at Shanta Forum, the country's first twin tower building, situated in Tejgaon. The modern and iconic elegance stands out on the Tejgaon skyline and reflects the new standard of luxury and exclusivity that characterises the area.
Angelo Molteni established the brand in Guissano, Italy in 1934 and his artisan workshop soon became synonymous with quality furniture. The workshop expanded very quickly, and by 1968 manufacturing switched from classic to modern, well-designed furniture.
Molteni is renowned for its forward-thinking collection, an artistic and cultural heritage, signed by great masters as Gio Ponti, Werner Blaser, Yasuhiko Itoh, Afra and Tobia Scarpa. The brand entered the contract world in 1975 by supplying furniture to Saudi Arabia and Egypt. By 2008, distribution had become international, with approximately 600 stores around the world and 57 flagship stores.
Today, it is a renowned furniture house which works with some of the most reputable designers, including Rodolfo Dordoni, Gio Ponti, and Vincent Van Duysen. Molteni prioritises research and technological innovation to give its products an intrinsic quality that can withstand the test of time. Sustainable design and production have become a prime objective, which is deeply rooted in the company's strategy, emphasising on the concepts of quality and durability as a contribution to environmental sustainability.
The 5000 sq ft flagship store is on Level 4, and the entrance welcomes visitors into the first living area, where Nicola Gallizia's Edge rug frames the Gregor sofa and the Margou armchairs, designed by the company's Creative Director Vincent Van Duysen, as well as the Vicino and 45° coffee tables, respectively by Gallizia and Ron Gilad.
The iconic Piroscafo bookcase is flanked by the magnificent Arc table designed by Foster+Partners, flanked, in turn, by Dordoni's Barbican table. This introduces visitors to a first kitchen area: Prime, Sistema XY and Francesco Meda's Woody chairs create an elegant and practical composition.
Hector by Vincent Van Duysen leads into a generous space with different areas: a living room featuring the impressive Half a Square table by Michael Anastassiades, complete with Tea chairs by Jasper Morrison, as well as Horizons by Bonuccelli, giving the space a refined and sophisticated air.
The night-time area features an impressive Gliss Master composition, containing Nicola Gallizia's Domino pouf, in perfect harmony with Van Duysen's Anton bed and Attico coffee tables.
Next comes a second living area, where Van Duysen's Ratio kitchen is framed by Gallizia's wide Vibrazioni rug: here, the Octave sofa and the iconic armchair designed by Gio Ponti are flanked by the Alisee coffee tables by Matteo Nunziati.
A master dressing room leads into a large area that perfectly integrates both day and night-time solutions, including elegant and refined items of furniture from the Molteni&C collections: Dante Bonuccelli's Password system, the Gregor and Piccadilly chairs, the Louisa and Vicino coffee tables and the Azul bed.
Two small green areas within the exhibition space create a link with Nature, bringing freshness to the surrounding environment. The pathway culminates in a convivial coffee lounge enriched with Chelsea chairs and Belsize coffee tables.
The overall result is an impactful environment that presents and enhances the Molteni&C|Dada collections, creating a warm, welcoming and stimulating design experience.
Italian Ambassador to Bangladesh Enrico Nunziata was the Chief Guest of the grand launch. The Commercial Director of Molteni&C, Carlo Moro, was there on behalf of the Molteni Group for this inauguration. Numerous corporate icons, including Grameenphone CEO Yasir Azman and the British American Tobacco Shehzad Munim were in attendance, alongside the CEOs of Shanta Group.
All products can be found on the website, www.shantalifestyle.com. Molteni&C offers a plethora of customization options, and the website was developed with this unique feature in mind. The website has integrated Augmented Reality (AR) so consumers can view an array of additional textures, fabrics, and finishes and visualize the look instantly.
Shanta aspires to go beyond and set standards in the interior décor arena with the launch of their Molteni&C Flagship Store. Shanta Lifestyle aims to cater to the rising needs of Bangladeshi consumers searching for exclusivity and high-end design solutions, becoming the primary destination of choice for leading local architects, interior designers, homeowners, and commercial proprietors.