Paan Temptation — Offering traditional paan in unconventional ways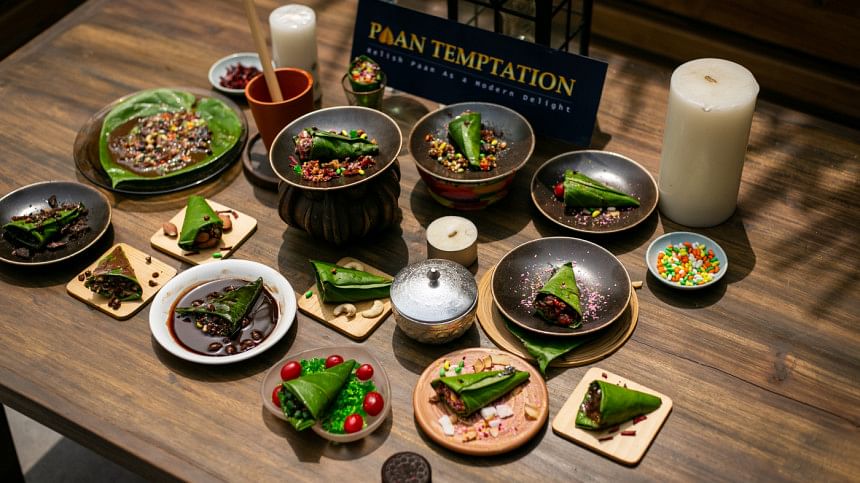 Originating from the Sanskrit word 'parna', paan in simple words means betel leaf. It is a common delicacy in Bangladesh. The treat which is a combination of betel leaf and a variety of ingredients, can be found in stores, restaurants, and even at the tea stall in your area. Being a staple of our ancestors' everyday diet, paan can be a fancy addition to any special occasion as well.
Gone are the days when we would only see our grandparents indulge in a mouthful of this treat. Almost all of us enjoy munching on a scrumptious flavourful paan once in a while. The creativity in the process of making it is also quite interesting. Fragrant flavours including dried fruits, coconut powder, dried rose petals dipped in sugar syrup, cardamom, clove, and fennel seeds are just the only few key ingredients that go into making this sweet treat. From chocolates to Gulkhand truffles, paan is like a shapeshifter. And do not get flabbergasted, you did read it right, Gulkhand truffle!
Paan Temptation, the first paan home delivery service in Dhaka, is turning out to be the talk of the town, courtesy of its unique flavours. Popular for inventing creative flavours for special events like weddings or any other ceremony, they want to reintroduce paan in a fun yet delicious way. They are here to give this popular item a modern twist and aim to make this dying delicacy easily available in our local culture with their home delivery service all over Dhaka.
In addition to Tutti Frutti, Caramel Crunchy, and Chocolate being some of their most popular flavours, they have recently experimented with a very unique dish, which is the Gulkhand truffle. It is a sweet paan dessert coated with colourful desiccated coconut that holds in it a melting centre of Gulkhand to take you to the dessert heaven. Infused with a royal taste of fragrance of rose petals and filled with the richness of sweet Gulkhand added with Mukhwas and syrup, it will surely give you an extravaganza of sweetness! With a menu over 14 different flavours, they have something for every tastebud.